Famously Dead A-Z:

Cause of Death:
View information about Patty Duke's death here on famously-dead.com. You can view information about Patty Duke's death and other famous deaths. You can view by name or by cause of death. We also have included the most popular famous deaths.
Patty Duke's Death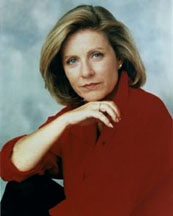 Patty Duke
Actress
December 14, 1946
March 29, 2016
Sepsis, due to Ruptured Intestine
The life and death of Patty Duke:
This native of Queens, New York rocketed to stardom as a teenager - first on Broadway, then in a movie, as Helen Keller in "The Miracle Worker". Her film portrayal won her an Academy Award for Best Supporting Actress which led to her own network television program for a few years later. But when she tried to propel her career into more adult roles, one rolled in particular almost destroyed her career. And she also had a personal battle, with a life long-suffering from bipolar disorder, which led her to work as an advocate on mental health issues.
The name on her birth certificate was Anna Marie Duke and she grew up in the Elmhurst section of Queens. The youngest of three children, her father John Duke was a handyman and cabdriver her and her mother Frances McMahon Duke was a cashier.
But she and siblings had a tough time growing up because her father was an alcoholic and her mother suffered from clinical depression with a violent twist. As a result, Anna Marie was raised by a couple of talent managers from the time she was eight years old. They were looking to add to their group of child actors.
However, they didn't always treat her right - taking high fees for their earning, giving her alcohol and drugs and padding her resume with false credits. And they also gave her a new identity calling, her Patty Duke instead of Anna Marie. (In 1987, she authored an autobiography titled "Call Me Anna.")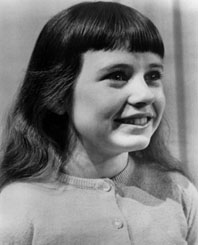 Her career started with roles in TV soap operas in the late 1950s and then it was onto Broadway from October 1959 to July 1961, when she played the role of Helen Keller in "The Miracle Worker."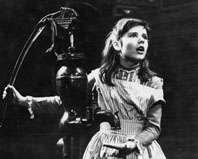 That led to the movie role which earned her an Oscar.
At 16, she was the youngest person at that time to have ever received an Academy Award it a competing category. (Anne Bancroft also won a Best Actress Oscar in that film for her role as Annie Sullivan.)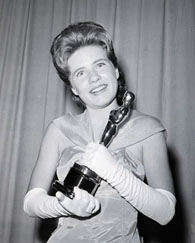 Not long after that she got her own TV series, "the Patty Duke show"…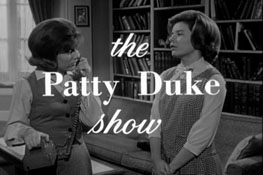 …beginning in 1963. At the time it wasn't known that she had bipolar disorder but the producers did notice two sides to her personality, so they invented a part for her when she played "identical cousins."
That popular show ran until 1966 but when it was canceled, she started her adult acting career by playing Neely O'Hara in 1967's "Valley of the Dolls". But audiences had a tough time accepting the switch from a bouncy teen to a drug abusing singer.
As a result her image and her career suffered. Nevertheless she still attained acting success in a variety of parts, receiving 10 Emmy award nominations and winning three of them as well as Golden Globe Awards.
It was during an Emmy Awards speech that she seemed angry and rambling and some people thought she was either drunk or using drugs at the time. In fact she was in the manic phase of her bipolar disorder. It wasn't diagnosed until 1982 but when the news was out, Patty became one of the first public figures to speak out about her own experiences with mental health issues.
She even lobbied Congress and joined with the National Institute of Mental Health to increase awareness and begin research for people with mental illness
Patty had a successful singing career with two top 40 hits in 1965, "Don't Just Stand There" and "Say Something Funny." She also served as President of the Screen Actors Guild and earned her star on the Hollywood Walk of Fame in 2004 for her film roles.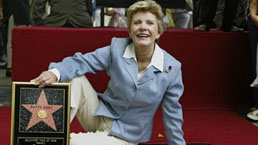 Patty was married four different times - the first in 1965 was to Harry Falk who was 13 years older than she was. Her mood swings and heavy drinking contributed to a divorce in 1969.
In 1970, was she was still only 23, she was dating Desi Arnaz Junior much to dismay of his superstar mother Lucille Ball.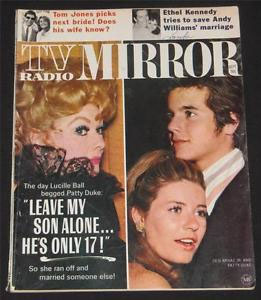 They broke off the relationship and then Patty began dating actor John Astin who was 16 years older than her and known to TV audiences as Gomez Addams on "The Addams Family."
However, around the same time she had an intimate relationship with a rock promoter named Michael Tell and it was later learned that Tell was actually the father of her son Sean Astin - even though John Astin adopted Sean. John and Patty had another son, MacKenzie Astin, in 1973.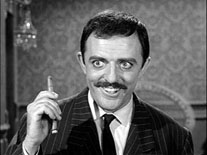 Her two sons went on to acting careers or their own. She was married to Michael Pearce from 1986 until she died and they had an adopted son Kevin.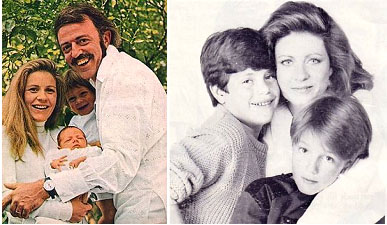 Patty Duke died at the age of 69 at her in Coeur D'Alene, Idaho home in of sepsis from a ruptured intestine. She's also survived by her two sons and three granddaughters, Sean's children.