Famously Dead A-Z:

Cause of Death:
View information about Nick Adams's death here on famously-dead.com. You can view information about Nick Adams's death and other famous deaths. You can view by name or by cause of death. We also have included the most popular famous deaths.
Nick Adams's Death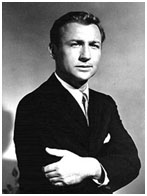 Nick Adams
Actor
July 10, 1931
February 7, 1968
Drug Overdose
The life and death of Nick Adams:
Here's a film and TV actor of moderate success who died young of an overdose of prescription drugs. Nick Adams is also known for his close associations with some of the big names of film and music of the 1950,s notably James Dean, Natalie Wood and Elvis Presley.

A native of Nanticoke, Pennsylvania Nick Adams was born Nicholas Aloysius Adamshock. His father was a Ukrainian born coal miner. And like the song "Sixteen Tons" suggests, the family ended up living in company housing, always buying from the company store, forever in debt.
But when five year old Nick's uncle died in a mining accident, his father loaded up the family car and took his family east to New Jersey. They ran out of money and gas in Jersey City and a man who spotted the family on the street offered Nick's father a job as an apartment building janitor with basement rooms, and that's where they settled.
While still in high school Nick was offered a contract to play baseball for the St. Louis Cardinals but didn't take it because it didn't pay much. He also worked as a bat boy for the Jersey City Giants minor-league team.
Then, at the age of 17, Nick visited New York for auditions for a play. It was there that he met Jack Palance…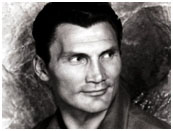 …whose father also was Ukrainian coalminer from northeastern Pennsylvania. Palance took an interest in Nick and started introducing him to theater people.
Nick tried to get roles in the New York theater while his father urged him to get a trade. But Nick was shooting for big bucks. After a year of failure in New York he hitchhiked to Los Angeles and took a job at the Warner's Theatre in Beverly Hills – working as a door man and maintenance man, hoping to make valuable connections.
Nick started getting small acting jobs in town, even filling in for Pearl Bailey one night at the Mocambo nightclub. His first film role came in 1951 allowing him to join the Screen Actors Guild, but success was slow in coming and he joined the Coast Guard.
Two and a half years later, helped by a James Cagney impersonation, he landed a role in "Mister Roberts".
He also had a small film role in "Rebel Without A Cause" in 1955, as Chick. His co-star in the film was a friend, James Dean who he met in December 1950. It was rumored they also a gay relationship
"Rebel" Co-star is Natalie Wood was someone that he dated. And Adams had widely publicized relationship with Elvis Pressley, who he met on the set of Love Me Tender in 1956.

Adams' biggest role was in ABC TV's "The Rebel" in 1959
He also was nominated for a "Best Supporting Actor" Oscar for his role as Ben Brown in 1963's "Twilight of Honor"…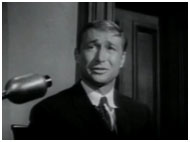 …but lost the competition to Melvyn Douglas.
Adams married actress Carol Nugent in 1959.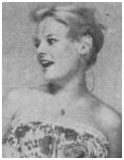 They had two kids but then they had marital problems. He even announced on the Les Crane show early 1965 it was leaving her and hadn't told Carol about it yet.
There were constant rumors about gay relationships that he was having in Hollywood, with the likes of Anthony Perkins, Guy Madison, James Dean, even Elvis. (One of Adams forward fan mail secretaries confirmed that Presley was bisexual and had a sexual relationship with Adams.)
In February 1968, Nick's body was found slumped against a bedroom wall in his home and an autopsy found Adams had enough prescription drugs in his body to cause instant unconsciousness.
There were suspicions that it was murder or suicide but his best friend, the actor Robert Conrad, constantly maintained Nick Adams' death was accidental.
He's buried in Berwick, Pennsylvania and the back of his gravestone bears a silhouette of Adams in the Civil War era cap of his famous TV series "The Rebel" and reads "Nick Adams - The Rebel - Actor of Hollywood Screens."