Famously Dead A-Z:

Cause of Death:
View information about Mickey Rooney's death here on famously-dead.com. You can view information about Mickey Rooney's death and other famous deaths. You can view by name or by cause of death. We also have included the most popular famous deaths.
Mickey Rooney's Death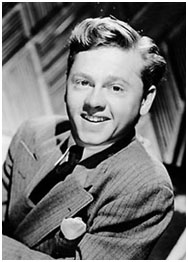 Mickey Rooney
Actor
September 23, 1920
April 6, 2014
Natural causes
The life and death of Mickey Rooney:
He had quite a run of nearly eighty years in the public eye, performing on stage, screen and TV. Sadly, towards the end, there was acrimony among his heirs and he was nearly destitute at the time he died with only a last minute legal agreement allowing him to be buried in a timely way.
He was born Joseph Yule in Brooklyn, New York and by the age of two he was part of his mother and father's vaudeville act. He was the only child of Joe Yule, a native of Glasgow, Scotland and his wife Nellie Carter, who came from Kansas City, Missouri.
While his dad was on the road, he and his mother moved to Kansas City where they lived with his aunt.
Young Joe broke into movies by age ten.

His parents separated in 1924 as the vaudeville business went into decline. His dad also had a problem with drinking too much and an attraction to other women. So, Joe's mom moved him out to Los Angeles.
Nellie wanted Hal Roach to include her son in his "Our Gang" comedies and although Joe was offered a part for $15 a day, other young stars got five times the price. However, Joe did score the lead role in the "Mickey McGuire" series of shorts and appeared in 78 of them from 1927 to 1936.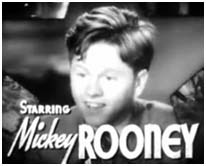 In 1931, during an interruption in the McGuire series, his mother suggested the budding comedian change his name to Mickey Looney. He suggested Rooney instead, saying he didn't want to step on the Warner Brother's animated franchise, "Looney Tunes."
Joe attended and graduated from Hollywood High school and his list of stage and film credits grew.
He hit the big time with his Andy Hardy films, opposite Judy Garland.
Over the course of his eight decade career, he won two special Academy Awards for his film achievements. From 1939 to 1942, he was Hollywood's Number one money-maker.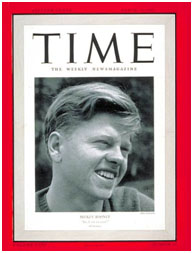 He also married eight times, the first and most glamorous wife being 19 year old Ava Gardner.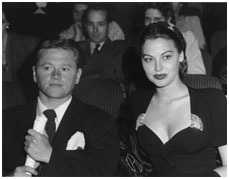 He said of their marriage: I'm 5 feet 3, but I was 6 feet 4 when I married Ava." He was tall for only about a year and then they divorced. She later had a tempestuous marriage to Frank Sinatra.
Mickey remarried too…another seven times…and he fathered seven sons and four daughters.
After serving in the Army in World War II, during which he entertained the troops, Mickey returned to Hollywood but things were never quite the same. His savings were stolen by his manager and his career never regained its previous luster.
He also came to be kind of a poster boy for the dangers of early fame: gaining a reputation of drunken escapades, quickie romances and bad luck with money and love.
Nevertheless, he kept working and kept up his cheerful public persona.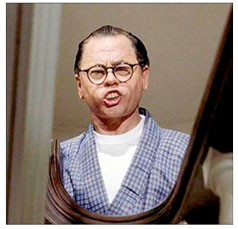 Over the years, he made hundreds of appearances on TV talk and game shows, as well as dramas and variety programs.
His last really big part was in 2011's "The Muppets".
Here he was on opening night.
In February, 2011, he was granted a restraining order against Christopher Aber, a step-son who he said threatened, harassed and bullied him. And a few weeks later he appeared before a special U.S. Senate committee considering laws to curb elder abuse.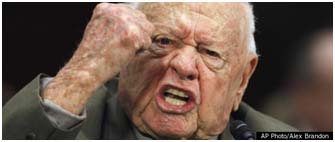 Mickey died quietly of natural causes in his North Hollywood home at age 93, surrounded by family.
A few days later, it was revealed his movie fortune had dwindled and that Mickey's estate was estimated at around $18,000. His will named his step son and caretaker Mark and his wife as sole beneficiaries of his estate.
And after Rooney's wife Jan, from whom he was estranged, agreed to drop a legal claim over his remains, it was agreed that he would be buried at Hollywood Forever Cemetery. The agreement also banned his estranged step-son Chris Aber from attending the service.