Famously Dead A-Z:

Cause of Death:
View information about Lou Costello's death here on famously-dead.com. You can view information about Lou Costello's death and other famous deaths. You can view by name or by cause of death. We also have included the most popular famous deaths.
Lou Costello's Death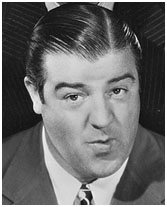 Lou Costello
Actor, Comedian
March 6, 1906
March 3, 1959
Heart Attack
The life and death of Lou Costello:
He was the funnyman in one of the best-known comedy teams of the 1940s and 1950s. But instead of the patsy character he played in the act, he was in many ways the more aggressive member of the team of Abbott and Costello.
Louis Francis Cristillo was born in Paterson, New Jersey. His father Sebastiano came from Calabria, Italy and his mother Helen was of Italian French and Irish ancestry. Contrary to the comedic image he presented as his pudgy character, Lou Costello was considered a gifted athlete while growing up in Paterson.
He was great in basketball and was New Jersey's free-throw champion. He even showed off his skill in the movie "Here Come the Coeds", in 1945 - without any tricks or help from the cameraman. Lou even fought as a boxer under the name Lou King…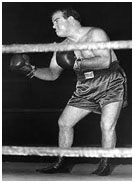 …although this photo was from a movie role.
Growing up, Lou was a fan of the silent movie great Charlie Chaplin and in 1927 left New Jersey for Hollywood to become an actor.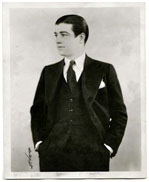 But the only work he could find was as a laborer or extra at MGM and Warner Brothers. His athletic skills meant occasional work as a stunt man and he can be seen ringside in the Laurel & Hardy movie "Battle of the Century", made in 1927.
By 1930, though, his Hollywood dreams were fading and he started hitch hiking back home, ending up in St. Joseph, Missouri. He had no money during the Great Depression but decided to change his stage name to Costello and started doing a burlesque show comedy act.
He did a solo act as a Dutch accented comic and then eventually made it back to New York and began working in vaudeville and burlesque in the Big City.
During that time he met straight man Bud Abbott. The straight man's the guy who sets up the jokes for the funny man - in this case, Lou.
It was Abbott's idea that they teamed up and in 1936 they started their act.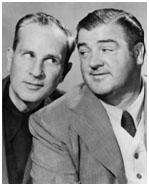 And the conflict between them started almost immediately. Although their routines had Abbott scolding and slapping Costello around…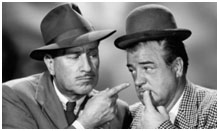 …in real life, Lou was no pushover. Lou wanted top billing but Abbott pointed out that, traditionally in vaudeville, the straight man's name usually appeared first. Lou grudgingly agreed and they started performing in burlesque and minstrel shows, in vaudeville and in movie houses.
By 1938 they had another big disagreement over an offer to appear at the Pantages Theatre, considered top of the heap in vaudeville in those days. Lou was all for it but Abbott said they already had contract agreements and he was afraid they would anger other theater owners. So, Costello offered him 60% of the Pantages take and Bud's wife told him to take it.
The gamble paid off and they ended up represented by the William Morris talent agency, and there was no stopping them as they went on to radio, where they went on to create their signature skit, the classic "Who's On First?" routine.
They appeared on radio throughout the 1940s with their own weekly show on NBC.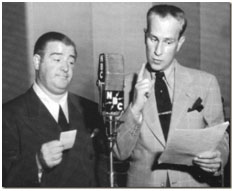 Then Hollywood beckoned with a contract from Universal Pictures and between 1940 and 1956 Abbott and Costello were among the most popular and highest paid entertainers in the world – especially during World War II.
Some of their big hits included "Hold That Ghost", "Buck Privates", "Abbott and Costello Meet the Invisible Man", "Abbot and Costello Meet the Mummy"…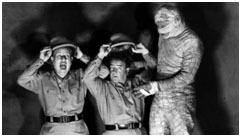 …and "Abbott and Costello meet Frankenstein."
But there was serious rifts developing in the team. Costello felt that he was the main man and downplayed Abbott's part of the act – which Bud resented a great deal. And though it was Abbott slapping Costello around in their routines, it was really more the other way around in real life because Lou was that much more aggressive personality battling with the studio too!
Costello also had a vengeful streak and Lou didn't like that deal where he had to split 60/40 with Bud on the Pantages deal. So he insisted that he would get 60/40 in future deals!
Nevertheless they had a popular TV show, which was staged in Lou's hometown of Paterson, New Jersey.
Lou owned the show, Bud was paid a salary. It ran from 1952-54 but then ran for years in syndication with many a baby boomer including it in their after-school TV viewing plans.
Troubles with the IRS in 1956 forced both of them to sell off the big home and the rights to some of their films and their partnership was formally dissolved in 1957.
Unfortunately, Lou himself didn't last much longer than that.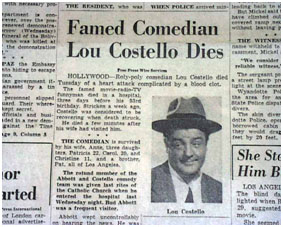 He died of a heart attack in Beverly Hills at a hospital on March 3, 1959 three days short of his 53rd birthday.
Lou married burlesque dancer Anne Battler in January, 1934. They had three daughters and a son.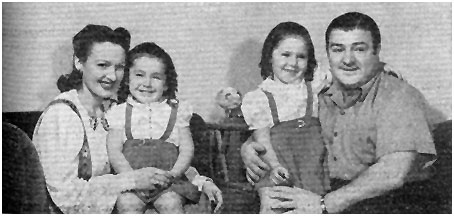 Tragically, Lou Junior died a few days before his first birthday in a backyard swimming pool accident. Their second daughter Carole was married to Dean Martin's oldest son Craig when she died of a stroke at age 49.
Lou Costello's buried at Calvary Cemetery in East Los Angeles, next to his wife who died from an apparent heart attack that same year, 1959.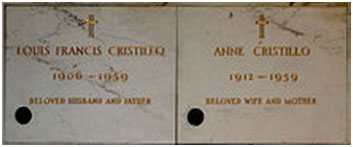 Lou's honored on Hollywood's Walk of Fame three times – radio, film and TV.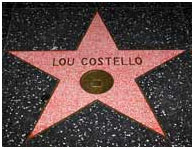 Madison Street, where Lou was born, was renamed Lou Costello's Place in Paterson, New Jersey and in 1992 that city built a statue of him in Lou Costello Memorial Park, in the downtown section.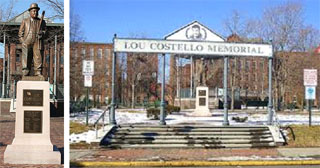 Bud Abbot…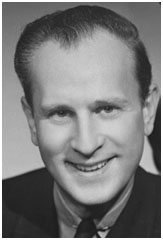 …the straight man…was born William Alexander Abbott on October 2, 1895 in Asbury Park, New Jersey and lived until the age of 78, when he died of cancer on April 24, 1974 in Woodland Hills, California.
After the famous team split, Bud tried working with another partner named Candy Candido, but he quit and announced that "No one could ever live up to Lou."
Bud has three stars on his own on the Hollywood Walk of Fame, just like Lou - one each for radio, TV and film.