Famously Dead A-Z:

Cause of Death:
View information about Linda Lovelace's death here on famously-dead.com. You can view information about Linda Lovelace's death and other famous deaths. You can view by name or by cause of death. We also have included the most popular famous deaths.
Linda Lovelace's Death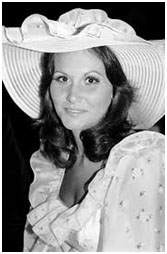 Linda Lovelace
Actress
January 10, 1949
April 22, 2002
Car Crash
The life and death of Linda Lovelace:
She denounced the medium that made her famous. Linda Lovelace was the star of the first truly blockbuster pornography film, "Deep Throat". However, after a career in which she appeared in 21 adult movies and wrote two pro-porn autobiographies, she later denounced her pornography career, wrote a successful book and became a spokeswoman for the anti-pornography movement.
Born in the Bronx, New York as Linda Susan Boreman, she was raised in a working class family. Her father John was a policeman who wasn't home much. Her mother Dorothy was said to be a strict disciplinarian.
The family moved to Florida when she was 16 after her father retired and Linda, a Catholic school girl, became pregnant when she was 19 and delivered her baby when she was 20. The baby was given up for adoption.
Linda returned to New York to attend computer school but was seriously hurt in a car accident. A tainted blood transfusion led to liver disease and she required a liver transplant a couple of decades later.
While recovering from her crash injuries back in Florida at her parents' home, she met and later married Chuck Traynor.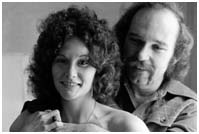 He later took credit for introducing her to the porn industry and she later blamed him for it, saying she was coerced. (Her account was contradicted later by crew members who worked on other films.)
In 1972, she starred in a full length porn feature that created her legend, shown with co-star Harry Reems.

Here are the opening credits, the only part which we'll show here. (Note that Chuck Traynor gets a credit.)
"Deep Throat" was a blockbuster and led to long lines at theatres, both of movie-goers and protestors.
United Press International reported in her obituary:
"Frank Sinatra was one of the early audience members, along with Vice President Spiro Agnew, Warren Beatty, Truman Capote, Shirley MacLaine, Nora Ephron, Bob Woodward and Sammy Davis Jr., who grew so enamored of Linda Lovelace that within the year he and his wife would be having group sex with her and her husband."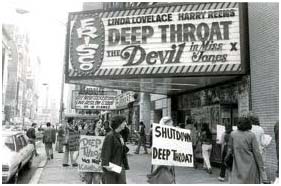 The movie went on to become the first and highest grossing X rated videotape.
In 1974 Linda starred in an R-rated "Deep Throat sequel and a year later left Traynor. In 1976, she Married husband number two: David Winters. He produced and she co-starred in a new film with a former member of The Monkees, Mickey Dolenz.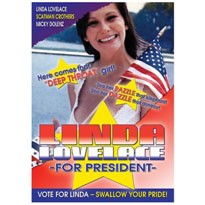 But the film was a flop, effectively ending her movie career. Linda also posed for Playboy and Esquire magazines between 1974 and 1975. And in 1974, she even wrote a pro-porn autobiography.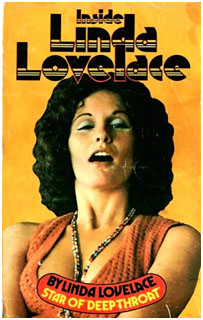 She also wrote "The Intimate Diary of Linda Lovelace."
In her divorce suit against Traynor, she says she was coerced into pornographic films and claimed she only made $1250 for appearing in "Deep Throat" and that Traynor took that too. The film reportedly grossed 600-million dollars.
Linda remarried in 1976 to a Long Island cable installer named Larry Marchiano…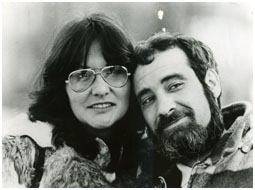 …and had two children, Dominic and Lindsay. The marriage and kids brought some stability to her life for a while, but the couple split in 1996. Linda said he was abusive, violent and drank too much. But the divorce was civil and they stayed in contact for the rest of her life.
By the way, Chuck Traynor also remarried – his wife was another porn queen, Marilyn Chambers, the Ivory Snow package model who starred in "Behind the Green Door".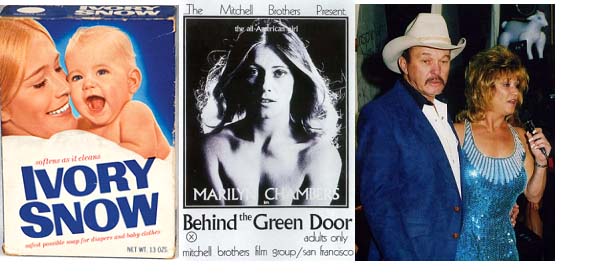 In 1980, Lovelace's anti-porn book "Ordeal" was published and later said when someone sees her in "Deep Throat" they are watching her getting raped.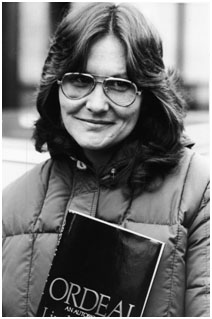 She also spoke out against pornography on Phil Donahue's TV show.
She was involved in a second serious car crash in Colorado on April 3, 2002 and suffered severe injuries. She was removed from life support a few weeks later and died in Denver at the age of 53. Marchiano and her children were there when she died. She was buried at the Parker Cemetary in Parker, Colorado.
In 2013, a full length film was released about her life.