Famously Dead A-Z:

Cause of Death:
View information about Lauren Bacall's death here on famously-dead.com. You can view information about Lauren Bacall's death and other famous deaths. You can view by name or by cause of death. We also have included the most popular famous deaths.
Lauren Bacall's Death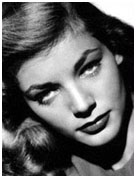 Lauren Bacall
Actress
September 16, 1924
August 12, 2014
Stroke
The life and death of Lauren Bacall:
She made it very big as an adult star when she was still quite young and used her sultry looks and husky voice very successfully in a film and stage career that spanned decades.
Betty Joan Perske was born in the Bronx, New York to a Jewish couple, Natalie Weinstein-Bacal and William Perske. Shimon Peres, the ninth President of Israel, were her first cousin.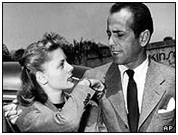 Betty's parents divorced when she was five – her father left her life but Betty remained very close to her mother.
She studied acting at the American Academy of Dramatic Arts while working as a theatre usher and model.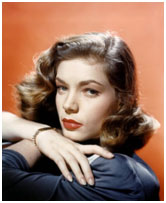 In 1940, she had the chance to meet her favorite actress, Bette Davis, and was bitten by the acting bug.
While working as a fashion model she was spotted in "Vogue" by Hollywood director Howard Hawks' wife, who urged her husband to give Betty a screen test. Hawks' secretary mistook the depth of his interest in Betty – he only wanted some more information – and the secretary sent her a ticket to Hollywood for an audition.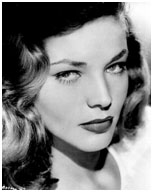 It was a profitable mistake all the way around when Hawks signed her to a seven year contract for $100 a week. He also changed Betty Perske's name to Lauren Bacall.
For her breakout role, in "To Have and Have Not", she developed her signature look to tame her stage fright. She pressed her chin to her chest to stop her shaking and looked up into the camera. It was a money look and she used it for years.
It was also in that role that the willowy 19-year old famously uttered a legendary movie line:
That debut film was the trifecta for Bacall because it also teamed her with Humphrey Bogart.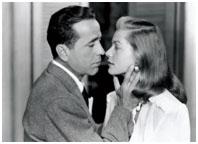 They made four successful films together, and she later reflected on their work professional collaborations.
He was 45 when they married and she was 20. He nicknamed her "Baby". Bogie and Bacall had a son Stephen and daughter Leslie.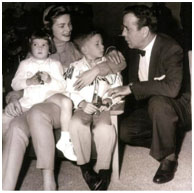 They remained together until he died of esophageal cancer in 1957.
She had as fling with Frank Sinatra…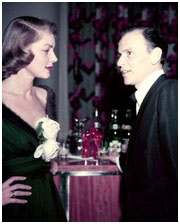 ...to whom she was briefly engaged, but never married.
Lauren was married to actor Jason Robards from 1961 to 1969.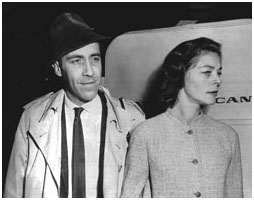 They had a son Sam Robards, also an actor.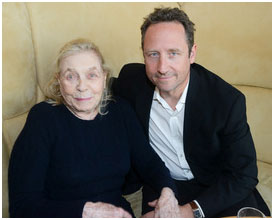 Lauren divorced Jason, she said, because of his alcoholism and later said she had a relationship with actor Len Cariou …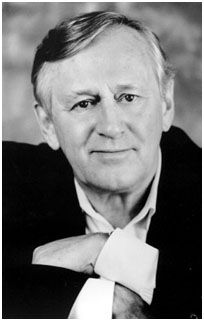 ...her co-star in Broadway's "Applause" in 1970, for which she won a Tony Award.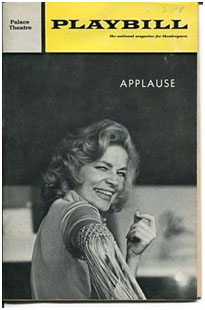 Bacall also won a Tony in 1981's "Woman of the Year".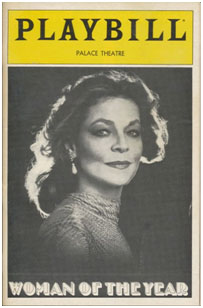 Bacall went on to appear in scores of movies and stage presentations. In addition to her Tony awards, she was nominated for an Academy Award and received an Honorary Oscar in 2009.
Laruen Bacall died of a massive stroke her home at the Dakota apartments in Manhattan.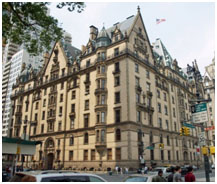 You may remember it as the mythical site for the movie "Rosemary's Baby" and the real life location of the fatal shooting of John Lennon by Mark David Chapman.