Famously Dead A-Z:

Cause of Death:
View information about Gene Wilder's death here on famously-dead.com. You can view information about Gene Wilder's death and other famous deaths. You can view by name or by cause of death. We also have included the most popular famous deaths.
Gene Wilder's Death

Gene Wilder
Actor
June 11, 1933
August 29, 2016
Alzheimer's disease
The life and death of Gene Wilder:
He was a bug eyed actor who starred in several successful comedies, many directed by his collaborator and friend Mel Brooks. But he never really thought of himself a comedian. Instead, he considered himself a comic actor.
Born Jerome Silberman in Milwaukee, Wisconsin, he was the son of Jeanne Baer and William Silberman, who made and sold novelty goods. Raised Jewish, he graduated from Milwaukee's Washington High School in 1951.
He began acting lessons at the age of 12 and remained an acting student through college. He took the stage name Gene Wilder and became a member of Lee Strasburg's famous "Actor's Studio" in New York City in 1961.
In 1963, he co-starred in a play with Anne Bancroft, who introduced Gene to her boyfriend (and future husband), Mel Brooks.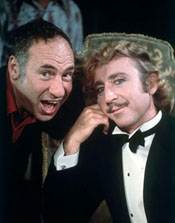 It was the start of a magical collaboration, even though, believe it or not, Gene's film debut was as a hostage in "Bonnie and Clyde."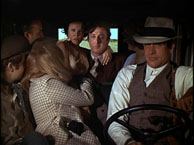 Although he started his acting career on stage, Gene is best remembered for his roles in zany comedies directed by Brooks, playing panicked characters caught up in crazy schemes.
A list of comedies he starred in includes "The Producers", for which he was nominated for an Academy Award as Best Supporting Actor.
Brooks and Wilder were at it again in 1974's "Blazing Saddles", with Gene as The Waco Kid.
He and Brooks co-wrote "Young Frankenstein", or as Gene's title character corrected the pronunciation: Fronk-en-SHTEEN!
They gained an Academy Award nomination for Best Adapted Screenplay.
But he's also remembered for his lead role in "Willy Wonka and the Chocolate Factory" …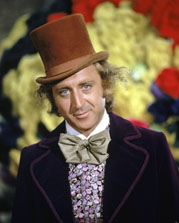 …and Wilder co-starred in several films with Richard Pryor…
…including "Silver Streak", "Stir Crazy", "See No Evil, Hear No Evil" and "Another You."
Gene also played a role in Woody Allen's "Everything You Wanted to Know About Sex" and he also co-starred in three movies with his third wife Gilda Radner of "Saturday Night Live" fame…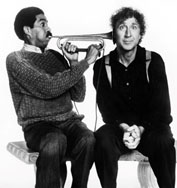 …who died of ovarian cancer in 1989. After she died, Gene worked to promote cancer awareness and treatment.
His first wife was Mary Mercier, whom he married in 1960 but divorced in 1965. He and second wife Mary Joan Schutz were wed in 1967 but they separated seven years later and divorced.
Three years before he died, Wilder was diagnosed with Alzheimer's disease. But he kept it secret so as to not disappoint his fans. He died peacefully at his home in Stamford, Connecticut at the age of 83.