Famously Dead A-Z:

Cause of Death:
View information about Carl Switzer's death here on famously-dead.com. You can view information about Carl Switzer's death and other famous deaths. You can view by name or by cause of death. We also have included the most popular famous deaths.
Carl Switzer's Death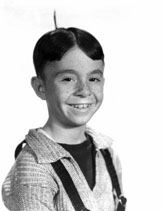 Carl "Alfalfa" Switzer
Actor
August 7, 1927
January 21, 1959
Shooting
The life and death of Carl "Alfalfa" Switzer:
He was one of the most popular child actors of his day, becoming the most popular member in the "Our Gang" (or "Little Rascals") comedies as Alfalfa. But his acting career stalled as he grew older, partly because he was typecast.
He also had developed a reputation as a prickly personality on the set and ended up being shot to death at the age of 31 when he tried to collect on a $50 debt.
Carl Dean Switzer was born in Paris, Illinois, the last of four children born to George Switzer and his wife, the former Gladys Shanks. Carl had an older brother named Harold and they were well known in their hometowns for their musical talent.
A 1934 family trip to California led to a sightseeing visit to Hal Roach Studios, producer of the "Our Gang "comedies. The Switzer boys gave an impromptu performance in the cafeteria and Roach was there and he was impressed. So he signed the boys up for "Our Gang."
Harold was called "Slim" and "Deadpan"…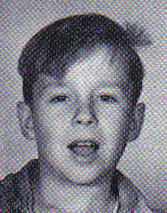 …and Carl was nicknamed "Alfalfa."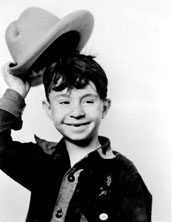 But while Harold was never more than an extra, Alfalfa zoomed in popularity, thanks in part to his off key signing, as in this skit portraying a Depression era version of American Idol.
Eventually, Alfalfa replaced George "Spanky" McFarland as the most popular player in the Our Gang/Little Rascals troupe.
The two remained friends, but their fathers battled over billing and bucks.
Alfalfa, the little man, was quite the ladies' man…

…as photographed with Shirley Temple, "Our Gang" regular Darla Hood and Liz Taylor.
And over the years, Alfalfa developed a reputation for some nasty pranks on the set which would delay filming
As he grew older, Switzer's career faded. One of his later roles was as Donna Reed's original dance date in "It's a Wonderful Life", losing his girl to Jimmy Stewart.
His other really non famous roles were as a brother of the Haynes sisters in White Christmas, some TV bit parts, and as a Hebrew slave in Cecile B DeMille's the Ten Commandments and in the John Wayne film "The High and The Mighty"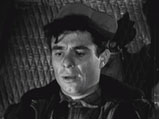 In 1954, Switzer married Diantha Collingwood, the daughter of a man in the grain elevator business and he and his wife had a son Justin (now Eldridge).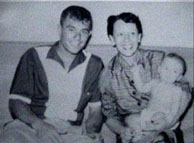 The marriage didn't last long and the couple divorced in 1957.
Switzer turned to dog breeding and training. And it was because of a dispute over a $50 transaction in this business in which he was shot in the groin in this house in Studio City, Los Angeles…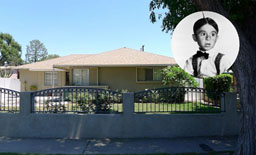 ...and died of internal bleeding at the age of 31. Since Switzer pulled a knife and made threats, the shooter was cleared as acting in self-defense.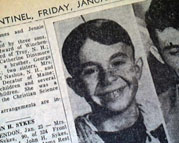 Alfalfa's buried in Hollywood Forever Cemetery.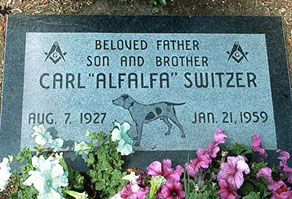 Buried next to Carl is his older brother Harold, who committed suicide at the age of 42 in 1967.