Famously Dead A-Z:

Cause of Death:
View information about Tom Clancy's death here on famously-dead.com. You can view information about Tom Clancy's death and other famous deaths. You can view by name or by cause of death. We also have included the most popular famous deaths.
Tom Clancy's Death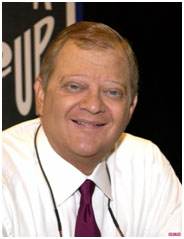 Tom Clancy
Media / Books, Film, Video Games
April 12, 1947
October 1, 2013
Undisclosed Illness
The life and death of Tom Clancy:
He thrilled audiences with his knowledge about spies and military science. As many as 17 of his stores were bestsellers and were not only were made into films but also into video games.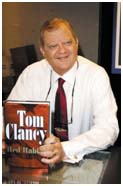 Thomas Leo Clancy was born in Baltimore, the second of three children born to a postal worker father, also named Thomas, and to Catherine who worked in the credit department of a store to be able to send Tom to a private Catholic school.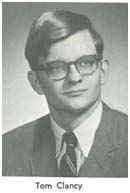 Tom in later years went to Loyola (then College, now University), graduating with a degree in English literature and joining the Army ROTC, though Tom couldn't serve because he was nearsighted.
His early jobs were in the insurance business while writing novels part time. He authored "The Hunt for Red October" while working in insurance. The book came to the attention of then-President Ronald Reagan, who called it "my kind of yarn" and said he couldn't put it down. After that endorsement, it promptly zoomed to the bestseller list. It later became a movie, starring some marquee name stars.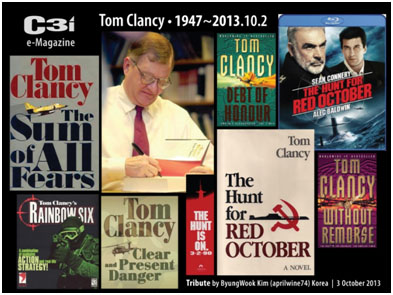 "Patriot Games", "Clear and Present Danger", "The Sum of All Fears" followed and also became successful films, featuring Clancy's best-known character, Jack Ryan.
Tom also wrote several nonfiction books about the Armed Forces. His politics were conservative but in later years Tom criticized former Defense Secretary Donald Rumsfeld.
Tom's first marriage to Wanda Thomas King in 1969 ended in divorce in 1999. Six months after that divorce was finalized, Clancy married Alexandra Llewellyn and they were together until he died. He's also survived by their daughter Alexis and four children he had from his first marriage: Michelle, Christine, Thomas III and Kathleen.
Tom also was part owner of the Baltimore Orioles baseball team with a group of investors that included Peter Angelos. In 1998, he had a deal to buy the NFL's Minnesota Vikings, but was forced to back out because of costs related to his divorce settlement.
Tom Clancy was suffering from an undisclosed illness when he died at Johns Hopkins Hospital, near Baltimore. His fellow author John Grisham noted that Clancy had heart problems and had undergone bypass surgery
For conspiracy theorists, the website beforeitsnews.com floated a story they Clancy might have been killed because he was about to reveal secrets of the Obama administration. However, none of these accusations were ever confirmed.