Famously Dead A-Z:

Cause of Death:
View information about Roger Ailes's death here on famously-dead.com. You can view information about Roger Ailes's death and other famous deaths. You can view by name or by cause of death. We also have included the most popular famous deaths.
Roger Ailes's Death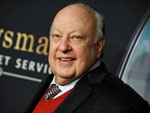 Roger Ailes
Media Mogul, Political Strategist
May 15, 1940
May 18, 2017
Head Injury, caused by Falling
The life and death of Roger Ailes:
This media mogul was as mistrusted and despised by his critics as he was beloved by those who are on his side in the political debate. He was a political adviser who was also very deep in producing television programming - from a very successful daytime talk show when he started to his crown jewel, the creation of the most powerful name in cable news. But in the end, he was caught up in a scandal involving alleged sexual harassment and was forced to leave his job at the helm of the network he created. To add to the Greek tragedy, he died suddenly less than a year later, just days after the 77th birthday.
Roger Eugene Ailes was born in Warren, Ohio and always saw himself as a blue-collar, working class kind of guy. His father of the same name was a factory maintenance foreman and his mother was the former Donna Marie Cunningham. His parents divorced in 1960, when Roger was 20.
Roger, who described his upbringing with three words: "God, country, family", was a hemophiliac and was hospitalized several times as a boy.
He attended public schools in Warren and attended Ohio University, majoring in radio and TV.
He got his start in television as a production assistant at a Cleveland TV station and worked his way up the ladder. He went from P-A to Executive Producer of the Mike Douglas Show in just three years, and moved with the program to Philadelphia.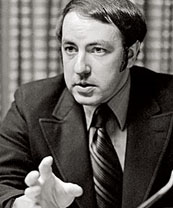 The show was among the most popular daytime TV talk shows ever.
Ailes managed to lure many big-name talents to appear on the program…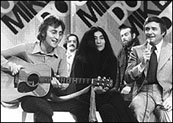 …like John Lennon, singing one of his biggest songs in 1972
Another famous guest was Richard Nixon, former Vice President of the United States and defeated presidential candidate in 1960. Roger convinced Nixon that television was a medium and skill that he needed to harness and Nixon, seeing the wisdom, hired Ailes to help his campaign.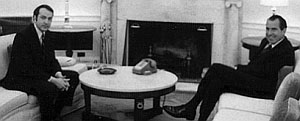 Nixon was elected in 1968 and reelected by a landslide in 1972 although he was forced to resign under his own political cloud called Watergate.
Roger wasn't done with Republican Presidential politics, though, advising the successful White House campaigns of Ronald Reagan in 1984 and George H. W. Bush in 1988. He didn't work with Bush when Bush lost to Bill Clinton in 1992.
The media was calling again in 1993, Roger Ailes took over leadership of the financial channel CNBC.
By 1996, Rupert Murdoch asked him to start a new cable news channel in competition with CNN.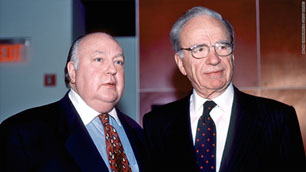 So, came the birth of the Fox News Channel, which promised fair and balanced coverage.
Many political opponents on the left said it was just a right-wing news outlet. But that did little to stop Fox News' growing popularity and within just a few years it became the most successful cable news outlet, with its stable of straight news programming and talk shows. Ailes was at the helm, hiring the major talent.
But in the heat of the political campaign of 2016, serious charges were leveled against Ailes. He was accused of making passes at some of his female anchors, notably Gretchen Carlson.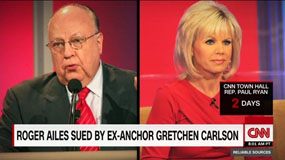 There was a groundswell of protests as similar accusations from others followed, and Ailes was forced out of his job by the Murdoch family, owners of Fox News Channel. Ailes received a hefty $40-million-dollar payout and left.
Married three times, his first two ended in divorce before Roger married Elizabeth Tilson. They had a son, Zachary.
Less than a year before his ouster, Ailes died suddenly at the age of 77, within three days of his last birthday. TMZ reported he had fallen the weekend before at his home in Palm Beach Florida, hit his head, slipped into a coma and died.