Famously Dead A-Z:

Cause of Death:
View information about John McLaughlin's death here on famously-dead.com. You can view information about John McLaughlin's death and other famous deaths. You can view by name or by cause of death. We also have included the most popular famous deaths.
John McLaughlin's Death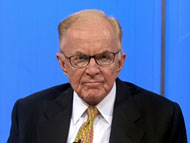 John McLaughlin
TV Personality and Political Commentator
March 29, 1927
August 16, 2016
Cancer
The life and death of John McLaughlin:
He was a fixture on millions of TV screens for several decades, as host of The McLaughlin Group, the political commentary program that he created. However, after he explained his first sick day in decades in 2016, he died a few days later.
His name on his birth certificate was John Joseph McLaughlin and he was born in Providence, Rhode Island. Raised in an Irish Catholic family, he attended the local LaSalle Academy and at 18 began preparing for the priesthood when he entered Weston College in Massachusetts, which later became the Theological Seminary of Boston College.
After being ordained he spent some time as a high school teacher at a Jesuit prep school in Fairfield, Connecticut.
Originally a Democrat and Viet Nam War opponent, he changed his views and began supporting the war effort and became a Republican. In 1970, he sought permission from the Jesuits to run for the U. S. Senate in Rhode Island. They said no.
But through McLaughlin's friendship with Pat Buchanan, McLaughlin became a speechwriter for President Richard Nixon.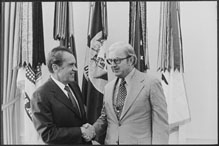 He briefly served in the Administration of President Gerald Ford and left the priesthood in 1975.
He married Anne Dore (his former campaign manager) and became a weekend radio host in Washington D.C. in 1980 and by 1982, created his signature TV show with himself as the host.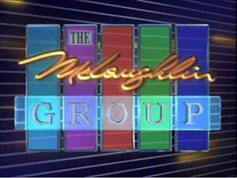 Typically, the show had four commentators, two Conservatives and two Liberals with John in the middle.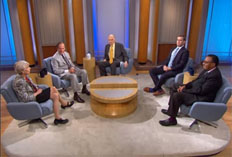 His wife Anne…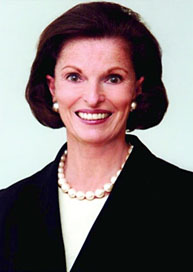 …served as Secretary of Labor from 1987 to 1989 but the couple divorced in 1992. John married his second wife, Cristina Clara Vidal in 1997…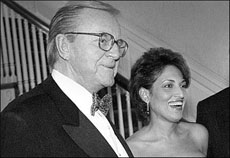 …but they divorced in 2010.
John and his show were parodied in the early 1990's on "Saturday Night Live" and John himself appeared in some movies, like "Independence Day" and "Mission: Impossible" in 1996.
He died soon after missing his first broadcast in 34 years.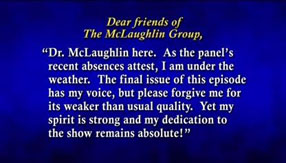 This last message to his fans came three days earlier, explaining his absence from some recent shows. He died of prostate cancer at his Washington, D.C home on August 16, 2016.