Famously Dead A-Z:

Cause of Death:
View information about Freddie Prinze, Sr.'s death here on famously-dead.com. You can view information about Freddie Prinze, Sr.'s death and other famous deaths. You can view by name or by cause of death. We also have included the most popular famous deaths.
Freddie Prinze, Sr.'s Death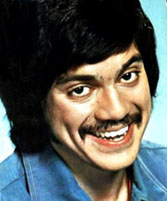 Freddie Prinze, Sr.
Actor, Comedian
June 22, 1954
January 29, 1977
Suicide
The life and death of Freddie Prinze, Sr.
He was a Hollywood supernova, who shot to stardom and burned brightly, but then burnt out and died at age 22 in a suicide.
Frederick Karl Pruetzel was born in the Washington Heights section of New York City to a Puerto Rican mother named Maria and a German father named Edward. In later years, as a rising comic in the City, he billed himself as a Hunga-Rican…half Hungarian and half Puerto Rican.
Raised in the big city, Freddie's mom enrolled him in ballet classes to help him deal with a weight problem and he enrolled in Fiorello LaGuardia High School for performing Arts, where he continued ballet was introduced to drama. But his comedic routines in the boy's room convinced him comedy was the way to go and he quit school to become a stand-up comedian.
He worked several clubs in Manhattan, including the Improv and Catch a Rising Star. There was an early TV appearance on The Tonight Show, in which he was invited to chat with Johnny Carson in his first appearance – which was a first.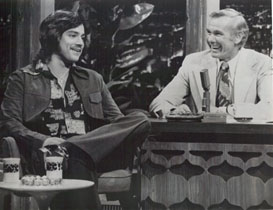 He also appeared on the Midnight Special.
By 1974, he was cast as Chico Rodriquez on NBC-TV's "Chico and the Man"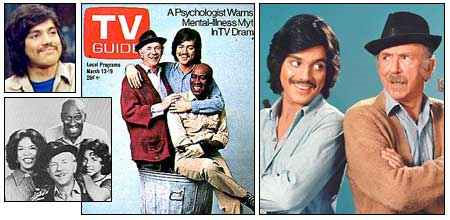 The show was a big hit and Freddie signed a five year, 6-million-dollar deal with NBC.
But trouble was brewing.
His marriage to Kathy Elaine Cochrane was fraying,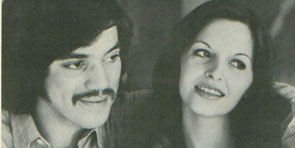 even though they had a son, Freddie Jr…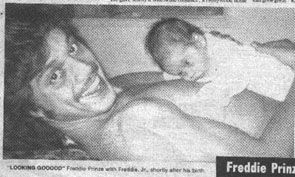 …who went on to an acting career of his own.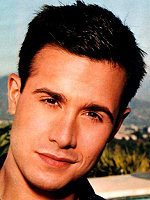 Freddie Sr. was arrested for driving under the influence of Quaaludes in November, 1976 and his wife filed for divorce because of his drug abuse. She said he was endangering his son. Already suffering from depression, it got worse after the breakup and Freddie put a gun to his head and pulled the trigger.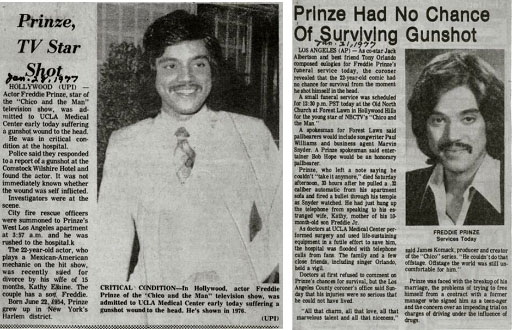 His death was first ruled a suicide but later reclassified as accidental, even though a suicide note was found.
Buried at Forest Lawn Memorial Park in Los Angeles…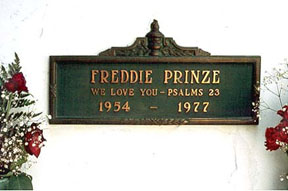 …Freddie received a star on Hollywood's Walk of Fame…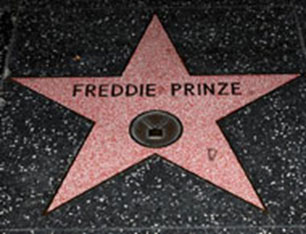 …a few decades after he died.