Famously Dead A-Z:

Cause of Death:
View information about Billy Graham's death here on famously-dead.com. You can view information about Billy Graham's death and other famous deaths. You can view by name or by cause of death. We also have included the most popular famous deaths.
Billy Graham's Death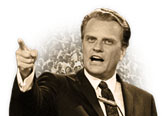 Billy Graham
Evangelist
November 7th, 1918
February 21, 2018
Pneumonia, Cancer, Parkinson's Disease
The life and death of Billy Graham:
He was known as "America's Pastor". This inspirational leader from North Carolina, who met with every American President from Harry Truman to Donald Trump and who also famously met with Britain's Queen Elizabeth, provided spiritual comfort and guidance to millions of everyday people around the world with his stirring and charismatic message about Christianity before huge, live stadium audiences, in print, on recordings and on television and radio.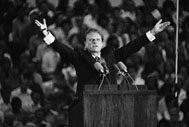 He was born William Franklin Graham Jr. on a family dairy farm near Charlotte North Carolina. He was the eldest of four children born to William Graham Sr. and his wife Morrow. He and two sisters and a younger brother and was raised Presbyterian. One of the early lessons in his life was in 1933 when his father forced him and a sister to drink beer until they got sick. They both avoided alcohol and drugs for the rest of their lives.
Billy graduated from Sharon High School and then attended Bob Jones College, located in Cleveland Tennessee. By 1937 he transferred to the Florida Bible Institute near Tampa.
As a young man Billy was a high school baseball player and hoped to go professional with that but there were bigger things in store for him. When he was 17, he attended a revival in Charlotte when he experienced a religious conversion.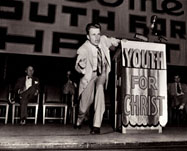 As a college student Billy became pastor of the United Gospel Tabernacle and began preaching. That led to his career as a fulltime evangelist and by 1949 he scheduled a series of revival meetings in Los Angeles. Those tent meetings attracted the attention of the National Media and Billy quickly became a national figure.
In the years since his ministry started in 1947, he conducted more than 400 crusades in 185 countries and territories on six continents.
During a 1953 rally in Chattanooga Tennessee, he tore down the barriers designed to segregate his audience into racial sections.
He met Dr. Martin Luther King for the first time during the Montgomery bus boycott of 1955.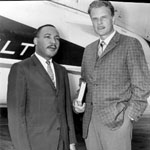 Graham opposed the candidacy of John F. Kennedy in 1960 because of Kennedy's Catholicism, but later spoke positively of JFK.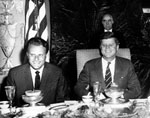 Graham became close friends of Presidents Lyndon Johnson and Richard Nixon. And had a friendly rapport with Queen Elizabeth II, often invited by the royal family to special events in England.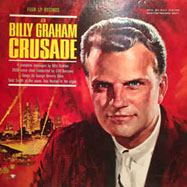 Simply put, Reverend Graham's message was about Christ.
His "Hour of Decision" weekly radio talk was carried on more than 800 radio stations worldwide. He also wrote a syndicated newspaper column called "My Answer" and authored dozens of books, many of them bestsellers.
He also had some strong political views against communism and anti-war protestors and for the Viet Nam war. He travelled to combat zones in Viet Nam and South Korea to pray with U.S. service members.
However, Mr. Graham was criticized for unpopular statements about Jews, agreeing with Nixon that Jews controlled the American Media. He also said feminism was a net goal of a permissive society and said AIDS was a judgment from God and opposed same sex marriages.
However, Billy Graham managed is to stay clear of the financial and sexual misconduct scandals that wracked other televangelists in the 1980's.
Billy married Ruth Bell in 1943…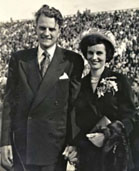 …and they remained together for the rest of her life when she died at age 87 in 2007. They had five children together including Franklin Graham…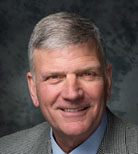 …who picked up after him as the leader of the Billy Graham Evangelistic Association.
He died just a few months shy of his 100th birthday and was survived by 19 grandchildren and several great-grandchildren. The exact cause of his death was not immediately disclosed but he had been known to be suffering from various ailments, including Parkinson's disease, cancer and pneumonia in his later years.