Famously Dead A-Z:

Cause of Death:
View information about Joe Gallo's death here on famously-dead.com. You can view information about Joe Gallo's death and other famous deaths. You can view by name or by cause of death. We also have included the most popular famous deaths.
Joe Gallo's Death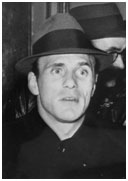 Joe Gallo
Criminal
April 7, 1929
April 7, 1972
Shooting
The life and death of Joe Gallo:
He was known on the street as "Crazy Joe" and he had a crazy finale, dying in a barrage of bullets at his own 43rd birthday party in a restaurant in New York's "Little Italy". He did plenty of damage of his own along the way, including launching one of the bloodiest gang wars on record, laying the groundwork for his own death.
Joe Gallo was born and raised in Brooklyn's Red Hook section, to Mary and Umberto Gallo. Dad was a bootlegger during Prohibition and didn't discourage any of his three sons, (Joey, Larry and Albert) from following in his path. Police said the Gallo boys were partners in crime.
Joey was diagnosed with schizophrenia at Kings County Hospital after a 1950 arrest and started his life as a mobster as a hit man and enforcer for the Profaci crime family, keeping a pet lion in the basement on his Brooklyn headquarters. Within a few years he owned a few Manhattan night clubs and two sweat shops in the New York Garment center.
In 1957, the head of the Profaci gang, Joe Profaci…
…asked Joey Gallo and his crew to kill rival crime boss Albert Anastasia…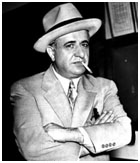 …at the request of Anastasia's underboss Carlo Gambino…

…who wanted to assume control of the gang.
Anastasia was the feared former leader of Murder, Inc. and not an easy target but he met his end in a barber chair…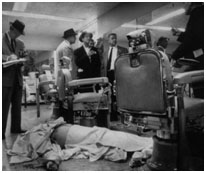 at Manhattan's Park Sheraton Hotel, now the Park Central Hotel. Anastasia's killers were never caught. But mobster Carmine Persico once joked that he and Joey Gallo put him away.
By the end of the decade, Joey testified before a Senate committee on organized crime in true gangland style…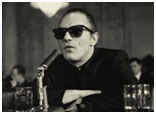 …trying to ruffle as many feathers as possible, including Senate counsel Robert F. Kennedy.
In the early '60s, the Gallo crew tried to kidnap all of the leaders of the Profaci family. Leader Joe Profaci eluded capture, but other gang leaders were abducted and later released for ransom. It triggered an internal struggle that led to kidnappings and killings and as time went by, cut into the Gallo gang's business.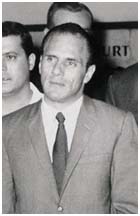 Joey was convicted on conspiracy and extortion charges in1961 when he tried to shake down a café owner and was sentenced to 7 to 14 years in prison. While doing his time in three separate New York state prisons, Gallo became friends with the black drug trafficker Nicky Barnes and soon started recruiting black soldiers for his own gang.
When Joey was released from prison in 1971, he became a celebrity gangster, living the high life, partly because the movie "The Gang That Couldn't Shoot Straight" was loosely based on the Gallo crew.
Gallo married twice. First wife Jeffie Lee Boyd married him in 1960, divorced him in the mid-60's and they remarried in 1971. They had a daughter Joie. Three weeks before he died, in March 1972, Gallo married a 29 year old actress, Sina Essary.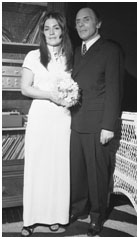 He was her daughter Lisa's step-father.
However, trouble was brewing because Joe Colombo had taken command of the old Profaci family after some more internal turmoil and was irritating the heads of the other New York crime conglomerates by drawing attention through his Italian-American Civil Rights League.
Colombo was gunned down in a Columbus Circle rally in June 1971…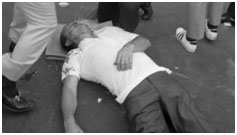 …and his supporters concluded Joey Gallo was behind it, vowing to kill him.
On April 7, 1972 Joey was guest of honor at a birthday party at Umberto's Clam Bar…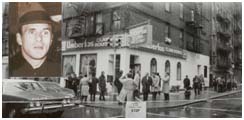 ...a Manhattan restaurant. In between seafood courses, four men burst into the dining room and started shooting. Joey pulled his gun, but took twenty shots in the back and elbow. He staggered to the front door, stumbled outside and collapsed – pronounced dead at a nearby hospital.
Gallo's funeral was under police surveillance…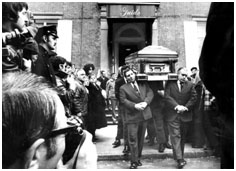 …and he was buried in Brooklyn's Green-Wood Cemetary.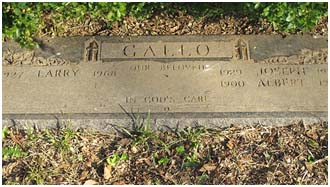 Like one of Gallo's purported "greatest hits", Albert Anastasia, no one was ever charged in Joey's murder either.