Famously Dead A-Z:

Cause of Death:
View information about Jack Ruby's death here on famously-dead.com. You can view information about Jack Ruby's death and other famous deaths. You can view by name or by cause of death. We also have included the most popular famous deaths.
Jack Ruby's Death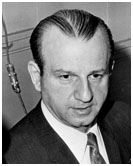 Jack Ruby
Criminal
March 25, 1911
January 3, 1967
Pulmonary Embolism, Lung Cancer
The life and death of Jack Ruby:
Here's the guy who singlehandedly made sure there would be no easy answers into who assassinated John F. Kennedy, or why. That's because Jack Ruby killed the man police suspected of shooting the President a mere two days after Kennedy was gunned down. And he did it inside a Dallas police station in full view of an army of cops and on national television to boot!
Jacob Leon Rubenstein was born to a Jewish Orthodox couple, Joseph and Fannie, in Chicago. He was the fifth of the couple's ten surviving kids and had a troubled childhood and teenaged years, marred by juvenile delinquency and time spent in foster homes.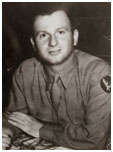 He was drafted into the Army Air Force in 1943 and served with honor, promoted to the rank of Private First Class. Never married, Ruby later went on to manage a series of bars, nightclubs and strip joints.
One of them was The Carousel Club in Dallas…

…where Ruby befriended several local police officers and the city where Kennedy was killed …

…on November 22, 1963.
Ruby was reportedly seen that day at Parkland Hospital, where the president was pronounced dead. The Warren Commission later discounted that information. Ruby was said to have been so angered by the President's death that he decided to kill the alleged assassin, Lee Harvey Oswald.
Ruby convinced his friends in the Dallas Police department to allow him in on the day Oswald was to be transported to the County jail, and shot him as point blank range.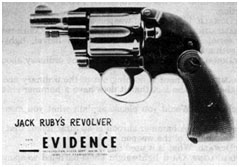 He originally said he did it for the sake of Jacquelin Kennedy, the president's widow, to spare her the discomfort of seeing a trial.
But others suggested that Ruby's ties to organized crime figures opened him to suspicion of being part of a broad conspiracy to kill Kennedy and cover it up by getting rid of his assassin.
In later years Ruby said he wanted to reveal more but was refused a safe haven in Washington. The Warren commission found no link between Ruby's killing of Oswald to the killing of the President. It concluded Oswald's murder was an independent act.
Ruby died with whatever secrets he had of a pulmonary embolism after suffering from lung cancer. Ironically, he died at Parkland Hospital in Dallas…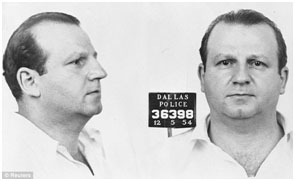 …where both Oswald and Kennedy were also declared dead.
Ruby's buried with family members at the Westlawn Cemetery in Norridge, Illinois.