Famously Dead A-Z:

Cause of Death:
View information about Walt Disney's death here on famously-dead.com. You can view information about Walt Disney's death and other famous deaths. You can view by name or by cause of death. We also have included the most popular famous deaths.
Walt Disney's Death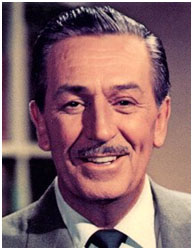 Walt Disney
Animation, Movies, Television, Theme Parks
December 5, 1901
December 15, 1966
Cancer
The life and death of Walt Disney:
This man was a true visionary, starting so many industries it's incredible to think of all that he accomplished in just 65 years. He was a cartoonist, animator, film and TV producer screenwriter, voice actor, business mogul and philanthropist who brought joy to several generations of children and to their parents who remained young at heart.
Walter Elias Disney had humble beginnings, born in Chicago to Elias and Flora Disney…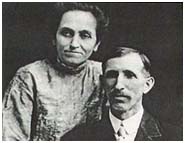 …a poor couple of Irish, Canadian, German, English and French extraction.
When the family moved to Kansas City, young Walt became interested in cartoons and took Saturday art courses. The Disney's later returned to Chicago where Walt continued his art studies.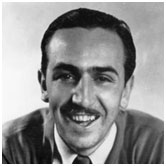 Rejected by the Army in World War I because he was underage, he joined the Red Cross as an ambulance driver as the conflict drew down.
In 1919, Walt returned to Kansas City to begin his career in art. His brother (and later business partner) Roy helped him get a job in which Walt created ads for newspapers, magazines and movie theatres. However, Walt wanted to be an animator. His cartoons were a hit in Kansas City, but his studio there failed so Walt picked up and headed to the movie capital, Hollywood.
He learned a hard lesson when he lost the rights to his creation "Oswald the Lucky Rabbit." But then Walt concocted a character named Mortimer Mouse. His wife Lillian suggested Mortimer was a little too formal sounding a name and she suggested Mickey.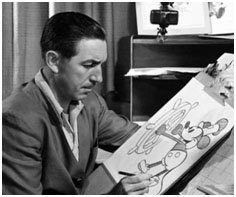 With Walt providing the voice, Mickey Mouse made his film debut in the film "Steamboat Willie."
A literal flood of characters followed in the years ahead. Rather than listing their names, see how many you can recognize.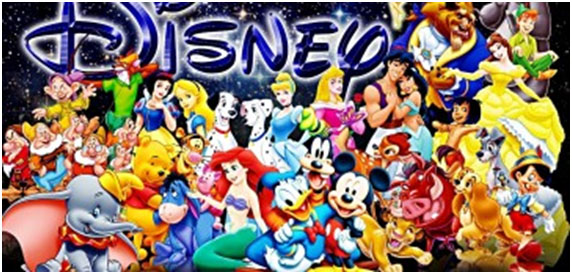 More sophisticated animation techniques came too and Disney characters were staples in movie theatres. Just look at these titles.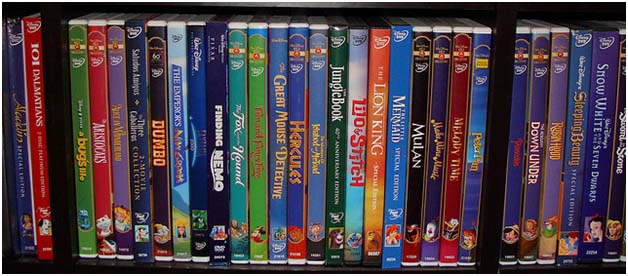 He also was instrumental in television, starting with ABC TV in the 1950s, with programs like "The Mickey Mouse Club, starring the Mouseketeers - like Annette Funicello.
And as color television became popular in the 1960,s Disney pivoted and brought a new TV experience to NBC TV
However, Disney did not limit himself to animation, films, TV. In the mid 1950's, Walt was innovating again, developing his Disneyland theme park in Anaheim, California.

Although the Disneyland concept worked great, California is a long trip from the East Coast, so Walt began buying up orange groves in the Orlando, Florida Avenue area and created Walt Disney World.

Unfortunately, he never lived to see it to fruition. A chain smoker his entire life, a lung tumor was discovered in 1966 and ten days after his 65th birthday, Walt died of lung cancer.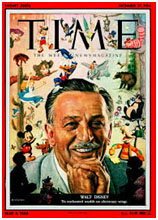 For all that he accomplished, Disney had detractors who claimed he was racist and anti-Semitic, because some of his cartons of the 1930's, '40's and '50's contained racially insensitive material.
And there's another accusation about him that's simply untrue. Legend has it that Walt Disney was frozen…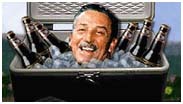 …and that his body was stored under the Pirates of the Caribbean ride at Disneyland.
It's just false! Cryonics hadn't even started until after his 1966 death.
In fact, Walt Disney was cremated and his ashes were scattered at Forest Lawn Memorial Park in Glendale California.
After he died, his brother Roy came out of retirement to run the Disney company. And in a post-script to his life, the town of Celebration, Florida was built…

…adjacent to the Disney World property.