Famously Dead A-Z:

Cause of Death:
View information about Annette Funicello's death here on famously-dead.com. You can view information about Annette Funicello's death and other famous deaths. You can view by name or by cause of death. We also have included the most popular famous deaths.
Annette Funicello's Death
Annette Funicello
Actress, Singer
October 22, 1942
April 8, 2013
Multiple Sclerosis
The life and death of Annette Funicello:
She was a child star, who Baby Boomers rushed home from school to watch as probably the best known Mouseketeer on TV"s "Mickey Mouse Club".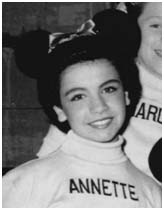 However, she was able to expand her career from there, recording some hit records and starring in some very popular beach party movies, looking very much like a grown up.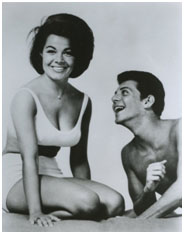 Annette Joanne Funicello was born in Utica, New York to Virginia Albano and Joseph Funicello. When she was four, the family moved to Southern California. Shy as a little girl, she took dancing and singing lessons to overcome it. When she was 12, she was discovered by none other than Walt Disney himself, as she performed as the Swan Queens in Swan Lake.
The man who invented Mickey Mouse personally selected her as the last Mouseketeer for his new TV venture, the Mickey Mouse Club…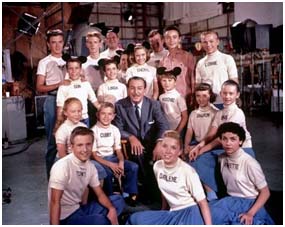 …and Annette was a big hit, getting six thousand fan letters a month by the end of the first season.
She also starred in several serials on the TV show and sang a song in one of them, "How Will I Know My Love", which gained so much attention that Disney issued it as a single and gave her a recording contract.
Although she didn't want to be thought of as a singer, her musical hits included the pop singles "Tall Paul", "O Dio Mio" and "Pineapple Princess."
Annette also appeared in other Disney TV projects, like "Zorro" and "Elfago Bacca" and Disney films like "The Shaggy Dog", "Babes in Toyland" and "The Monkey's Uncle".
By the mid '60's, and all grown up, Annette starred in a series of Beach Party movies with Frankie Avalon.
Annette and Frankie reunited in a 1979 parody of their movies and even toured for a while as a singing act.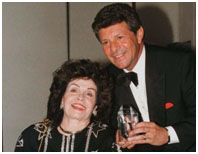 Annette's best friend was singer-actress Shelley Fabares, from "The Donna Reed Show" and "Johnny Angel" fame. The became friends as teenagers in a Catholic catechism class and Fabares was a bridesmaid at Annette's first wedding, when she married her manager, Jack Gilardi.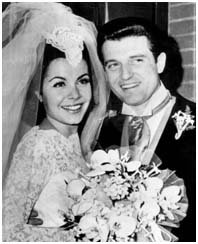 They had three children: Gina, Jack and Jason…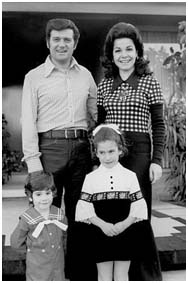 …but the marriage ended in divorce in 1981. Annette took time out to raise the kids, but returned to the public eye in 1979 in a series of commercials for Skippy peanut butter.
She married Glen Holt, a California harness race horse breeder, in 1986.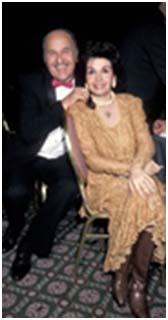 And they were together until she died.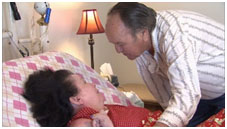 In early 1987, while working with Frankie Avalon, Annette suffered some dizzy spells but didn't talk about her failing health. In 1992, she announced she'd been diagnosed with multiple sclerosis, a disease in which the insulating covers of nerve cells in the brain and spinal cord are damaged.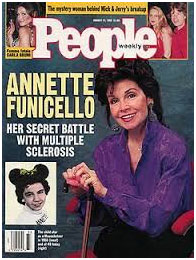 She died of complications from MS at the age of 70, her family by her side. A private funeral ceremony was held at the Cherished Memories Memorial Chapel in Bakersfield, California. Some reports say she's buried in Forest Lawn Memorial Park in Hollywood Hills, although the claim's been contested by some.