Famously Dead A-Z:

Cause of Death:
View information about John DeLorean's death here on famously-dead.com. You can view information about John DeLorean's death and other famous deaths. You can view by name or by cause of death. We also have included the most popular famous deaths.
John DeLorean's Death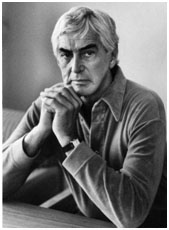 John DeLorean
Business Executive
January 25, 1925
March 19, 2005
Stroke
The life and death of John DeLorean:
He's the auto industry executive who was a true innovator, remembered for the introduction of several new cars for General Motors in the 1960's. They were big hits with the American public. But John DeLorean's maverick style rubbed some Detroit bigwigs the wrong way and he went on to start his own company with a futuristic vehicle.
However, it didn't sell well after many production delays and in order to keep his company afloat, he ended being accused of participating in a cocaine ring. He was acquitted because of entrapment but his career was ruined.
Befitting a car man, John Zachary DeLorean was born in Detroit. His father Zachary was a Romanian immigrant and worked as a union organizer at the Ford Motor Company. DeLorean's mother Catherine was from Austria-Hungary and she worked for General Electric to bolster the family's meager income.
His parents divorced in 1942 when John was 17 years old and after that he saw little of his father after that. Zachary DeLorean later moved into a boarding house, becoming an estranged alcoholic.
John attended public schools in Detroit right through a technical high school for honor students. From there he went on to the Lawrence Institute of Technology on a scholarship. He excelled while studying industrial engineering though World War II interrupted his studies. He served in the U.S. Army and received an honorable discharge.
But rather than going into engineering after getting out of the Army, DeLorean sold life insurance and briefly attended the Detroit College of Law, but did not graduate.
By the early 1950s he was working with Chrysler's engineering team and then went on to the Packard Motor Company, which was going down the tubes as it tried to build precisely engineered luxury cars in a mass production market dominated by General Motors and Ford.
So, John got a job at GM a 1956 and was assigned to the Pontiac division and helped make automotive history because he's the guy who developed the Pontiac GTO.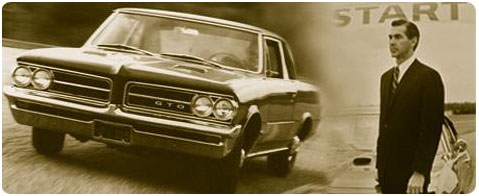 He also developed the Pontiac Firebird, Pontiac Grand Prix and the Chevrolet Vega.

In the meantime, he was a celebrity business guy with a jet setting lifestyle, becoming friends with entertainers like Sammy Davis Jr. and Johnny Carson.
His nonconformist lifestyle irritated many executives at General Motors and DeLorean left GM in 1973 to form his own car making venture: the DeLorean Motor Company.

While there he developed the distinctive gull winged DeLorean DMC 12, made out of stainless steel.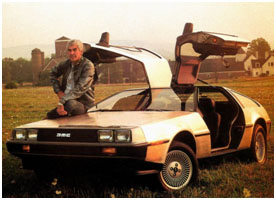 But production delays meant the DMC 12 didn't reach consumers until 10 years later and that, coupled with a U.S. economic recession, meant slow sales and the company was sagging. In October 1982, DeLorean was charged with trafficking in cocaine by the U.S. government following a videotaped sting operation. A confidential informant tipped off the feds that cocaine was involved in DeLorean's portfolio.
Specifically DeLorean was arrested on charges of drug trafficking by agreeing to bankroll a cocaine shipment for a $24 million cut of the profits.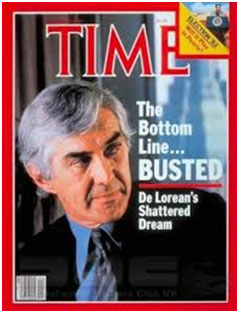 An informant named James Timothy Hoffman told the prosecutors that Dorian confided he needed the money to keep DMC financially solvent. But John DeLorean escaped the noose. He was found not guilty at trial after successfully arguing that the police entrapped him.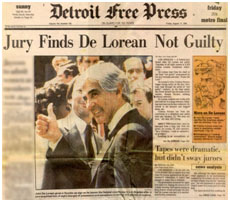 But by then his company had slipped into Chapter 11 bankruptcy and John DeLorean's reputation was ruined forever. After his acquittal he was asked whether he'd go back into the car business and glumly responded "would you buy a used car from me?"
DeLorean offered this interview to Detroit's Channel 2 in 1988
But the DeLorean DMC12 had a reputation of its own and when the film "Back to the Future" came out in 1985, it was the futuristic car used in all three editions of the movie.
John DeLorean was married four times, the first to Elizabeth Higgins in 1954.

They split up in 1969. Then he married Kelly Harmon…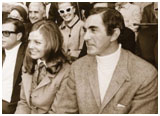 …sister of actor Mark Harmon and daughter of sportscaster and Heisman Trophy winner Tom Harmon. That marriage ended in 1972.
His third marriage was to model Christina Ferrare…

…with whom we had a daughter. They split up a 1985 and then he had his final marriage to Sally Baldwin, to whom we was married until his death in 2005.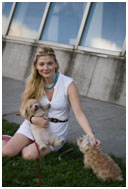 John also adopted a son as a single father who he named after his own estranged father, Zachary.
John DeLorean died at the age of 80 from a stroke in March 2005 in Summit, New Jersey. He was a resident in nearby Bedminster. His ashes are buried at the Whitehall Chapel Cemetery in Troy Michigan; where there's a tombstone showing his DMC 12 with the gullwing doors open.