Famously Dead A-Z:

Cause of Death:
View information about Trayvon Martin's death here on famously-dead.com. You can view information about Trayvon Martin's death and other famous deaths. You can view by name or by cause of death. We also have included the most popular famous deaths.
Trayvon Martin's Death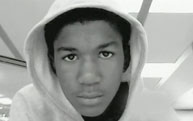 Trayvon Martin
Student / Victim
February 5, 1995
February 26, 2012
Shooting
The life and death of Trayvon Martin:
He was a student working through a high school suspension when, on a visit to his father's fiancé's home, was shot during a fight with a Neighborhood Watch volunteer who claimed self-defense. His death triggered protests and a trial – but no conviction.
Trayvon Benjamin Martin was born in Miami to truck driver Tracy Martin and Sybrina Fulton, a program director for the Miami Dade Housing Authority.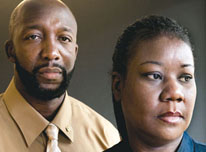 His parents divorced in 1999 and his father remarried.
Trayvon was a nine year old hero when he pulled his Dad out of a burning apartment. An avid video game player, he made money washing cars, cutting lawns and baby sitting and when he entered high school, he said he wanted to be a pro football player.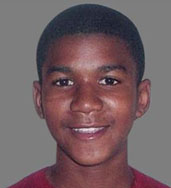 Trayvon was transferred to North Miami-Dade's Michael M. Krop High School for his junior year. But he had some behavioral issues and at the time of his shooting, he was under a ten day suspension for having a marijuana pipe and a bag with marijuana residue.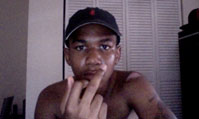 On the evening of February 26, 2012, Trayvon was visiting "The Retreat at Twin Lakes" complex in Sanford, Florida…

…when he went to a nearby convenience store to buy candy and juice.
He was walking back through the neighborhood, wearing a hoodie, when he was spotted by Neighborhood Watch volunteer George Zimmerman…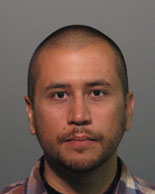 ...on patrol because of several recent robberies. Zimmerman called for police backup but before they arrived on the scene, he and Martin were in involved in a fist fight…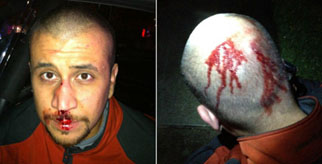 …during which Martin was shot fatally in the chest.

At first, Zimmerman was not arrested but Trayvon's death sparked rallies, marches and protests across the country, along with a national debate on racial profiling. Zimmerman was tried for second degree murder and manslaughter but claimed self-defense and cited Florida's Stand Your Ground law, which allows a person to protect oneself against a real or perceived threat.
Zimmerman was acquitted…
…although he had later brushes with the law, involving disputes with his estranged wife, and separate incidents involving a girlfriend and with a motorist.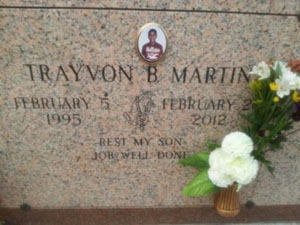 Trayvon, meantime, is buried at Dade Memorial Park in Miami.