Famously Dead A-Z:

Cause of Death:
View information about Reeva Steenkamp's death here on famously-dead.com. You can view information about Reeva Steenkamp's death and other famous deaths. You can view by name or by cause of death. We also have included the most popular famous deaths.
Reeva Steenkamp's Death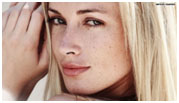 Reeva Steenkamp
Model
August 19, 1983
February 14, 2013
Shooting
The life and death of Reeva Steenkamp:
The death of this model and reality TV star was, in many ways, like the OJ Simpson trial of South Africa, in which when a popular athlete is charged with intentionally killing his attractive blonde lover. As fate would have it., she died by her lover's hand on Valentine's Day 2013, with Olympic and Paralympic athlete Oscar Pistorius later being tried in a widely covered trial for murder.
Reeva Rebecca Steenkamp was born in Cape Town, South Africa to horse trainer father Barry and his second wife June. She had an older brother and sister and her education culminated with a Bachelor of Laws Degree from the University of Port Elizabeth in 2005.
After graduation, Reeva worked as a paralegal and a model and she applied to the bar in late 2011, hoping to be a qualified legal advocate by the time she was thirty.
But, she'd also been modelling since the age of 14, appearing in FHM magazine as a cover girl and model…

… and as the first face of Avon cosmetics in South Africa.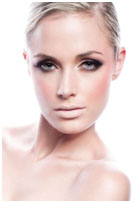 She also worked as a presenter on Fashion TV in South Africa and appeared in ads for Toyota's Land Cruiser.
She started dating Oscar Pistorius…

…the South African Olympic and Paralympic blade-runner…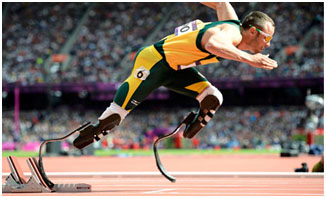 …in November 2012. (Both of his legs were amputated halfway between his ankles and knees when he was eleven months old because he was born with a congenital condition, absence of the fibula, or calf bone.)
Reeva's relationship with Oscar turned rocky a few months later and the following Valentine's Day she was shot and killed in his home..


Oscar was arrested and charged with murder, but claimed he thought she was an intruder.
In a dramatic trial, Pistorius openly wept in the courtroom and on the witness stand.
And with good reason. If he's convicted, he could be sent to prison for the rest of his life. At this writing, the trial is ongoing. We will update with the verdict and sentence when they are handed down, so be sure to come back to us for the details.
The South African Olympic was ordered to undergo psychiatric tests in mid-May, 2014.
The prosecution asked for the evaluation, after an expert witness testified that the Blade Runner has had an anxiety disorder since childhood and it may have influenced his judgment when he killed Steenkamp.
We will update with the verdict and sentence when they are handed down, so be sure to come back to us for the details.
Until then…to be continued….
On September 11th, 2014, a trial judge in South Africa (there are no jury trials there) concluded that Reeva was not a murder victim, clearing Pistorius of the two most serious charges in her death.
However, in what served to add more drama and suspense to the case, the Judge abruptly recessed the proceedings until the next day when she appeared to be close to finding Pistorius guilty of the equivalent of involuntary manslaughter.
The following day, Oscar was in fact convicted of culpable homicide and on October 21, 2014, he was sentenced to five years in prison in Steenkamp's death.
Reeva's parents told reporters they were happy with the sentenced and relieved the case was finished.
The "Blade Runner" just wiped his eyes before being led away and showed no other reaction.
With a suspended sentence on the firearms charge, his lawyers expect Oscar Pistorius to spend about ten months in prison with the rest of his time under house arrest.
But it wasn't over yet.
A few weeks later, on December 10th, 2014, the same South African judge ruled that prosecutors could appeal the acquittal on murder charges. (Remember that in October, she'd convicted Pistorius of culpable homicide and sentenced him to a five-year prison term.)
In mid-March, 2015, Oscar's lawyers failed to block the appeal by prosecutors against the acquittal on murder charges.
Prosecutors then pushed to impose a longer prison stretch. And they succeeded. On July 6, 2016, a South African judge sentenced Pistorius to six years in prison for Steenkamp's murder.
But the "Blade Runner" could not outrun an even longer sentence. In November 2017, ruling on a prosecution appeal, Pistorius was ordered to spend the full 13 years in jail. The judge agreed with prosecutors who called the initial sentence insulting and that the six-year sentence was "shockingly lenient" to the point that it could trivialize his serious offense.
Pistorius does have the right to appeal this decision.
But Steenkamp's family called it "justice for Reeva: and that she "can now rest in peace."