Famously Dead A-Z:

Cause of Death:
View information about Emmett Till's death here on famously-dead.com. You can view information about Emmett Till's death and other famous deaths. You can view by name or by cause of death. We also have included the most popular famous deaths.
Emmett Till's Death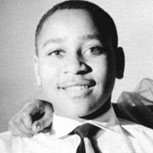 Emmett Till
Victim
July 25, 1941
August 28, 1955
Beating, Shooting
The life and death of: Emmett Till
He was murdered in 1955 for something that seems so natural today – a black teenager flirting with a white girl. At a time with the President of the United States had a black father and a white mother, it's hard to imagine there was a time when a teenager visiting Mississippi from Chicago could be kidnapped and killed for whistling at a white woman. But it did happen and this lynching was a key turning point in the Civil Rights movement in the United States.
Emmett Louis Till was born in Chicago, Illinois to Louis Till and Mimi Carson.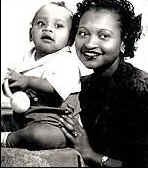 His mother was born in Webb, Mississippi, a small Delta town but she migrated north to Chicago in search for a better life. Emmett was nicknamed "Bobo" as an infant by a family friend.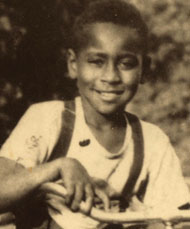 He was raised mostly by his mother…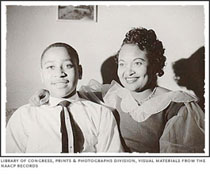 …because she and Louis Till separated 1942 after she found he was cheating on her.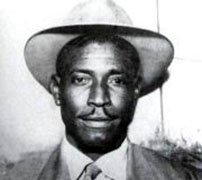 In 1943, Emmett's father was forced by a judge to choose between enlisting in the Army or spend time in jail. Louis Till was executed in Italy in 1945 after being convicted of rape and murder by a Court Marshall.
Meantime, back on Chicago's South side, Mamie Till remarried and moved to Detroit while Emmett lived briefly with his grandmother. Mamie's second marriage failed after she and her new husband returned to Chicago and she began working for the US Air Force as a civilian clerk, supporting herself and her son.
By 1955 Emmett was a stocky and muscular teenager, weighing about 150 pounds. And while he was only 14 years old, whites in Mississippi later claimed he looked like an adult.
It came back to haunt them in the summer of that year when a relative of Emmet's mother, Mose Wright, visited Chicago and told the teenager stories about living in the Delta. Emmett wanted go to Mississippi and although she planned to take him there on her upcoming vacation, he begged her to visit on his own and she gave in.
Before he left, his mother warned him to take care and that the South was a lot different from the North and he should be careful in front of Whites. Emmett promised that he understood what she meant.
On August 21, 1955, Till arrived in the town of Money, Mississippi and on August 24 he and his cousin Curtis Jones skipped church and went to Bryant's Grocery and Meat Market to buy some candy.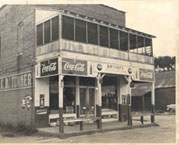 The store was owned by a white couple: 24-year-old Roy Bryant and his 21-year-old wife Carolyn…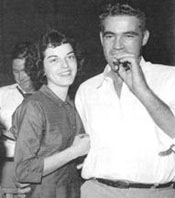 …and they mostly catered to the local sharecropper population.
Standing outside the store, Till was evidently telling some of the local kids about how he came from Chicago and how he was in an integrated school and pointed to a white girl in a class picture and referred to her as his girlfriend. That's when the other boys challenged Till to speak to the woman clerk, Carolyn Bryant.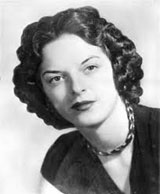 It's still not certain what happened but some claimed Till made a wolf whistle at the woman and she testified that he made sexual advances and asked her for a date.
Bryant claimed he grabbed her hand and said "how about a date baby?" and that when she walked away he followed her to the cash register, grabbed by the waist and said "what's the matter baby can't you take it?"
Till's cousin later challenged her account and said he saw no inappropriate behavior and heard no conversation of that kind.
Nevertheless the woman ran out of the store to get a gun from under the seat of her car and when they saw this, the teenagers fled. When Emmett got back to his relative's home he said he wanted to return to Chicago – although he didn't say why, fearing he'd get into trouble with his relatives.
Roy Bryant was on an extended trip to Texas and didn't return until August 27th. When he found out what happened, he questioned several young black men who went to the store. That evening Bryant went searching for the teen and learned he was visiting from Chicago and was staying with Mose Wright. They went to Wright's house in the early morning hours of August 28, 1955 between 2 and 330 in the morning.
Roy Bryant and his half-brother, J. W. Milam, kidnapped Emmett and put him in the back of a pickup truck and drove to a barn in the nearby town of Drew and it was pistol whipped the teen. They then put him in the pickup again covered and covered him with a tarp. Emmett was then taken to a shed near Milam's house, beaten again and lost an eye.
He was also shot, although Bryant and Milam later testified that they only planned to beat him but killed him when Emmett told of prior exploits with white women.
Till then had a 70 pound fan tied around him and was dumped into the Tallahatchie River. He few days later, his nude, bloated and disfigured corpse was found by two boys fishing in the river.
His body was returned to Chicago and his mother insisted on a public funeral services with an open casket to show the brutality of the killing.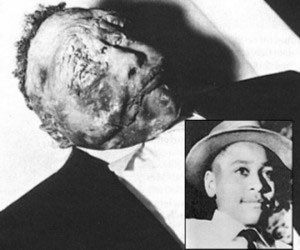 It focused the world's attention on American racism and the brutality of barbarism of lynching.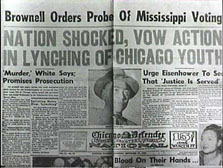 Thousands of people attended the funeral.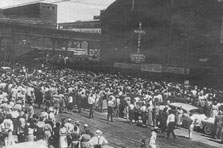 Bryant and Milam were indicted for murder. In September 1955 but they were acquitted of Till's kidnapping and killing and protected against double jeopardy.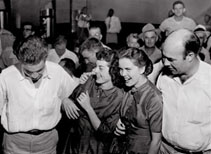 They later publicly admitted to the crime in an interview in Look magazine and Milam admitted shooting Till.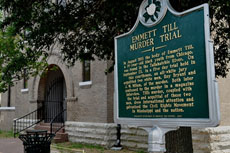 The case was officially reopened by the US Justice Department in 2004 to see of anyone other than Bryant and Milam were involved. Till's body was exhumed for an autopsy done a positive identification.
But Bryant was already dead of cancer in 1994 the age of 63. He'd divorced Carolyn, remarried in 1980 and was convicted of 1984 and 1988 of food stamp fraud. Milam also never saw justice – he also died of natural causes.
Emmett Till's lynching became a symbol of the inequality of justice for blacks – especially in the Deep South of the 1950's. Those protests of inequality are also reflected in the continuing discussion today in the United States about social injustice for blacks and the "black lives matter" movement.
Emmett Till is buried at Burr Oak Cemetery in Cook County, Illinois.

His mother is interred there too.
By 2009, Bryant's Grocery store was a busted up shell…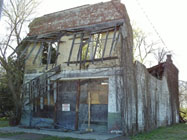 …though the site that provided the tipping point of a monstrous crime is marked with this sign.