Famously Dead A-Z:

Cause of Death:
View information about Daniel Pearl's death here on famously-dead.com. You can view information about Daniel Pearl's death and other famous deaths. You can view by name or by cause of death. We also have included the most popular famous deaths.
Daniel Pearl's Death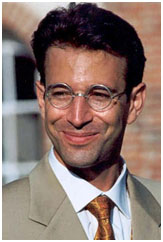 Daniel Pearl
Newspaper Reporter, Victim
October 10, 1963
February 1, 2002
Decapitation
The life and death of Daniel Pearl:
He was a journalist and a citizen of both the United States and Israel. Kidnapped while working on a story in Pakistan by militants, he died in the most gruesome of ways – decapitated, purportedly at the hand of the man who would later come to be known as the Al-Qaeda mastermind behind the Nine Eleven attacks.
Daniel Pearl was born in Princeton, New Jersey and grew up in the affluent Encino section of Los Angeles. His father Judea was a professor of Computer Science and Statistics at UCLA. His mother Ruth was of Iraqi-Jewish descent.
Known throughout life as Danny, Pearl studied Communications at Stanford, co-founding a campus newspaper and working as a reporter for the campus radio station. After graduating, he interned at the "Indianapolis Star", moved to western Massachusetts to join the "North Adams Transcript" and "The Berkshire Eagle" and then went to the "San Francisco Business Times."
He joined the "Wall Street Journal" in 1980, starting at the Atlanta bureau, moving to the Washington D.C bureau in 1993 and on to the Journal's London bureau in 1996.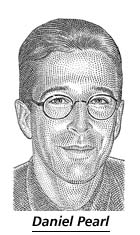 He met and married Mariane Van Neyenhoff…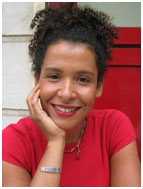 …and their son Adam was born in Paris in May 2002…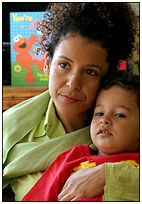 …almost four months after he died.
On January 23, 2002, Pearl was heading to what he thought was an interview at a restaurant in downtown Karachi, Pakistan. He was kidnapped along the way by members of a militant group, who labelled Danny a spy. They sent emails back to the United States, demanding freedom for Pakistani terror detainees and release of a shipment of F-16 fighters to the Pakistani government. That delivery was on hold.
Photos of the hand-cuffed Pearl with a gun to his head were attached to the emails.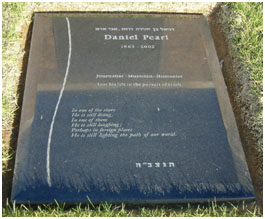 Pleas for his release from his wife and the newspaper were ignored.
On February 1, 2002, a video was made in which Pearl proclaimed he was an American Jew and spoke of his family's religious heritage. He also condemned U.S foreign policy, which his parents say was coerced propaganda. After making the statements, Pearl's throat was slit and he was beheaded. His severed remains were found two weeks later buried in a shallow grave about thirty miles north of Karachi.
Danny's body was returned to the United States and buried at Mount Sinai Memorial Park Cemetary in Los Angeles.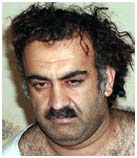 In July 2002, a British national of Pakistani origin, Ahmed Omar Saeed Sheikh, was sentenced to hang for Pearl's murder. By March, 2007, this man…
…Khalid Sheik Mohammed, stated at a closed military hearing in Guantanamo Bay, Cuba, that he personally killed Pearl. KSM, as he is also known, was identified as the principal architect of the 9-11 terrorist attacks by the 9/11 Commission Report.
Pearl's widow Mariane told his story in "A Mighty Heart", which was adapted in film starring Dan Futterman as Danny and Angelina Jolie as Mariane.
His parents founded the Daniel Pearl Foundation, dedicated to the promotion of cross-cultural understanding though music, dialogue and journalism.