Famously Dead A-Z:

Cause of Death:
View information about Y.A. Tittle's death here on famously-dead.com. You can view information about Y.A. Tittle's death and other famous deaths. You can view by name or by cause of death. We also have included the most popular famous deaths.
Y.A. Tittle's Death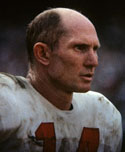 Y.A. Tittle
Football
October 24, 1926
October 8, 2017
Undisclosed, suffered from severe dementia
The life and death of Y.A. Tittle:
There may have been flashier, more famous and more glamorous quarterbacks in professional football as the NFL grew in popularity in the United States in the late 1950s and early 1960s. Men like Johnny Unitas, Bobby Layne and Joe Namath were all crowd favorites. But few quarterbacks were as successful and proven as a winner as this man.
Yelberton Abraham Tittle was born in Marshall, Texas and wanted to be a football quarterback from a very young age. He'd spend hours throwing passes through a tire swing – copying an NFL great who was his boyhood idol and a neighbor – Sammy Baugh.
He was a star at Louisiana State University. When it was time to turn pro Y. A, as he was called, was drafted as the sixth pick in the first round by the Baltimore Colts in the All-American Football Conference. He chose Baltimore over the Detroit Lions, who'd drafted him in the NFL.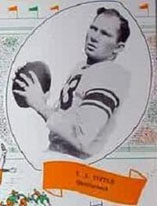 That was a spinoff league to the more established NFL and though the Colts joined the NFL in 1950, the franchise quickly folded.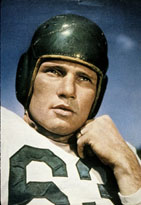 Y.A. played two years with the Colts before signing with the San Francisco 49ers in the NFL, after a special draft.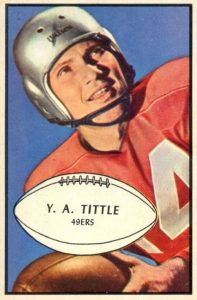 He led a dream backfield that included running backs Hugh "The King" McElhenny, John Henry Johnson and Joe "Jet" Perry…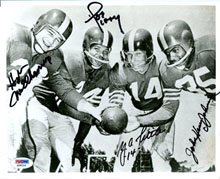 …and invented the "Alley Oop" pass play with wide receiver R.C. Owens.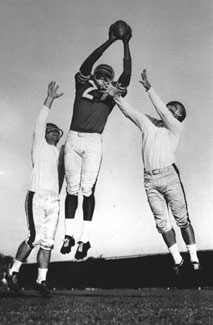 But the 49'ers never really had much chance to win championships in those years despite the leadership of Y.A.
So, at the age of 34, thinking he was washed up and looking old because of his famous bald head, Y.A. was traded to the New York Giants.
The Giants already had an aging quarterback named Charlie Conerly…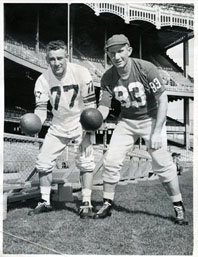 …who led them to a league championship just a few years earlier. His teammates were cool to Y.A. as the quarterback battle played out. But Y.A. was still a very effective field general and won them over, leading the Giants to the NFL championship games in 1961, 62 and 63. They never won the title in that period– but those years were cherished by Giants' fans.
He teamed up with wide receiver Del Shofner…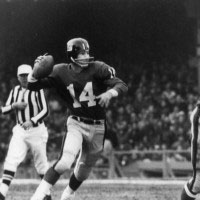 …to make one of the most potent passing combinations in all of football. But when the end came for Y.A. as a professional football player, it was chronicled in one of the most famous pictures never taken on a football field.
Looking very much like a fallen hero, Y.A…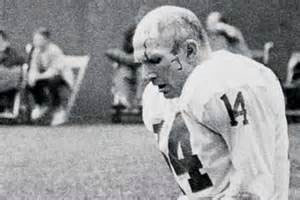 …was photographed bloodied in the end zone on his knees after being sacked in a 1964 game against the Steelers in Pittsburgh. His helmet had been knocked off and Y.A. suffered a cracked sternum and concussion on the play – but competed for the rest of the season, his last.
He later coached for the 49ers and Giants and founded his own company: Y.A. Tittle Insurance and Financial Services.
He and his wife, the former Minnette DeLoach, had three sons and a daughter.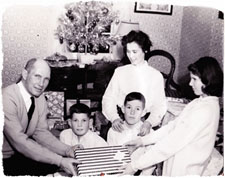 Tittle's uniform number 14 was retired by the Giants…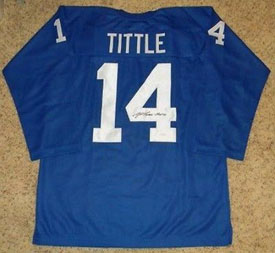 ...and he was a seven time All-Pro, NFL Most Valuable Player in 1963, a member of the Pro Football Hall of Fame since 1971 and a member of both the Giants' Ring of Honor and 49ers' Hall of Fame.
Y.A.'s wife died in 2012 and in his final years, he suffered from severe dementia. He died at his home in Palo Alto, California – a little more than two weeks shy of his 91st birthday.