Famously Dead A-Z:

Cause of Death:
How did Will Smith die? Here on famously-dead.com, you can view information about Will Smith's death and other famous deaths. You can view by name or by cause of death. We also have included the most popular famous deaths.
Will Smith's Death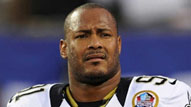 Will Smith
Football
July 4, 1981
April 9, 2016
Shooting
The life and death of Will Smith:
He was a hulk of a man who was a professional football star for nearly a decade but his reputation on the field couldn't help him in a road rage incident.
Born in Queens, New York, Will Smith was raised in upstate Utica, where he starred in football at Prospect High School. He went to Ohio State University…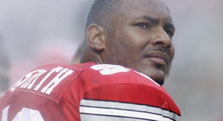 …and was a member of the school's 2002 National championship team. He was selected eighteenth in the first round of the 2004 NFL draft by New Orleans and starred as a six foot, three inch, 283-pound defensive end for the Saints for his entire nine year pro football career.

He was a member of their Super Bowl Championship team in February, 2010.
There were some questions during his career. In 2008, Will was suspended for using a diuretic called Bumetanide which can mask steroid use, but the suspension was later cut in half from four to two games. And in May 2012, he was suspended for another four games for his alleged part in the Saints' bounty scandal, in which the team paid out bonuses for injuring opponents. But that suspension was eventually overturned by then NFL Commissioner Paul Tagliabue.
A career ending knee injury in 2013 meant the end for Smith in the NFL. But he stayed in New Orleans, showing a commitment to a city that was still recovering from Hurricane Katrina and supporting a foundation dedicated to helping women and children.
But his life ended abruptly in the Spring of 2016 in an apparent road rage incident. All of the facts have yet to be sorted out. But this much is known for sure. Smith and his wife Raquel…

…were out on a Saturday night in New Orleans with some friends.
Smith was driving a Mercedes SUV, which a man named Cardell Hayes claims hit his Hummer. Here's video from a local TV station
Hayes chased the Mercedes and rear ended the vehicle. Smith emerged, an argument ensued and Hayes started shooting. Will Smith was hit seven times in the back and once in the left side of his chest. His wife suffered two leg wounds.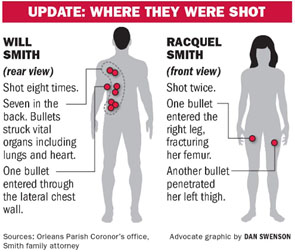 Smith had a licensed, loaded but unused handgun in his car, but his lawyer says it was never taken out of the vehicle. Hayes lawyer said his client was victim of a hit and run, shot in self -defense and even called the police by 911.
Smith's lawyer claims survivors in his car said Hayes' car braked suddenly…they thought there was little or no damage in the original encounter …and thinking it was a minor traffic incident late at night, out of concern for their safety they left the scene.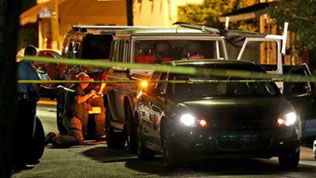 Hayes's lawyer claimed there may have been another video of the incident, just before the shooting… adding there may have been a witness to it. The Police investigation continues, along with nearly two months of toxicology testing of Smith's tissue samples.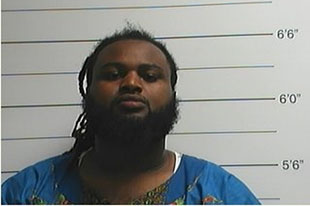 Hayes was arrested, charged with second degree murder and was held on a million dollars' bond. CNN reported that Hayes' lawyer said his client was shocked when he learned who he'd killed – he'd been a fan of Smith in his playing days.
In fact, in the week after the incident, nearly one thousand people attended a memorial service at Smith's high school in Utica, New York. The Saints' held a Friday public visitation for Smith at their indoor practice facility in suburban Metairie…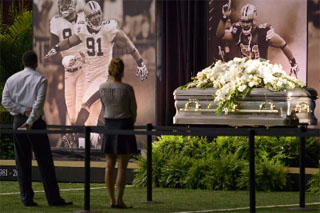 and a strictly private funeral was held for Will the following day. He's survived by his widow, two sons and a daughter.
To be continued…