Famously Dead A-Z:

Cause of Death:
View information about Walter Payton's death here on famously-dead.com. You can view information about Walter Payton's death and other famous deaths. You can view by name or by cause of death. We also have included the most popular famous deaths.
Walter Payton's Death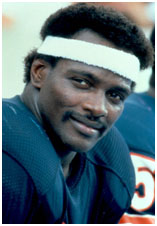 Walter Payton
Football
July 25, 1954
November 1, 1999
Liver Disease
The life and death of Walter Payton:
Sweetness. Those who knew him say that nickname described both his graceful moves on the football field and his disposition. He was a three time NFL Most Valuable Player, a nine time Pro Bowl selection, and a member of the Super Bowl XX champion Chicago Bears.
Walter Jerry Payton was born in Columbia, Mississippi to Peter Payton, a factory worker who played some semi-pro baseball, and Alyne Payton. As a boy, Walter was an active member of the Boy Scouts, Little League and in his church. By high school he played drums in the marching band, sang in the school choir and ran track. He also played drums in jazz-rock groups.
In high school, he enjoyed immediate success as a running back on the football team and was eventually named to Mississippi's all state team.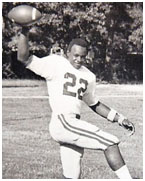 However, when it was time for college, despite his success in Mississippi, none of the Southeastern Conference universities and colleges invited him to attend. (They were accepting only a few black players at that time.) Walter wound up at historically black Jackson State University and was named Black College Player of the year in 1974.
The nickname "Sweetness" was tagged on him in college and it's partly traced to his personality and his athletic grace.
In the 1975 NFL draft, Walter was the first round pick of the Chicago Bears, who'd suffered through a string of losing seasons since their supreme running back Gayle Sayers retired in 1972.
Walter got progressively better with experience, rushing for a then-record 275 yards in a November 1977 game against the Minnesota Vikings while suffering from the flu with a 101-degree fever!

He was truly something to watch on the football field, a dynamic combination of speed, power and elusiveness.
In 1985, when the Bears went all the way as Super Bowl champs, Walter ran for more than 1500 yards and performed on the famous music video "The Super Bowl Shuffle."
Payton's motto was "Never Die Easy", which translated into a refusal to run out of bounds to avoid a tackler. He always tried to inflict some damage of his own on his pursuers.
In his personal life, Payton married Connie Norwood in 1976 and they had a son Jarrett and daughter Brittney.

After his playing days were over, Walter was part of a failed bid to bring an NFL expansion team to St. Louis. (The Rams eventually filled the void when they moved to St. Louis from Los Angeles in 1995.)
Sadly, in February 1999, Walter announced he had a rare autoimmune liver disease (primary sclerosing cholangitis), which may have led to the bile duct cancer.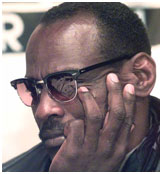 He spent his final months as an organ transplant donor, similar to baseball great Mickey Mantle, who also died of liver disease. In April 1999, Walter made his final public appearance at a Chicago Cubs baseball game, throwing the ceremonial first pitch.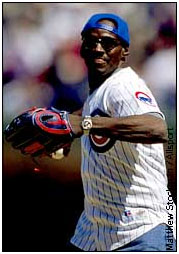 On November first of that same year, Walter died of complications from his disease. He was 45 years old.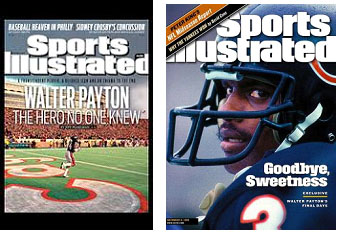 A public funeral service was held for him at Soldier's Field, home of the Bears, with his widow and children in attendance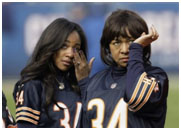 His remains were cremated.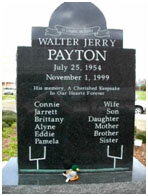 Among the tributes paid to Sweetness, the Bears retired his number 34 and wore special #34 patches to honor him. Payton was elected to the Pro Football Hall of Fame in 1993.
His legacy also includes the NCAA's Walter Payton Award for the best offensive college player, and the NFL's Walter Payton Man of the Year Award, for player achievements in community service.
There's also a high school named after him in Chicago.