Famously Dead A-Z:

Cause of Death:
View information about Tug McGraw's death here on famously-dead.com. You can view information about Tug McGraw's death and other famous deaths. You can view by name or by cause of death. We also have included the most popular famous deaths.
Tug McGraw's Death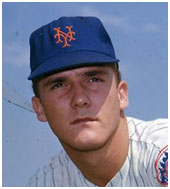 Tug McGraw
Baseball
August 30, 1944
January 5, 2004
Cancer
The life and death of Tug McGraw:
He was one of the baseball's premier relief pitchers in his time, helping to lead teams in both New York and Philadelphia to the World Series. His famous pitch was the screwball, which could also describe some of his quips. Tug McGraw was as colorful a character as he was a top notch athlete, who died young because of a brain tumor.
His name at birth was Frank Edwin McGraw. Born in Martinez, California he got the nickname "Tug" from his mother Mable, who said he had a particularly aggressive way of breast-feeding. His father, also named Frank Edwin, was the great-grandson of Irish immigrants.
Tug graduated from the St. Vincent Ferrer High School in Vallejo, California and then went to Solano Community College. When he graduated, McGraw signed as an amateur free-agent with the New York Mets in June 1964.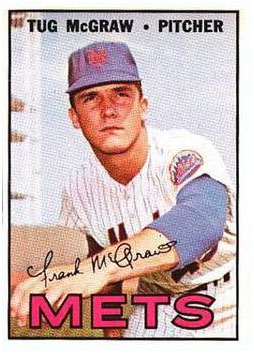 In his early years with the Mets - he was the last active player to play under Casey Stengel - he was used as both a starting pitcher and a reliever.
He showed flashes of brilliance on the mound. Used as a starter, he beat Sandy Koufax in 1965, the first time the Mets were ever able to do that. His best pitch was the screwball, and he also gained the reputation of making some screwball comments, like when he was asked in 1965 about the freshly opened field at the Houston Astrodome and whether he preferred the so-called Astroturf to real grass. Tug replied: "I don't know. I never smoked Astroturf."
The Mets had a wealth of starting pitchers in the late '60's, like Tom Seaver, Jerry Koosman and Nolan Ryan, so McGraw was turned into a relief specialist. And by the early '70's, Tug was a standout reliever.
In the summer of 1973, it looked like the Mets were dead in the pennant race. But McGraw, using the rallying cry "You Gotta Believe", which he initiated after a pep talk by the Mets' Chairman M. Donald Grant, triggered a Mets' surge and they won the National League pennant. They went all the way to Game 7 of the World Series before being defeated by the Oakland A's.
Tug developed shoulder trouble during the 1974 season and the Mets peddled him to the Philadelphia Phillies.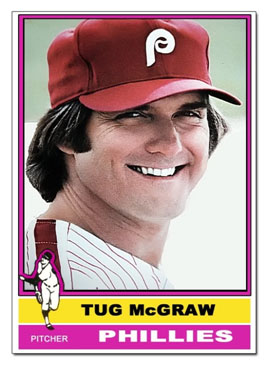 McGraw was not finished yet and became a reliable relief pitcher again for the Phillies and helped lead them to their first World Series championship in the final game of the 1980 World Series.
Tug's well-known in other ways. Because of his brief relationship in 1966 with Betty D'Agostino, they had a son…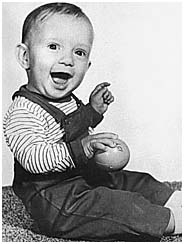 …his name is Tim McGraw…

…and he became a very famous country singer, shown here with his Mom.
Tug didn't acknowledge Tim as his son until he was 17 but they later developed a close relationship.
Tug's other children include actor and TV personality Mark McGraw…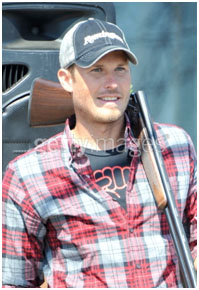 …another son, Matthew, and daughter, Carrie.
After his playing days ended, Tug worked as a reporter for Action News in Philadelphia reporting on sports or public interest stories and appeared on an episode of "Everybody Loves Raymond" in 1999.
During spring training in 2003, McGraw was working as an instructor for the Phillies when he was hospitalized with a brain tumor. He underwent surgery to remove it and early reports indicated it was a success and that Tug was going to be okay.

He established "Ya' Gotta Believe", a foundation to enhance the life of brain cancer victims. But the cancer returned in an inoperable form and claimed him.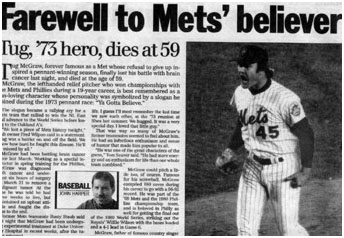 Tim's 2004 song "Live like You Were Dying" was recorded in his father's honor.
Tug McGraw was cremated after his death. Nearly five years later, his son Tim took a handful of his ashes and spread them on the pitcher's mound of the Phillies Citizens Bank Park in Game Three of the 2008 World Series.