Famously Dead A-Z:

Cause of Death:
View information about Tony Lema's death here on famously-dead.com. You can view information about Tony Lema's death and other famous deaths. You can view by name or by cause of death. We also have included the most popular famous deaths.
Tony Lema's Death

Tony Lema
Professional Golfer
February 25, 1934
July 24, 1966
Plane Crash
The life and death of Tony Lema:
He climbed to fame as a professional golfer…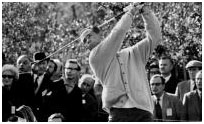 …but tragically lost his life at age 32 in an aircraft accident. Ironically, the plane crashed on a golf course, about a mile short of its planned landing site.
Anthony David Lema was born in Oakland, California to parents of Portuguese ancestry. Tony's father died when he was only about three years old and his widowed mother struggled to raise her family of four children on welfare.
Tony learned to play golf as a boy at the Lake Chabot municipal golf course, learning several different aspects of the game from a variety of people.
After a Marine Corps stint in Korea, he worked as the club professional at a San Francisco golf club and by 1957 he earned his way onto the PGA Tour.
Tony liked to live the good life, but he was struggling in his career and his lifestyle was taking its toll on his finances. But then his luck changed. On the eve of a key victory of October 1962, Tony joked that he would serve champagne to the press the next day.
He did win and from then on he was known as "Champagne Tony". His good looks and lively personality adding to his legend, Lema was second only to Arnold Palmer in fan popularity by the time he died, according to other golf pros.
His biggest victory was his only major title, the 1964 British Open Championship at the Old Course at St. Andrews and he scored again the following year with a second consecutive victory at the Buick Open.
Following the 1966 PGA championship in July that year, Lima and his wife Betty…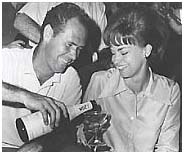 …chartered an airplane to fly them to another tournament south of Chicago, the "Little Buick Open."
The twin-engine aircraft ran out of fuel and ironically crashed in a water hazard short of the seventh green at the Lansing Country Club in Lansing, Illinois Weston - a mile from their destination.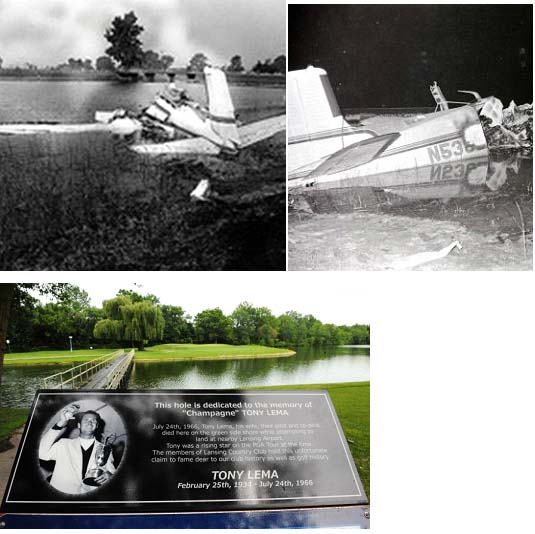 He and his wife were both buried at the Holy Sepulchre Cemetery in Hayward, California, after funeral services in his hometown of Oakland.

In 1983, San Leandro public golf course bordering on San Francisco Bay was named in his honor.