Famously Dead A-Z:

Cause of Death:
View information about Tony Gwynn's death here on famously-dead.com. You can view information about Tony Gwynn's death and other famous deaths. You can view by name or by cause of death. We also have included the most popular famous deaths.
Tony Gwynn's Death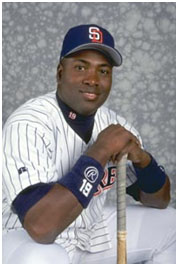 Tony Gwynn
Baseball
May 9, 1960
June 16, 2014
Cancer
The life and death of Tony Gwynn:
He was one of the greatest pure hitters in baseball history...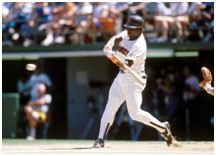 …and a man admired for his personality and character as much as the way that he handled the bat. Tony Gwynn starred for the San Diego Padres and was one of the city's most beloved sports heroes ever.
Anthony Keith Gwynn was a California native, born in Los Angeles and attending high school in nearby Long Beach.
He starred in two sports at San Diego State. His favorite game was basketball, where he still holds school records for assists and, obviously, baseball. Tony wanted to play in the NBA and was a tenth round draft pick by the San Diego Clippers.
However, the hometown Padres drafted him the third round of the baseball draft the same day and Tony went for baseball, He spent just parts of two seasons in the minor leagues and hit the big leagues with a rush.
Tony's accomplishments are eye popping: 3141 career hits…a career .338 batting average…eight National League batting crowns (tying Honus Wagner for the record)…and only 434 strikeouts in 9288 times at bat.
Here's video of his milestone 3000th hit on August 6, 1999
He played in the Padres only two World Series and hit a mammoth home run at Yankee Stadium in one of them and was a 15 time All Star. The Padres retired his uniform number 19 when his playing days ended.

Tony's also a member of the baseball Hall of Fame, voted in on the first try.
In addition to all he accomplished on the field, he was highly respected by teammates, opponents and out of town reporters and broadcasters.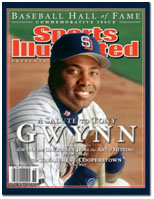 Tony was married to Alicia Gwynn and they had two children, Tony Jr., who also played in the major leagues and R&B artist Anisha Nicole.
In 2010 he was diagnosed with salivary gland cancer…

.....and his weight ballooned to 330 pounds after he retired from baseball, and he underwent adjustable gastric banding surgery.
Tony died of oral cancer, which he attributed to his habit of chewing tobacco. He was only 54 years old and was head baseball coach at San Diego State University when he died.