Famously Dead A-Z:

Cause of Death:
View information about Stan Musial's death here on famously-dead.com. You can view information about Stan Musial's death and other famous deaths. You can view by name or by cause of death. We also have included the most popular famous deaths.
Stan Musial's Death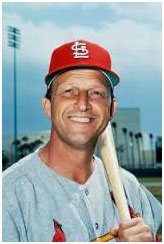 Stan Musial
Baseball
November 21, 1920
January 19, 2013
Natural Causes
The life and death of Stan Musial:
Stan the Man.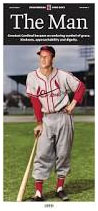 He was beloved by the fans and respected by teammates and opponents alike. He not only posted some terrific personal stats in the batter's box but, in the first decade of his career, starred on three World Series champion teams for the St. Louis Cardinals.
Stanislaw Franciszek Musial was born into a Polish-American family in Donora, Pennsylvania. When he enrolled in school, his name was legally changed to Stanley Frank Musial.
He played a lot of baseball growing up and was on a semi-pro team at the age of 15 as a pitcher. He also played basketball and turned down a scholarship from the University of Pittsburgh to pursue baseball.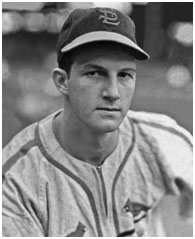 He signed with the St. Louis Cardinals in 1937 and had so-so-success as a pitcher while complaining that he couldn't support his wife on the $16 a week pay. He was converted to the outfield and started tearing up the minor leagues, making his way to the Cardinals late in the 1941 season.
He starred for them as they won the World Series in 1942, 1944 and 1946. He won his first MVP award in 1943, although the Cards lost the Series that year. He never made it back to the Series though and neither did the Cards until the year after he retired in 1964. (They won again that year.)
He missed the 1945 season to serve in the Navy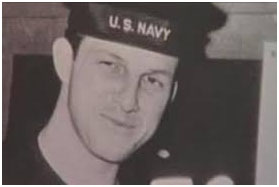 …but when he returned to baseball in 1946, he won his second MVP award. (Most Valuable Player Award Number three came in 1948.)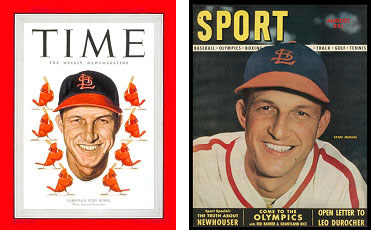 With his unusual corkscrew swing, Musial's considered one of the greatest hitters ever…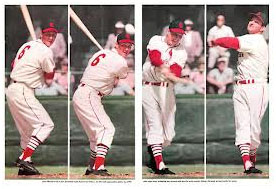 …batting .331 over his 22 year career, all with the Cardinals. He was a seven time National League batting champion. He won the National League Most Valuable Player Award three times. Stan shares the big league record for most All Stat Game appearances with Willie Mays and Hank Aaron, with 24. And in his day, he held records for most career hits, runs batted in, at bats, runs scored and doubles. (Most of those records were later shattered by Pete Rose.)
Ironically, Rose was a rookie second baseman for the Cincinnati Reds and was on the field for Stan's last major league at bat.
After leaving baseball, he owned a popular restaurant in St. Louis and was the Cardinals General Manager in 1967, when they won another World Series.
The Man was elected to the Baseball Hall of Fame in 1969 in his first year of eligibility…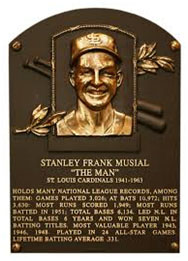 …and as a guest at the annual Hall of Fame ceremonies, would also play the game's unofficial anthem on his harmonica.
Stan was also selected to Baseball's All-Century team in 1999 and in 1991, was awarded the Presidential Medal of Freedom by President Barack Obama in 2011.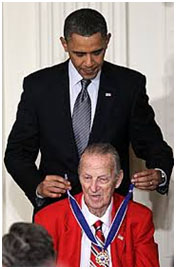 His uniform number six is retired by the Cardinals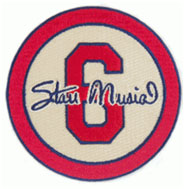 There's a statue of him at their home park.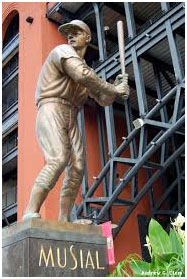 And a major bridge spanning the Monongahela River is named after him as well as a span linking Illinois and Missouri at St. Louis.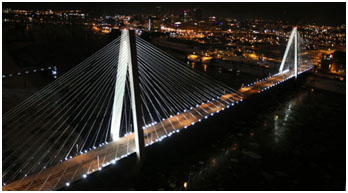 Stan Musial met his future wife Lillian Labash when they were 15 in Donora. They married in May, 1940 and had one son and three daughters: Richard, Gerry, Janet and Jeanie
Lillian died on May 3, 2012 – they were together almost 72 years. The Man passed of natural causes at the age of 92 in early 2013.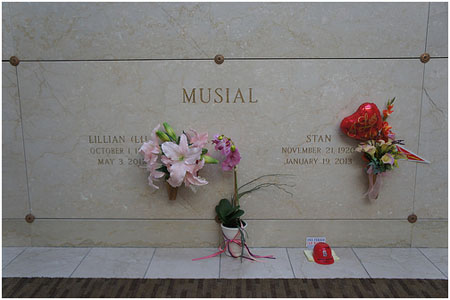 Stan and his wife are buried at Bellerive Heritage Gardens in St. Louis.