Famously Dead A-Z:

Cause of Death:
View information about Seve Ballesteros's death here on famously-dead.com. You can view information about Seve Ballesteros's death and other famous deaths. You can view by name or by cause of death. We also have included the most popular famous deaths.
Seve Ballesteros's Death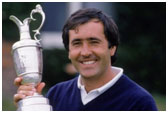 Seve Ballesteros
Golf
April 9, 1957
May 7, 2011
Cancer
The life and death of Seve Ballesteros:
This Spanish golfer was one of the sport's leading players from the mid 1970's to the mid-90's. His winnings included a record 50 European golfing titles.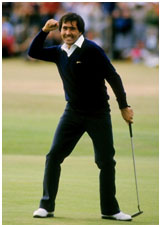 Severiano Ballesteros Sota was born in Pedrena Spain, the youngest of five sons. One died in childhood, the other four became golfers. Seve turned pro at age 16 and exploded onto the international golf scene with a second place finish at the 1976 Open Championship.
Seve won five major championships including the 1980 and 1983 Masters and the Open in 1979, 1984 and 1988. And he could seemingly turn a gold club into a magic wand.
He married Carmen Botin O'Shea in 1988…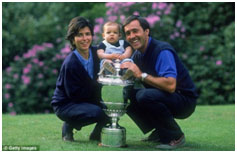 …and they had a son, Baldomero. However, the couple divorced in 2004. It's said the marriage suffered when Seve's golf career started to fade.
Seve was diagnosed with a malignant brain tumor in 2008 and died of the disease in May 2011.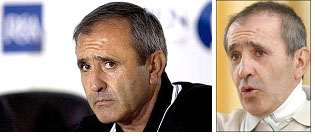 Ballesteros is a member of the World Golf Hall of Fame.