Famously Dead A-Z:

Cause of Death:
View information about Reggie White's death here on famously-dead.com. You can view information about Reggie White's death and other famous deaths. You can view by name or by cause of death. We also have included the most popular famous deaths.
Reggie White's Death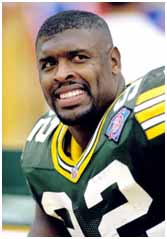 Reggie White
Football
December 19, 1961
December 26, 2004
Heart Attack, attributed to Sleep Apnea
He was one of the NFL's best after being recognized as an all American college football player at the University of Tennessee. Being 6 feet, five inches tall and 300 pounds helped to set him apart as a defensive lineman. But Reggie White's heft cut his life short, when he suffered a fatal heart attack induced by sleep apnea.
Reggie was born and raised in Chattanooga and played high school football before going on to the University of Tennessee from 1980 – '83.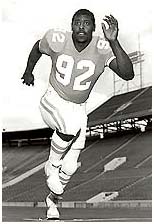 He was recognized as an All-American player as a defensive lineman.
After college, he played in the USFL for two seasons, with the Memphis Showboats.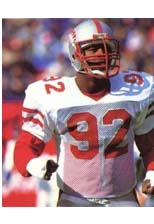 But when the Wanna-be pro league folded in 1984, Reggie signed with the NFL team that held his league rights: the Philadelphia Eagles.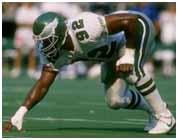 He starred in Philly for eight seasons, and became the all-time sack leader for the Eagles franchise. Reggie became a free agent in 1993, and was scooped up by the Green Bay Packers…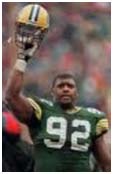 …where he played for six years, helping the Pack make it to the Super Bowl twice, including victory in Super Bowl XXXI. He was NFL Defensive Player of the Year in 1998.
Reggie then retired, but came back to play one season for the Carolina Panthers in 2000…

…before retiring for good.
But over the course of his career, Reggie was twice named NFL defensive player of the year…made 13 Pro Bowls…and was a 10 time, first-team All-Pro selection. With 198 ½ career sacks, NFL.com ranked him the #7 NFL Player of all-time...and came to be known as the Minister of Defense.
After retiring from Pro football, he went into professional wrestling, appearing in WrestleMania XI.
Married to Sara Copeland, they had two children: Jeremy and Jecolia.
But he did create some controversy in March 1998, when he uttered racial stereotypes about whites, blacks, Latinos, Asians and Native Americans. And on ABC's 20/20, he offered some comments about gays and lesbians
"'Homosexuality is a decision, it's not a race,' White said. 'People from all different ethnic backgrounds live in this lifestyle. But people from all different ethnic backgrounds also are liars and cheaters and malicious and back-stabbing.' " – Reggie White, Associated Press, March 25, 1998.
On the day after Christmas 2004, Reggie White was rushed from his home to a nearby hospital in Huntersville, North Carolina where he was pronounced dead after suffering fatal cardiac arrhythmia.
The medical examiner attributed his death to cardiac and pulmonary sarcoidosis, adding that sleep apnea, from which he was known to suffer, may have contributed to his death.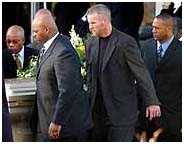 Reggie White is buried at Glenwood Memorial Park in Mooresville, North Carolina.