Famously Dead A-Z:

Cause of Death:
View information about Red Grange's death here on famously-dead.com. You can view information about Red Grange's death and other famous deaths. You can view by name or by cause of death. We also have included the most popular famous deaths.
Red Grange's Death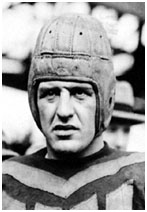 Red Grange
Football
June 13, 1903
January 28, 1991
Parkinson's Disease
The life and death of Red Grange:
This legendary running back, nicknamed "The Galloping Ghost", was one of the pioneering stars of the National Football League as a member of the Chicago Bears. After his playing days, he remained in the public eye as a sportscaster.
Harold Edward Grange was born in Forksville, Pennsylvania. Lumber was the big local business and his father was the foreman of three lumber camps. When the family moved to Wheaton, Illinois Papa Grange became police chief and his son Harold excelled in high school sports, including football, baseball, basketball and track.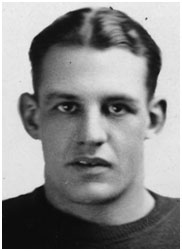 And Harold kept it going as a student at the University of Illinois.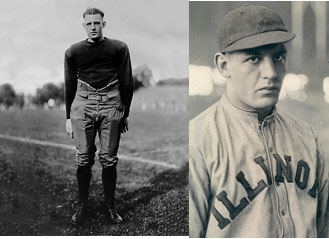 An October, 1924 game against the University of Michigan propelled him to national fame, thanks to a story written by legendary sportswriter Grantland Rice. But it was Chicago sportswriter who nicknamed Red "The Galloping Ghost".
His number 77 was retired by the University of Illinois after Red graduated and moved on to the NFL. He signed with the Chicago Bears and was the pre-eminent running back of his day.
Red briefly left the Bears in a contract dispute and formed the New York Yankees football team of the 1920's version of the American Football League. But the AFL couldn't compete with the NFL and was disbanded…and Red rejoined the Bears.
He was a major celebrity in his day.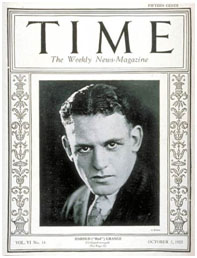 Red even had a candy bar named after him.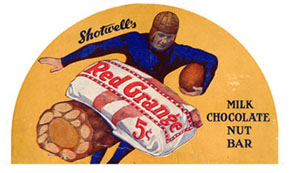 Red retired from the NFL in 1934 and moved on to work as a motivational speaker…
Red also worked as a sportscaster.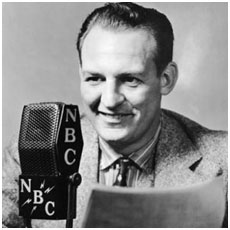 He's pictured here with Lindsay Nelson, his broadcast partner on the NCAA Game of the Week, in 1955.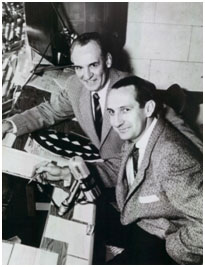 Red and his wife Margaret married in 1941 and were together a half century until his death in 1991.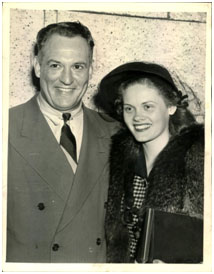 They had no children although Red had a daughter, Rosemary, from a previous relationship.
Red Grange developed Parkinson's Disease and died a year later in Lake Wales, Flordia. Grange was cremated with his ashes given to loved ones.
He's honored with a statue outside the University of Illinois football Stadium

And to football fans, he'll always remain "The Galloping Ghost".