Famously Dead A-Z:

Cause of Death:
View information about Pete Maravich's death here on famously-dead.com. You can view information about Pete Maravich's death and other famous deaths. You can view by name or by cause of death. We also have included the most popular famous deaths.
Pete Maravich's Death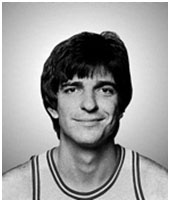 Pete Maravich
Basketball Player
June 22, 1947
January 5, 1988
Heart Attack
The life and death of Pete Maravich:
They called him "Pistol Pete", because of his habit of shooting a basketball from his side, like he was holding a revolver. After a record-setting college career, he starred for three teams in the NBA until injuries forced his retirement from the game. He died of a massive heart attack doing what he loved in life: playing basketball.
Peter Press Maravich was born in Aliquippa, Pennsylvania, a town near Pittsburgh. His family and friends were amazed with his basketball abilities from the time he was a boy. He had a close relationship with his father, Press, a former professional player turned coach. Press Maravich taught his son the fundamentals of basketball from the time he was seven years old.
As a boy Pete would spend hours practicing ball control tricks, creative passes, head fakes and long-range shooting. Those carefully nurtured talents and abilities led NBA Hall of Famer John Havlicek to later say that Pete was the best ball-handler of all time.
Pete played varsity high school basketball at Daniel High School in Central, South Carolina.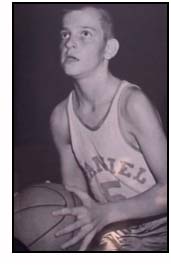 In 1963, Press left his position as head basketball coach at Clemson University, joining the coaching staff at North Carolina State. The family's move to Raleigh meant a transfer for Pete to Needham B. Broughton High School and it was during his high school years that he was pinned with his famous nickname.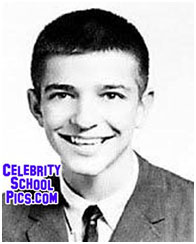 Pete would later tell friends that he wanted to play his college basketball at West Virginia University, but his dad was head basketball coach at Louisiana State University...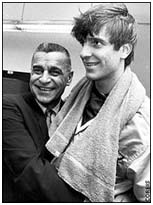 …and Press offered Pete a spot on the LSU team, where the Pistol excelled.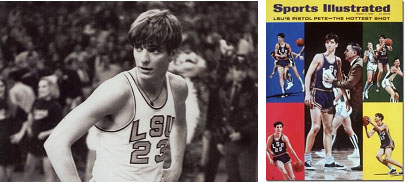 He played for three years for his father, yet decades later, many of Pete's NCAA and LSU scoring records – including 3667 points - still stood. Maravich was a three-time All-American.
His first NBA team, the Atlanta Hawks, made him the third pick in the first round of the 1970 NBA draft. While Pete's razzle dazzle didn't fit the Hawks' conservative style of play, he nevertheless stood out.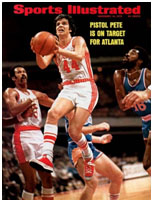 When the New Orleans Jazz came into existence in 1974, the team wanted a big-name player to jazz up the fans. Pete was the perfect man for the job. Already a celebrity in Louisiana thanks to his accomplishments of LSU, New Orleans sent two players and four draft picks to the Hawks to arm themselves with the Pistol.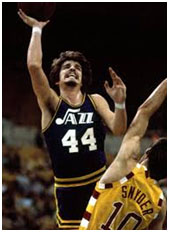 The expansion team struggled at first but Pete helped the Jazz reach a respectable 39-43 record in their second season, just short of making the NBA playoffs. Unfortunately, knee problems started to plague Maravich and did for the rest of his career.
Because of financial problems the Jazz moved from New Orleans to Salt Lake City, Utah and became the Utah Jazz in the 1979-1980 season. Pete moved west with the team but his knee problems were getting worse.
He played in only 17 games early in the season. The Jazz made Pete available to other teams and he was claimed by the Boston Celtics…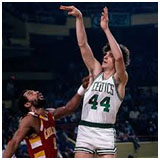 …the top team in the league that year. Maravich became a supporting player, as the Celts' were led by a rookie superstar, Larry Bird. As a result of his knee problems, Pete retired at the end of that first season with the Celtics. His brilliant basketball career was over.
Maravich kind of disappeared from the scene for two years, saying he was searching for life and sampled the practices of Yoga, Hinduism and vegetarianism. Eventually he became an evangelical Christian and a few years before his death he said he wanted to be remembered as a Christian.
Shockingly, on January 5, 1988 Pete was playing a pick-up basketball game at the gym of the church in Pasadena, California with a group of friends. One of those friends later related Pete's last words, less than a minute before he died of a fatal heart attack: "I feel great".
An autopsy revealed the cause of death was a rare congenital defect. Pete had been born with a missing left coronary artery. His right coronary artery was hugely enlarged, compensating for the defect, and it gave out.
Pistol Pete is buried at Resthaven Gardens of Memory and Mausoleum in Baton Rouge, Louisiana.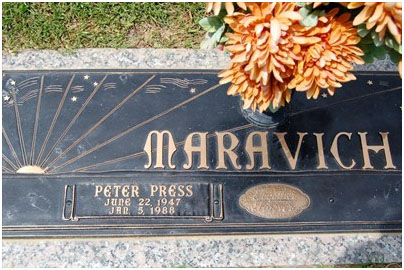 He was survived by his wife Jackie…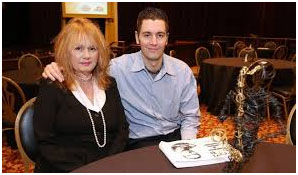 …pictured here with their son Jaeson.
Both Jaeson and his brother Josh played high school and college basketball.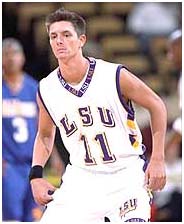 Josh played at his father's alma mater, LSU, in the arena named after his Dad...

…the Pete Maravich Assembly Center.
It was also used as medical special needs center in the wake of the devastating Hurricane Katrina in 2005.