Famously Dead A-Z:

Cause of Death:
View information about Payne Stewart's death here on famously-dead.com. You can view information about Payne Stewart's death and other famous deaths. You can view by name or by cause of death. We also have included the most popular famous deaths.
Payne Stewart's Death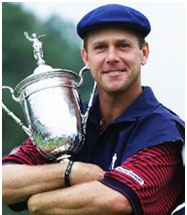 Payne Stewart
Professional Golfer
January 30, 1957
October 25, 1999
Plane Accident
The life and death of Payne Stewart:
He was a very colorful professional golfer who won eleven events on the PGA tour, the last coming just months before he was killed in an unusual airplane accident.
William Payne Stewart was born in Springfield, Missouri. His father, Bill Stewart, played in the 1955 U.S Open and introduced his son to the game. William Jr., to be known to the world by his middle name, did his early education, kindergarten through high school, on the campus of Missouri State University at the Greenwood Laboratory School. When it was time for college, he headed to Dallas and Southern Methodist University.
Payne didn't make the cut for the PGA tour in the year he graduated and joined the Asian Tour for a few years before earning his PGA Tour card in 1982. He won his first event on the tour at that year's Quad Cities Open, the only victory his father would see.
Other victories followed and by 1986, Payne held a late lead at the U.S. Open but faded and finished sixth.
He was runner-up in four PGA events in 1986 and when he won the 1987 Hertz Bay Hill Classic, he donated his $108,000 winnings to the Florida hospital where his dad, Bill, died of cancer.
Known for his colorful outfits…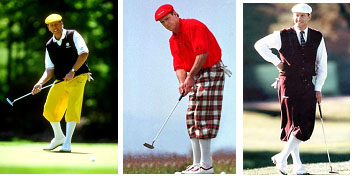 …Payne was thought to have the biggest wardrobe in all of professional golf. He was popular with the fans who took special note of his clothes, a throwback to an earlier era in golf. Because of his sponsorship with the National Football League, Payne would wear the team colors of the closest NFL team to where he was golfing. Stewart was also known for a fluid and graceful swing.
Payne won the PGA Championship in 1989 and the U.S Open in 1991 and 1999. That 1999 U.S. Open win is remembered for a 15 foot putt that iced his single stroke victory over Phil Mickleson.
It was Payne's last major title. Four months after his U.S Open victory, in October, 1999, Payne boarded a Learjet in Orlando, Florida…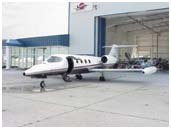 …bound for Dallas. The year ending tournament, The Tour Championship, was scheduled in Houston. Payne left on a Monday morning to stop over in Dallas to discuss building a new home-course for the golf program at his alma mater, SMU. He never made it.
The last message from the pilot was made at 9:27 am Eastern Time and the plane made a right turn three minutes later. Investigators concluded it was because of "human input." By 9:33 am, communication was lost and there was no further contact. Flying on auto-pilot, the plane veered wildly off course, while under observation by Air Force and Air National Guard planes.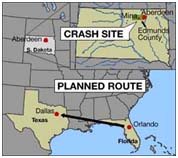 The military pilots saw frost or condensation on the Learjet's windshield, suggesting loss of cabin pressure. It obscured the cockpit and the only clear patch showed no motion at the plane's controls. The plane crashed in South Dakota when it ran out of fuel.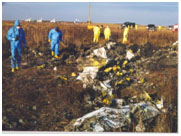 The National Transportation Safety Board concluded the plane lost cabin pressure and all five on board died on hypoxia, or lack of oxygen.
Payne was buried at Doctor Phillips Cemetery in Orlando, Florida.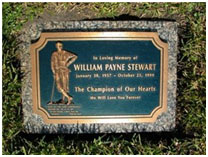 When he died, Payne Stewart had already earned more than twelve and a half million dollars as a professional golfer, including two million in 1999 alone.
Payne married Tracey Ferguson in 1981 and they were together until the day he died. A year after his death, his widow and two children, Chelsea and Aaron…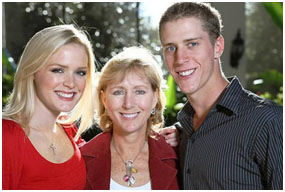 …and the family of his agent who also was killed that day, sued Learjet, the flight operator and the plane's owner. A jury exonerated Learjet of any liability in 2005.
Part of Interstate 44, passing through Springfield, Missouri was renamed in Payne's memory.