Famously Dead A-Z:

Cause of Death:
View information about Moses Malone's death here on famously-dead.com. You can view information about Moses Malone's death and other famous deaths. You can view by name or by cause of death. We also have included the most popular famous deaths.
Moses Malone's Death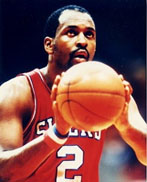 Moses Malone
Basketball
March 23, 1955
September 13, 2015
Heart Disease
The life and death of Moses Malone:
He was hailed by the "New York Times" as the first modern player to go from high school to the professional basketball ranks. And he had a standout career, including three league Most Valuable Player Awards, a retired uniform number and membership in the Naismith Memorial Basketball Hall of Fame.
Moses Eugene Malone was born in Petersburg, Virginia, the only child of Mary Malone who threw her husband out of the family home when Moses was only two years old, because of his drinking problem. The dad moved to Texas, but Moses stayed in Virginia, where he starred at Petersburg High School.
Moses planned to go the University of Maryland but was chosen in the third round of the American basketball Association draft in 1974 by the Utah Stars and went right to the pro ranks.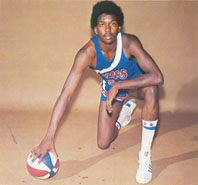 He played in Utah and then moved to the Spirits of St. Louis in the ABA, but when the ABA and NBA merged after the 1975-75 season, St. Louis was dropped and Moses was traded around, playing one season with the Buffalo Braves, before moving on to the Houston Rockets.
It was there that his career blossomed, and six foot ten Moses moved to center after bulking up and won an MVP Award, which he did three times in all in 1979, 1982 and 1983. His career also took him to Philadelphia…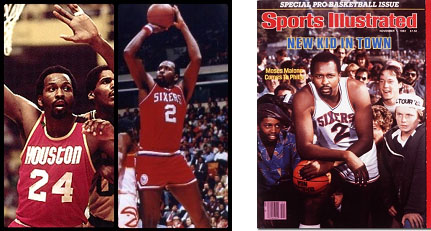 …where he was also a 1983 NBA Champion with the 76ers, pictured here with teammate Dr. J, Julius Erving.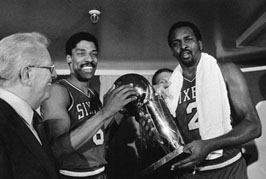 Here's Moses at his best, as compiled by NBA Countdown.
He had a 19 season NBA career; 21 years including the ABA, and Houston retired his number 24.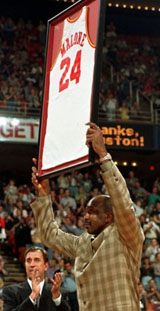 Moses did have some problems in his personal life. He and his wife Alfreda had two sons, Moses Jr. and Michael, but in 1991 she sued for divorce, charging him with cruelty, adultery and irreconcilable differences. She went so far to get a restraining order in June, 1992, ordering him to keep away from her.
The divorce was finalized in October, 1992 but the following January she charged him with stalking her, entering her home, busting the place up and threatening to kill her. He was released after posting bail.
Moses had complained about an irregular heartbeat and on the morning of September 13, 2015 was at a hotel in Norfolk, Virginia, in town for a charity golf tournament. He died in his sleep at age 60 and heart disease was blamed.
He's buried at Memorial Oaks Cemetery in Houston.