Famously Dead A-Z:

Cause of Death:
View information about Monte Irvin's death here on famously-dead.com. You can view information about Monte Irvin's death and other famous deaths. You can view by name or by cause of death. We also have included the most popular famous deaths.
Monte Irvin's Death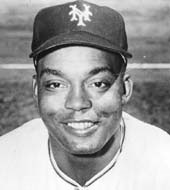 Monte Irvin
Baseball
February 25, 1919
January 11, 2016
Natural Causes
The life and death of Monte Irvin:
He made it all the way to the Baseball Hall of Fame, even though his best years as a ballplayer were spent in the Negro Leagues. After an abbreviated major league playing career that featured two World Series appearances and the role of mentor to the young Willie Mays, he went on to several ambassadorial roles for the game which gave him fame.
Monford Merrill Irvin was born in Haleburg, Alabama to Cupid Alexander Irvin and his wife, Mary Eliza. Monte grew up in Orange, New Jersey and built up his strength by delivering milk with father and brothers by horse and wagon. He starred in four sports in high school and set a state record for the javelin throw – foreshadowing his rocket-launcher of a right arm as an outfielder.
He played baseball with a local semi-pro team and thanked his coach for giving him an outlet with which he could avoid trouble. A football scholarship was offered by the University of Michigan, but he had to turn it down, because he was too poor to move there.
He was a star football player at Lincoln University where he majored in history, but he couldn't see eye to eye with his coach and lost his athletic scholarship and his studies to become a dentist.
It was then that he was offered spots on baseball teams in the Negro Leagues and went on to star with the Newark Eagles.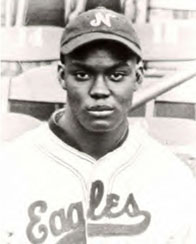 He served in the military between 1943 and 1945 and Brooklyn Dodgers owner Branch Rickey wanted to sign him in 1948 but the Eagles protested that Monte was under contract. By 1949 the Dodger's cross town rival New York Giants signed Irvin to a big league contract.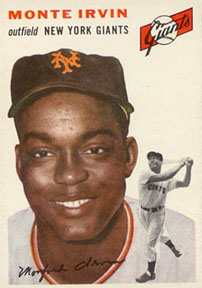 After a slow start, he found his footing as an outfielder and starred for the Giants' World Series teams in 1951 and 1954.
He stole home in the '51 Series against the Yankees.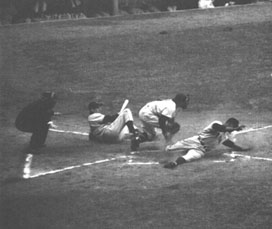 The Giants lost that series, but they swept Cleveland in '54 to become Series champs.
By then, he was a major influence on a man who became a baseball legend; Willie Mays.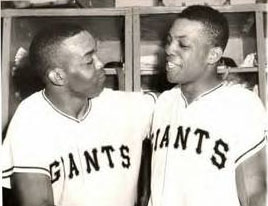 However, Monte suffered some serious injuries, like a broken ankle in suffered in a spring training game in 1952. When he returned, he favored the injured leg, throwing his back out of line and was hampered for the rest of his career. He spent his final playing season with the Chicago Cubs…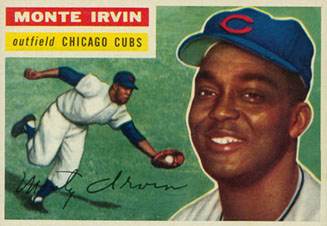 …and his back problems led to his 1957 retirement as a player.
He served as a public relations specialist for baseball commissioner Bowie Kuhn in 1968, becoming MLB's first black executive. He also went to work for Rheingold beer, as a scout for the New York Mets.
Monte was inducted into the Hall of Fame in 1973, after it was opened to stars of the Negro Leagues.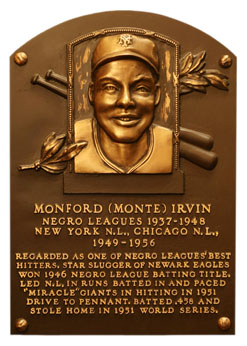 Although he never played for the Giants in San Francisco, they retired his uniform number 20 in 2010.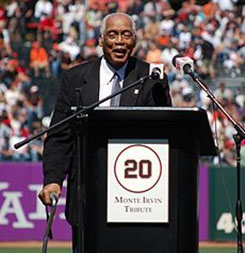 He also threw out the first pitch of the 2010 World Series and he and Willie Mays joined the 2014 Series champion Giants, when they were honored at the White House in 2015 by President Barack Obama.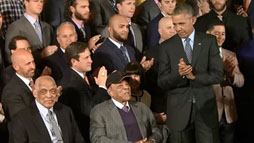 Monte was living in Houston retirement community when he died of natural causes at the age of 96. He was survived from by daughters Pamela and Patricia, His wife Dee died in 2008.
In addition to his Hall of Fame plaque, Monte is honored with a park in his name in his hometown in New Jersey.