Famously Dead A-Z:

Cause of Death:
View information about Len Bias's death here on famously-dead.com. You can view information about Len Bias's death and other famous deaths. You can view by name or by cause of death. We also have included the most popular famous deaths.
Len Bias's Death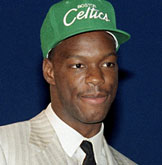 Len Bias
Basketball
November 18, 1963
June 19, 1986
Cocaine Overdose
The life and death of Len Bias:
He was expected to be one of the bright new lights in professional basketball, but only two days after being drafted by the storied Boston Celtics, he died in his college dorm room from cardiac arrhythmia, induced by a cocaine overdose.
Leonard Kevin Bias was born and raised in the Maryland suburbs outside Washington, DC. Growing up, his church pastor nicknamed him "Frosty", because of Len's cool way of reacting to things.
After going through the local schools, Bias ended up at the University of Maryland. He was seen as a raw talent early and he worked hard to attain All-America status, thanks to a great leaping ability and a knack for making things happen on the court.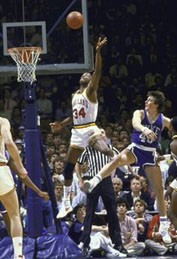 Here's video of Len in action, courtesy of SweetNBAVids.
A Celtics scout said he was the best thing to come along to the NBA since Michael Jordan, who was then a second year player.
On June 17th, the Celtics – who'd traded for a high draft pick - made Bias the second overall selection in the 1986 NBA draft. The next day, Len and his Dad flew up to Boston for a signing ceremony…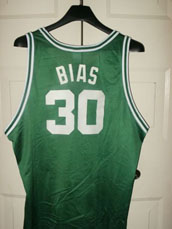 …and Len spoke with Reebok about a potential five year endorsement deal worth more than one and a half million dollars.
The next day, Len was on Cloud Nine when he flew home to his newly leased car for the drive back to his dorm. But in the early morning hours of June 19th, Bias and some friends started snorting cocaine. About three and a half hours later Bias had a seizure, collapsed and died.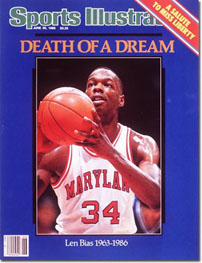 Celtics' executive Red Auerbach called Bias' untimely death the biggest shock to Boston since the assassination of President John F. Kennedy. Ironically, that occurred four days after Bias was born.
One of Bias' companions, Brian Tribble…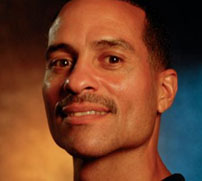 …made the emergency call to 911. But the next month, Tribble was indicted for possession of cocaine and in October 1990, after an undercover sting operation, Tribble pleaded guilty to be a drug dealer. He received ten years in prison.
Before that, in 1998, Congress passed what came to be known as the "Len Bias Law", reinforcing the War on Drugs with stiffer penalties.
Bias obviously suffered the stiffest penalty of all, living only a couple of days after being lifted to the heights of pro sports.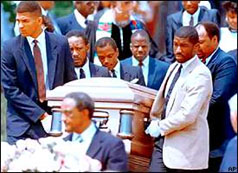 Considered one of the best basketball players to never play in the NBA, he's buried at Lincoln Memorial Cemetery in Prince George's County, Maryland.