Famously Dead A-Z:

Cause of Death:
View information about Lawrence Phillips's death here on famously-dead.com. You can view information about Lawrence Phillips's death and other famous deaths. You can view by name or by cause of death. We also have included the most popular famous deaths.
Lawrence Phillips's Death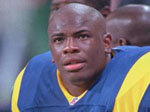 Lawrence Phillips
Football
May 12, 1975
January 13, 2016
Suicide
The life and death of Lawrence Phillips:
He sure could run with a football. Unfortunately, he couldn't run his own life. A star college football running back at the University of Nebraska…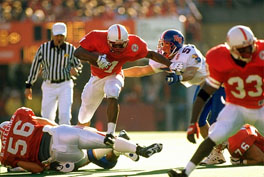 …his natural talents led him to the National Football League, where he failed with three different teams in large part because of some big-time personality problems.
Lawrence Lamond Phillips was born in Little Rock, Arkansas. When his father left, his mother moved him and a brother to California. But she wasn't able to care for him and Lawrence grew up in foster homes, sometimes under brutal conditions. They were the breeding ground of his personal problems later in life.
There was one thing he proved he could do when he reached high school age. He could run with a football and starred at West Covina High school in his first two years and then starred at Baldwin Park High in his junior and senior years.
Then it was off to Nebraska where he quickly showed his talent carried over to the college football ranks. He helped lead the Cornhuskers to two college football national championships.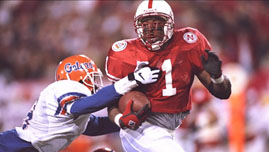 But soon after leading his team to the 1994 championship, he was arrested and charged with assault, vandalism and disturbing the peace. He pleaded not guilty, accused of grabbing another student around the neck. It was an ugly foreshadowing of what was to come.
Other criminal charges followed during his time at Nebraska, but his coach Tom Osborne was criticized for not kicking him off the team. Osborne said he thought abandoning Phillips would do more harm than good.
After graduating, Phillips became eligible for the NFL, but teams were wary, despite his unmistakable on the field talent because of his off the field character issues. He was the sixth overall pick by the St. Louis Rams and signed a three year contract worth over five and a half million dollars.
But in less than two years with the Rams, he was jailed at various times.
The Rams let him go, but his head coach, Dick Vermiel, helped him land with the Miami Dolphins.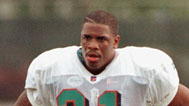 That lasted two games, after Lawrence pleaded no contest to assaulting a woman in a night club.
He missed the 1998 season only to return to the NFL in 1999 with the San Francisco 49'ers.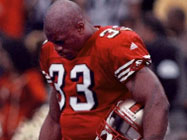 Phillips stayed out of trouble, but when he missed a block on blitzing Arizona Cardinals safety Aeneas who sacked 49ers quarterback Steve Young, it not only ended Young's NFL career but it essentially closed the NFL books on Phillips too.
He tried the Arena Football League and the Canadian Football League. But his personal demons outweighed his football talent.
There were numerous criminal charges, often involving accusations of choking his girlfriends. One such incident involved an August 2009 assault on former girl friend Amaliya Weisler.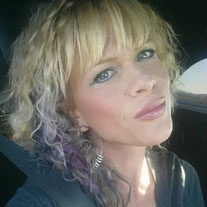 He drew a 25 year prison term and while in prison, in April, 2015…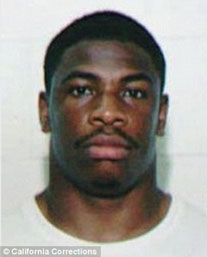 …Phillips was accused of killing his cellmate, Damion Soward. Phillips had claimed self-defense but prosecutors wanted the death penalty. While awaiting trial, he was found hanging in his cell in the early morning hours of January 12, 2016.
The coroner said he hanged himself after pinning a "Do Not Resuscitate" sign to his chest.
Meantime, his family donated his brain for examination to see if football injuries led to chronic traumatic encephalopathy.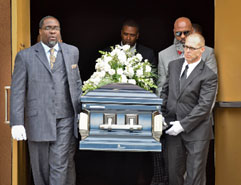 Phillips is buried at California's Inglewood Park Cemetery.
Showtime produced a documentary about him: "Running for His Life: The Lawrence Phillips Story."