Famously Dead A-Z:

Cause of Death:
View information about Joe Paterno's death here on famously-dead.com. You can view information about Joe Paterno's death and other famous deaths. You can view by name or by cause of death. We also have included the most popular famous deaths.
Joe Paterno's Death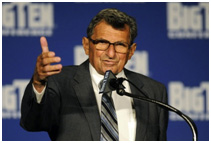 Joe Paterno
Football
December 21, 1926
January 22, 2012
Cancer
The life and death of Joe Paterno:
He was the legendary football guru at Penn State University and, known by his nickname Joe Pa, was beloved by countless students, alums and fans…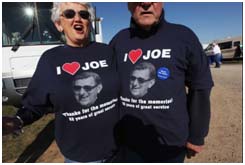 …in a 61 year career, 45 years as Penn State's head coach.
However, like the main character in a Greek tragedy, he quickly fell from favor when he was caught up in the University's child abuse sex scandal and died in disgrace just a few weeks later.
Joseph Vincent Paterno started life in Brooklyn and you only had to hear him speak to know where he grew up. His parents were of Italian ancestry – his father Angelo was a law clerk and his mother Florence Cafiero was a homemaker.
Joe graduated from the Brooklyn Preparatory School in 1944 and was drafted into the Army a few weeks later. After a year in the service, he started college at Brown University in 1946, where he played quarterback and cornerback for the Brown Bears.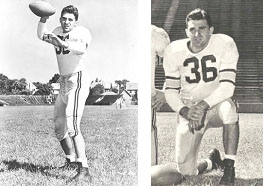 Joe graduated in 1950 and instead of going into a law career; he joined the coaching staff at Penn State University as an assistant football coach. (His dad wondered aloud why he bothered going to school.) Joe worked as an assistant coach at Penn State from 1950-65, and assumed the head coaching job in February, 1966.

During his legendary run, Penn State won National Championships in 1982 and 1986 and the Big Ten Championship in 1994.

His overall coaching record was 298 victories, 136 losses and 3 ties and he showed no signs of stopping.

But 111 of those wins were later vacated, along with six of his 18 Bowl victories. And here's why.
On November 5, 2011, Paterno's former defensive coordinator Jerry Sandusky…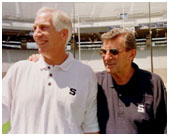 …was arrested on forty counts of child sexual abuse, which happened between 1994 and 2009. Even though he retired from coaching in 1999, Sandusky continued to have access to the university athletic facilities until his arrest in November, 2011. He was hosting football camps for the children's charity he founded, The Second Mile.
Paterno was swept up in the maelstrom. While not accused of actually performing any of the crimes, he was criticized for failing to adequately follow up on the initial complaint made by another assistant, Mike McQueary, and for not doing enough to stop Sandusky's crimes.
Even though Paterno did what he was legally required to do – reporting the incident to higher ups at the school – the Pennsylvania State Police Commissioner, Frank Noonan, declared that anyone with knowledge of sexual abuse against minors had a "moral responsibility" to notify the police, which Paterno had not done.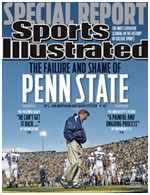 On the night of November 8th, hundreds of Penn State students gathered in front of the Paterno home in State College, Pennsylvania…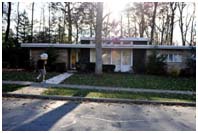 …in support of the coach.
On November 9th, Paterno announced he would retire at the end of the season but later that evening, Penn State's Board of Trustees relieved him of his coaching duties, effective immediately.
His dismissal led to violence from students and alumni, with rioting in the streets, rock throwing, tearing down street signs and the overturning of a news van.
Once again, his supporters gathered outside the Paterno home and he again came out to speak.
This is Paterno in his final public photograph on January 12, 2012…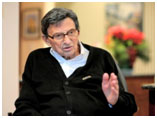 …during a Washington Post interview
The next day, January 13, Joe Pa – who was being treated for lung cancer – was hospitalized in State College and remained there for nine days, when he died on January 22nd.
Paterno's funeral was held in State College on January 25, 2012.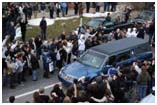 He was buried in Spring Creek Presbyterian Cemetery, near State College.

Nearly 12,000 people attended a public memorial service the next day on the Penn State campus.
His widow Sue…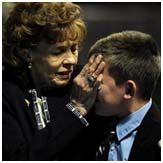 ....whom he married in 1962, comforted one of their 17 grandchildren that day. The couple had five kids, all graduates of Penn State.
The University was hit with some of the most severe sanctions in NCAA history, including sixty million dollars in fines and a ban in post season play until 2016. All victories dating back to 1998 were vacated. And higher ups at the school were dismissed and faced legal charges. The man who started it all, Sandusky, was sentenced to 30 to 60 years in prison.
And adding to his family's grief, the statue of Paterno on the Penn State campus…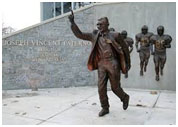 …was removed.

But two years later, a group of Paterno supporters announced plans to raise $300,000 for a new bronze statue of Joe Pa, that'll sit outside the Tavern Restaurant, a popular gathering spot for Penn State fans in State College.
The University isn't involved. Neither is Paterno's family. Just the fans, who want to honor Joe for all he did for their town.
On September 8, 2014, the NCAA, citing "progress toward ensuring its athletics department functions with integrity," restored Penn State's post-season eligibility immediately and allowed it to return to a full 85 scholarship roster in 2015.