Famously Dead A-Z:

Cause of Death:
View information about Jimmy Foxx's death here on famously-dead.com. You can view information about Jimmy Foxx's death and other famous deaths. You can view by name or by cause of death. We also have included the most popular famous deaths.
Jimmy Foxx's Death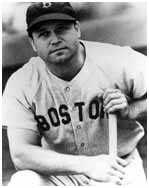 Jimmy Foxx
Baseball
October 22, 1907
July 21, 1967
Choking
His nicknames tell his story. He was the feared "Double X", also known as "The Beast" and was the most prodigious right-handed homerun hitter in baseball history, until Willie Mays topped his career total of 534 homers in 1966. And Jimmy Foxx died a year later, when he choked on a piece of food. It happened only one year after his second wife died the same way.
Jimmy Fox grew up on a Maryland farm and excelled at several sports, particularly track, soccer and baseball. He began his ball-playing career as a 17-year-old with the Philadelphia A's in 1925. He came up as a catcher, but since the team had a future Hall of Famer, Mickey Cochrane, at that position, Jimmy also played first base and the outfield. He also came with his bat…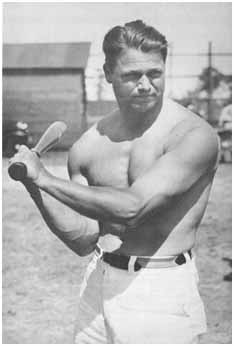 …and became one of the most feared sluggers ever.
He was a star in Philadelphia until team owner-manager Connie Mack needed money in the depths of the Depression and sold Foxx to the Boston Red Sox in 1936, where he continued to stand out. Here he is as a member of the 1937 American League All-Star Team, second from the right.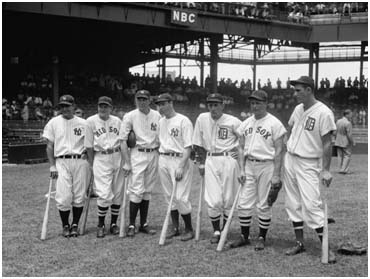 And he was a teammate of rising star Ted Williams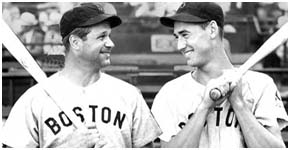 The numbers tell his story. He hit 30 or more homeruns for 12 straight seasons, and drove in more than 100 runs for 13 straight years. He became only the second player to hit 500 career homers after Babe Ruth, was also a three-time American League Most Valuable Player and is a member of Baseball's Hall of Fame.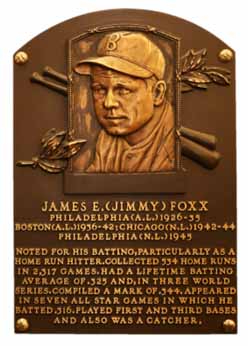 Jimmy's skills faded in the early 1940's when he played for the Chicago Cubs and the Philadelphia Phillies. Some blamed his drinking. Others said he had a sinus condition.
After his playing days, he managed in the All American Girls Professional Baseball League, for one season. His team, the Fort Wayne Daisies, suffered a playoff loss to the Rockford Peaches that year and Jimmy left after that.
Tom Hank's character In "A League of Their Own" was based on Jimmy Fox and another 1920's & 30's slugger, Hack Wilson. While it's not a direct dramatization of Jimmy, he was on the producer's radar.
Bad investments depleted his savings and Jimmy retired to suburban Cleveland. At the age of 59, he died in Miami choking on food while eating dinner with his brother.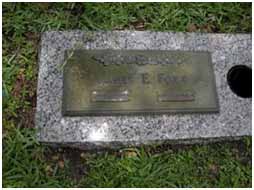 Jimmy Foxx is buried at Flagler Memorial Park in Miami.