Famously Dead A-Z:

Cause of Death:
View information about Jesse Owens's death here on famously-dead.com. You can view information about Jesse Owens's death and other famous deaths. You can view by name or by cause of death. We also have included the most popular famous deaths.
Jesse Owens's Death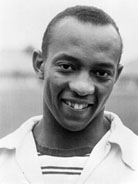 Jesse Owens
Olympic Champion
September 12, 1913
March 31, 1980
Cancer
The life and death of Jesse Owens:
He was a four-time Olympic gold-medalist – a huge accomplishment in anyone's book. But this man is famous for having done something where actions spoke much louder than words - repudiating Adolph Hitler's claims about the Aryan super race.
The name on his birth certificate was James Cleveland Owens and he was the youngest of 10 children in his family of three girls and seven boys. His father Henry was a sharecropper and his mother Mary Emma Fitzgerald lived in Oakville, Alabama until he reached the age of nine.
That's when the family picked up and moved to Cleveland, Ohio to make a better life. Everybody knew him as J.C .for James Cleveland but because of his strong southern accent when his new teacher asked his name she thought he said "Jesse". That name stuck and he was known as Jesse Owens for the rest of his days.
He worked several jobs as a boy - delivering groceries, loading freight cars and fixing shoes to help bring in money while his dad and older brother worked at a steel mill. It was during this time that he realized he had a passion for running and his junior high track coach helped achieve his dreams.
Jesse's strength in track and field came to the country's attention when he was a student in technical high school in Cleveland, when he tied the world record of 9.4 seconds of the hundred yard dash and long jumped nearly 25 feet in a 1933 meet.
From there, Jesse attended Ohio State University and became known as the "Buckeye Bullet"…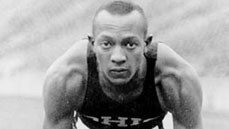 …winning a record eight individual NCAA championships in 1935 and 1936.
Typical of the times, he suffered through racial discrimination, forced to live off campus with other black athletes, eating at black only restaurants or ordering carry out food and living in black only hotels. He didn't get a scholarship either, so he had to continue to work part time to pay for school.
In 1935, while in college, he set three world records and tied up for a fourth at a Big Ten track meet in Ann Arbor, Michigan.
As a result of his growing frame he was chosen to be part of the U.S. Olympic team for the 1936 Summer Olympics. At those games despite the racist pronouncements of the German dictator Adolph Hitler, Jesse won four gold medals: of the 100 meter sprint, the 200 meter sprint, the long job of the 4x100 meter relay.

In the bargain, he crushed Hitler's myth of Aryan supremacy.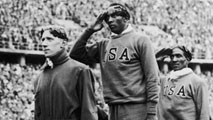 It was widely reported that Hitler snubbed Owens…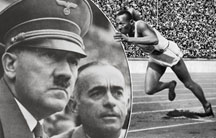 … but in the 2009 interview a German journalist said Owens always carried around a photograph in his wallet of der Fuehrer shaking his hand. And Owens never denied it. He even said that Hitler acknowledged him with a wave of the stadium.
When his Olympics days were over, Jesse tried basketball but the league broke up only after a couple of months. He also tried his hand is a sports promoter, ran a dry cleaning business and worked as a gas station attendant.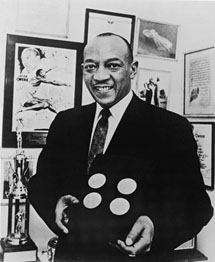 Jesse met his future wife, Minnie Ruth Sullivan …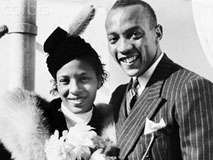 …in junior high school in Cleveland when he was 15 and she was 13. They were steady dates in high school Ruth gave birth to their first daughter, Gloria, in 1932. They were married in 1935 had two more daughters together, Marlene and Beverly. The three sisters posed together for this photo.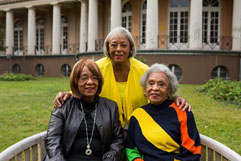 Jesse and Ruth remained married until he died in 1980.
A lifelong smoker, Owens was diagnosed with lung cancer at the beginning of 1979 and was dead less than half a year later of the disease. He's buried in Oakwood Cemetery in Chicago.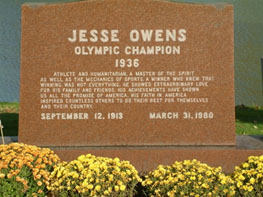 And he's been honored with his image on several U.S Postage stamps.

And in other countries too.