Famously Dead A-Z:

Cause of Death:
View information about Jerry Coleman's death here on famously-dead.com. You can view information about Jerry Coleman's death and other famous deaths. You can view by name or by cause of death. We also have included the most popular famous deaths.
Jerry Coleman's Death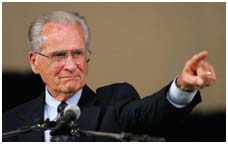 Jerry Coleman
Baseball Player & Announcer
September 14, 1924
January 5, 2014
Injuries related to a fall
The life and death of Jerry Coleman:
He was generally regarded as a class act. Whether as an infielder for the New York Yankees, a play by play announcer (briefly for the Yanks and for decades for the San Diego Padres) and as a member of the U.S. Marines, Jerry Coleman impressed people with his way of always getting the job done in style and in stride.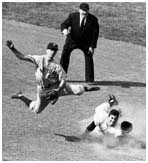 Gerald Francis Coleman was born and raised in San Jose, California.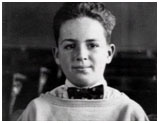 He graduated from Lowell High School and signed with the Yankees, playing in their minor league system for six years before joining the team in the Bronx in 1949.

A quiet man on a team of stars, including the legendary Joe DiMaggio…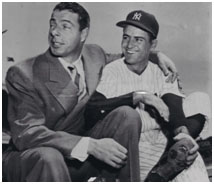 …Jerry was named American League Rookie of the Year in 1949…was an American League All Star in 1950 and later that year was the World Series Most Valuable Player when the Yankees staged a four game sweep of the Philadelphia Phillies.
His rising star was acknowledge by Madison Avenue. Here he is in a 1951 advertisement.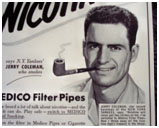 Jerry played in six World Series during his career and won four Series rings. He had plenty of competition for playing time on the Yankees, because they had another very skillful second baseman – the fiery Billy Martin.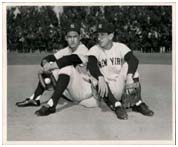 Jerry's career declined after an injury and he was forced to retire after the 1957 season, although he did hit a sparkling .364 in a World Series loss to the Milwaukee Braves that year.
After his playing days, Jerry became the Yanks' personnel director – scouting minor league players. Coleman lost that job when a new General Manager was named, but after meeting Howard Cosell, Jerry looked to a career in broadcasting. He joined the CBS Game of the Week crew in 1960, and in 1963 returned to the Yankees for a seven year stint as an announcer. He called the 500th homerun for his old teammate, Mickey Mantle.
Jerry then left for the West Coast as broadcaster for the California Angels and two years later became the lead radio man for the San Diego Padres. For one year, in 1980, he served as manager of the San Diego Padres and then returned to the broadcast booth, staying for decades as the Padres play-by-play announcer – keeping that job until he died.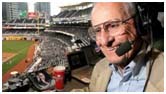 He was eventually honored with the Ford Frick Award by the Baseball Hall of Fame for his work in the broadcast booth.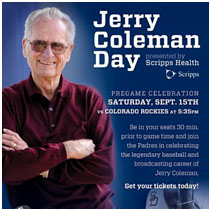 However, Jerry was also a stand-out in another phase of his life. His nickname was "The Colonel", because he reached the rank of Lieutenant Colonel in the U.S. Marine Corps. He served as a Marine aviator…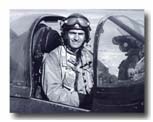 …flying 120 combat missions – 57 of them in World War II and another 63 in the Korean War.
Years later, he reflected on his experiences in the military and in baseball.
And although Jerry spent decades on the West Coast, he was always remembered by his fans in New York.
Jerry Coleman is also a member of the International Aerospace hall of Fame for his service as a Marine pilot.
Jerry died at the age of 89, after being hospitalized after a fall in his home. He was buried with full military honors at California's Miramar National Cemetery, after a private service for family and close friends.
He's pictured here with his wife, Maggie, as they watched a tribute to him played on the big screen at Petco Park, home of the Padres.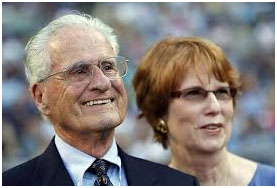 He's also honored with this display at Petco Park.