Famously Dead A-Z:

Cause of Death:
View information about Jovan Belcher's death here on famously-dead.com. You can view information about Jovan Belcher's death and other famous deaths. You can view by name or by cause of death. We also have included the most popular famous deaths.
Jovan Belcher's Death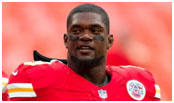 Jovan Belcher
Football
July 24, 1987
December 1, 2012
Suicide
The life and death of Jovan Belcher:
He was everything that an NFL linebacker supposed to look like: big, strong, tough and intimidating.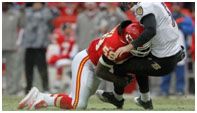 However, his career and life ended shockingly in late 2012 in a murder-suicide. He killed the girlfriend who'd recently given birth of their child, before driving to the Kansas City Chiefs' training facility and shooting himself in the head with a pistol.
Jovan Belcher was the son of John Belcher and Cheryl Shepherd and grew up in West Babylon, Long Island, where he was a standout high school athlete…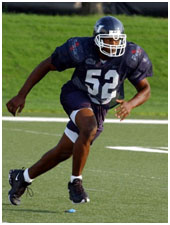 …leading West Babylon to two Long Island Football Championship playoff appearances, although the team lost both times.
He went on to the University of Maine and switched in his junior year from linebacker to defense end. Jovan was a good student in both high school and college and graduated from Maine, ironically, with a degree in child development and family relations.
Although he was expected to be selected in the 2009 NFL draft, no one picked him. He was later signed as a free-agent by the Kansas City Chiefs, and although he was considered small for the position, became an inside linebacker in 2010.
As a starter in 2011, Jovan had 61 tackles and 26 assists. He was re-signed by Kansas City just before the 2012 season and played the team's first 11 games. In between, he was involved in community activities in Kansas City and travelled back home to West Babylon every year to give motivational speeches to students.
He seemed to be a very solid guy, but then on December 1, 2012 everything went altogether wrong.
He was living with his girlfriend Kasandra Perkins…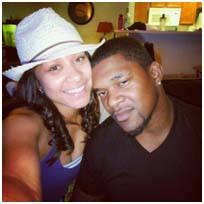 …and their three-month-old daughter Zoe...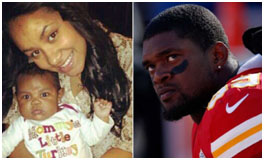 …in Kansas City. They'd been introduced to each other by Chief's running back Jamaal Charles, who was married to Kasandra's first cousin. However, friends of the couple said Jovan and Kasandra argued frequently, and he gone out the night before to meet with another woman, Brittini Glass…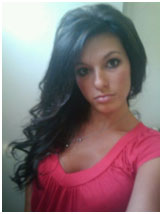 …who confirmed she was with him the night before the killings but denied she was dating him.
He was spotted outside Glass's apartment and police found him there at 2:50 am, after getting a report of a suspicious person parked outside in a car. The police discussed the temporary license plates on his car and urged him to go inside. Police said Jovan did not appear to be intoxicated and that they were trying to "cut him a break." A neighbor buzzed him in and he stayed the night.
But all hell broke loose the next morning when he got home to Perkins between 6:30 and 7 o'clock in the morning. They argued again and he shot her and killed her in front of his mother, Cheryl Shepherd, who she made a very frightened 911 call.
22 year old Perkins was shot a total of nine times in the neck, chest, abdomen , hip, leg, hand and back.
After killing Perkins, Belcher drove his Bentley about 5 miles to the parking lot of the Chief's practice facility…

…near arrowhead Stadium.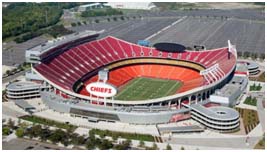 He got out of the car with a gun to his head and saw the Chief's General Manager, Scott Pioli. Jovan told Pioli that he killed his girlfriend and thanked him, before asking for Pioli and Chiefs' owner Clark Hunt to take care of his daughter.
Pioli tried to get him to drop the gun and then Chiefs' head coach Romeo Crinell and linebacker's coach Gary Gibbs arrived and they tried to talk him out of it. But with the sound of approaching sirens, Belcher told them he had to kill himself, saying he "can't be here." He knelt down by a car, made the sign of the cross shot himself in the head. A photo from the scene show his blood smeared on the gear shift on the black Bentley Continental GT as well as broken glass on the dashboard.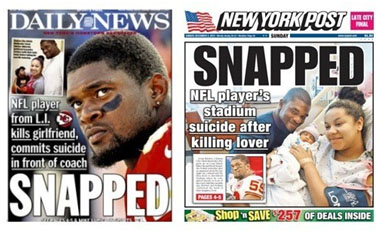 An autopsy later showed he had double the legal amount of alcohol in his system
The killings left their daughter an orphan.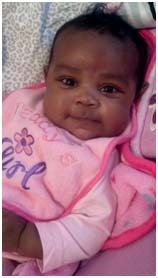 Chief's players planned a fund to support the girl, who was placed in the temporary custody of Belcher's mother. She planned to take the baby back with her to Long Island. The New York Post later reported that Shepard told investigators that her son had doubts that he was the baby's father.
A service was held for Belcher on December 5…

…just southwest of Arrowhead Stadium.
The next day, services were held for Perkins in Texas, where her father lived.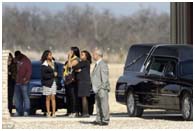 Belcher was buried December 12 in the North Babylon Cemetery on Long Island, following an open casket funeral. The hearse passed his childhood home on its way to the cemetery.
Baby Zoe ended up with her maternal grandparents in Texas, receiving $108,000 per year through 2016 through the NFL collective-bargaining agreement. The annual stipend gradually shrinks until 2030. She also got $600,000 in life insurance, a $100,000 retirement account and $800,000 for the four seasons her father played in the NFL.
In one added twist, Jovan's body was exhumed from the cemetery at the request of his family to see if he was suffering from chronic traumatic encephalopathy, from football related injuries. His mother filed wrongful death suit against her son's former team, the Kansas City Chiefs, with a basic accusation that he was forced to play through injuries, exposing him to further neurological harm.
The lawsuit remains unresolved.