Famously Dead A-Z:

Cause of Death:
View information about Jack Johnson's death here on famously-dead.com. You can view information about Jack Johnson's death and other famous deaths. You can view by name or by cause of death. We also have included the most popular famous deaths.
Jack Johnson's Death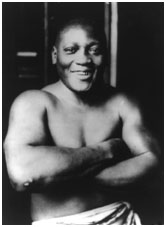 Jack Johnson
Professional Boxer
March 31, 1878
June 10, 1946
Car Crash
The life and death of Jack Johnson:
He was as controversial outside the boxing ring as he was skillful when he was in it. Jack Johnson was more than just the first black World Heavyweight Champion. He was ahead of his time, living a life that wasn't accepted in his time but which came to be the norm.
Johnson's personal style as a prize fighter rattled people, as he taunted his opponents, foreshadowing Muhammad Ali. And he was notorious in his day for going out with white women, marrying three of them. In his era in twentieth century America, that was just not accepted and Johnson paid the price by going to jail. In the end, his anger at a racist slight led to his death.
Born in Galveston, Texas, Jack Johnson came to be known as the Galveston Giant. He was the second child of Henry and Tina "Tiny" Johnson, who were former slaves working at blue-collar jobs to raise their six children – who they taught to read and write.
When he was 12, Jack wanted out of Galveston and hopped a freight train, trying to get to New York. But he was caught, beaten and kicked off the train. He dropped out of school after five or six years to get a job and found one at a local carriage shop. His new boss was an ex-fighter, and Jack started his apprenticeship that led him on his way to his life's work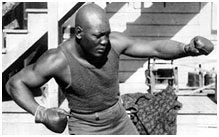 Jack Johnson made his professional debut in November 1898 in Galveston and knocked out a guy named Charlie Brooks. In time, he developed a very distinctive style - more patient than other fighters, toying with his opponents. He would chat with ringsiders while boxing and would build from a cautious start to aggressive finish.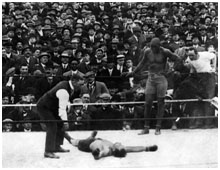 When an opponent annoyed him, he would punish them rather than merely knock them out.
In 1903 Jack won the World Colored Heavyweight Championship, beating "Denver" Ed Martin and defended that title 17 times. His rise to the World Heavyweight Title was delayed because the reigning champ, James Jeffries, refused to fight him.
But Johnson finally reached the top on the day after Christmas, 1908 when he won the world heavyweight title beating Canadian Tommy Burns in Sydney, Australia. But the racial undercurrent among whites was so deep that they were calling for a Great White Hope to take his title away.
In 1910, James Jeffries came out of retirement …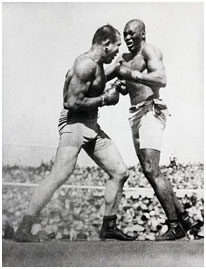 …to challenge Johnson. Jeffries hadn't fought for six years, needed to lose over a hundred pounds to get back into fighting shape and would have preferred to stay home on his alfalfa farm. But when the folks who wanted Johnson dethroned offered Jeffries $120,000 - very big money for the times – Jeffries took the bait.
And so on July 4, 1910, the fight was staged in downtown Reno, Nevada, where 20,000 people packed a special outdoor arena. Racial tension was in the air leading up to the fight, and to protect the boxers from harm, guns were prohibited from the arena, as was the sale of alcohol. Anyone who was already drunk was barred at the door.
Johnson dominated the bout and by the fifteenth round, Jeffries quit – avoiding a knockout. Johnson earned $65,000 and the outcome of the fight led to race riots on the Fourth of July from Texas to Colorado and from New York to Washington DC. Many whites felt humiliated while blacks cheered.
But even though he held the heavyweight crown, Johnson didn't fight a black opponent for the first five years of his reign, because Jack figured he could command a bigger purse by fighting white guys.
Jack Johnson lost his title of April 1915 to Jess Willard, a working cowboy from Kansas who started boxing when he was 27.
A major celebrity, Jack Johnson regularly appeared in the press, had some endorsement deals and had expensive hobbies, like auto racing and tailored clothing. In 1920, he opened a Harlem night club and later sold it to a local gangster who renamed it. You may know it by its new name: the Cotton Club.
And Jack consistently went against the current conventions regarding the social and economic place of blacks in American society, breaking a powerful taboo like going out with white women.
He married three times and all of his wives were white.
He married Etta Duryea…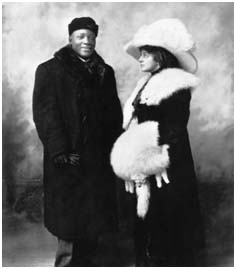 …in January, 1911. She committed suicide the next year, shooting herself after being beaten by Jack and suffering severe depression.
Less than three months later, Johnson married Lucille Cameron on December 4, 1912…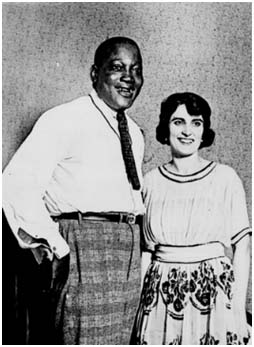 But before they married, Jack was arrested on grounds of violating the Mann Act, which meant "transporting a woman over state lines for an immoral purpose". Jack was convicted and sentenced to a year and a day in prison but skipped bail and moved to France. For the next seven years, the couple lived in exile in Europe, Mexico and other parts of South America.
When he returned to the U.S in July 1920, he was sent to the federal penitentiary at Leavenworth Kansas, and spent his sentence modifying a wrench, for which he received a patent.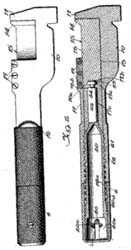 Jack was released from prison on July 9, 1921. He and Lucille divorced in 1924, as she accused him of infidelity. (Jack was said to have a verrrrry health sexual appetite.)
In 1925, Jack married Irene Pineau…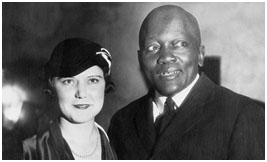 …and after he died she said that she loved him because he faced the world unafraid, fearing nothing and nobody.
Johnson received a presidential pardon by President George W. Bush in 2008. But it didn't pass the Senate. In April 2009, Arizona Senator John McCain requested a presidential pardon from President Barack Obama and Congress passed a resolution in July 2009 calling on Obama to issue a pardon to Jack Johnson.
The blatant racism Jack Johnson faced all of his life contributed to his death as he angrily drove away from a restaurant that refused to serve him. Johnson died in a car crash on Highway One near Franklinton, North Carolina - a small town near Raleigh - on June 10, 1946. He was taken to the closest black hospital and died of his injuries. He was 68 years old.
Jack was buried next to his wife Etta at the Graceland Cemetery in Chicago. A stone bearing the name Johnson marks their final resting place, along with the burial site of his later wife, Irene.
His life was also portrayed in the 1970 movie, "The Great White Hope", starring James Earl Jones in the title role, with Jack Johnson's name changed to Jack Jefferson.