Famously Dead A-Z:

Cause of Death:
View information about Hurricane Carter's death here on famously-dead.com. You can view information about Hurricane Carter's death and other famous deaths. You can view by name or by cause of death. We also have included the most popular famous deaths.
Hurricane Carter's Death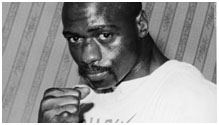 Rubin "Hurricane" Carter
Boxing
May 6, 1937
April 20, 2014
Cancer
The life and death of Rubin "Hurricane" Carter:
In trouble with the law from the time he was a boy, his promising boxing career was eclipsed when he was wrongly convicted of murder and he spent twenty years in prison before he was finally released on appeal. His legend was captured in the popular culture in music, book and film.
Rubin Carter was a native of Clifton, New Jersey, the middle child in a family of seven children. His trouble with the law came early, when he was sent to a juvenile reformatory at age 11 for stabbing a man.
He escaped the reformatory in 1954 and joined the Army. While stationed in West Germany he began to box for the Army. Only two years later, though, he received an "unfitness" discharge, well before the end of his Army stint. Less than a month later, he was arrested again for his escape from the reformatory and got another nine months tacked onto his sentence.
Once out, Carter was charged in a series of muggings, including assault and robbery and spent the next four years in New Jersey prisons.
In 1961, finally out of prison, he began his prize-fighting career as a middleweight.
He had an aggressive style and a powerful punch…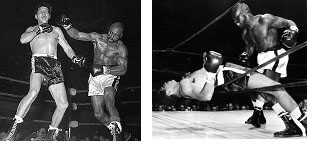 …and a series of early round knockouts led to his nickname, "Hurricane."
He fought for the Middleweight title on December 14, 1964 but lost a unanimous decision to the reigning champ, Joey Giardello.
His world unraveled the early morning of June 17, 1966 when two men entered the Lafayette Bar and Grill in Paterson, New Jersey with guns blazing.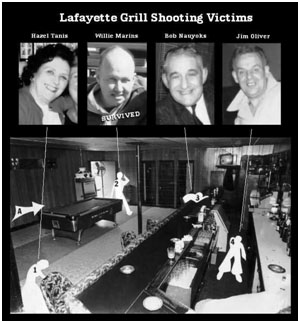 Bartender Oliver and customer Nauyoks died instantly. Tanis died about a month later from several gunshot wounds.
The lone survivor, Marlins, pictured here had a gunshot wound to the head, costing him the sight in one eye.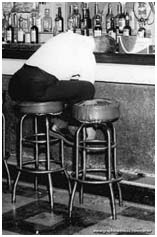 The shooters, both black males, were seen getting away in a white car, with rear lights that lit up like butterflies. Ten minutes after the shootings, police pulled over a white Dodge Polara, noted for butterfly tail lights. The driver was Hurricane Carter.
Not yet aware of the getaway car's description, police let Carter go. But when they heard the details, they found Carter's car again, with Rubin and John Artis. Both men were taken to the crime scene but police took no fingerprints and didn't test either man for gunshot residue.
But they found a .32 caliber pistol round and a 12 gauge shotgun in the trunk of Carter's car and when ballistics confirmed those were the kind of weapons used in the shootings, Carter and Artis were in big trouble …even though the bullet in the car was brass cased and the ones at the bar were copper cased.
Carter and Artis appeared before a grand jury which refused to indict them. However, several months later, on the basis of new testimony, Carter and Artis were arrested again and were indicted for murder.
Both men were convicted and sentenced to life for the three killings in 1967.
But there were growing calls for a retrial or pardon by 1974 after a couple of witnesses recanted their identifications of Carter and Artis, including heavyweight boxing champ Muhammad Ali.
And in 1975, folk- superstar Bob Dylan wrote and sang the song "Hurricane"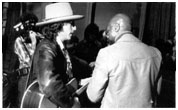 …in which Dylan declared that Carter was innocent.
Legal wrangling continued. Artis was paroled in 1981 but Carter's appeals continued and in 1985, his attorney petitioned for a writ of habeas corpus in federal court. Federal Judge Haddon Lee Sarokin set aside Carter's convictions, saying his prosecution was based on racism and concealment.
Rubin was freed in November 1985, now 48 years old and despite further consideration to retry him, the legal proceedings finally ended.
Carter's life was memorialized in film in 1999's "The Hurricane"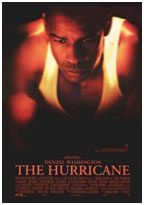 …starring Denzel Washington.
Carter moved to Toronto, Canada and worked with a group for the wrongly convicted and also worked as a motivational speaker.
His troubles with the police weren't over when in 1996; he was wrongly arrested (again) when he was mistakenly identified as a drug pusher. He was released when the cops realized their error.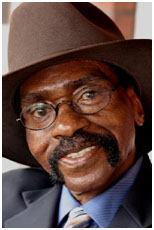 In March 2012, the Hurricane revealed he had terminal prostate cancer, given three to six months to live by his doctors. He lived until April 20, 2014 when he died. John Artis, his co-defendant, lived with and cared for him.
In a post script to his boxing career, Carter received an honorary championship title belt in 1993 from the World Boxing Council and was later inducted into the New Jersey Boxing Hall of Fame.