Famously Dead A-Z:

Cause of Death:
View information about Hideki Irabu's death here on famously-dead.com. You can view information about Hideki Irabu's death and other famous deaths. You can view by name or by cause of death. We also have included the most popular famous deaths.
Hideki Irabu's Death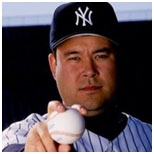 Hideki Irabu
Baseball
May 5, 1969
July 24, 2011
Suicide
The life and death of Hideki Irabu:
He won two World Series rings in 1998 and 1999 as a member of the New York Yankees but besides that, Hideki Irabu had at best a mediocre major league baseball career - winning 34 games and losing 35 with the Yanks, Montreal Expos and the Texas Rangers.

Irabu was of mixed Japanese and American ancestries. Born in Okinawa, his father was a member of the US Armed Forces and Hideki never knew him. His mother later married a restaurateur, Ichiro Irabu, who raise the boy as his son.
Hideki began playing in Japan from 1988 to 1996 and once threw a 98 mile-per-hour fastball. At the time it was the fastest pitch ever thrown in the Japanese game.
Fast forward to 1997 when the San Diego Padres bought his contract from the Chiba Lotte Marines. But other Major League teams sought to bid for Irabu's services and Irabu decided he would only play for the Yankees, who arranged a trade with San Diego and Irabu was signed to a four-year deal for nearly 13 million dollars.

Seen here in happier times with then-Yankee owner George Steinbrenner, Irabu never really excelled during his time with the team. And Steinbrenner later called him a "fat toad" because he was overweight and failed to cover first base in a spring training game.
In 1999 Irabu was traded to Montreal and in 2002 he signed with Texas as a free agent. He later moved back to Japan to close out his career.
Hideki's personal life was marked with problems like in 2008 when he was arrested on suspicion of assaulting a bar manager in Osaka. He was said to have been upset because his credit card was rejected after he drank 20 glasses of beer.
Irabu was also arrested for "driving under the influence" in May 2010 in Redondo Beach, California.
A little more than a year later, in July 2011, Irabu was found dead in his Rancho Paolo, California luxury villa.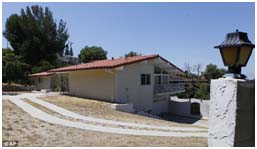 An apparent suicide, he reportedly hanged himself. His body wasn't found for several days and an autopsy showed he was drunk at the time of his death.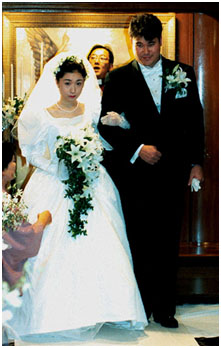 Irabu was said to be despondent because his wife (seen here in a wedding photo) took their two daughters and left him shortly before he died.
The Yankees offered him a moment of silence.
Irabu was cremated and the ashes were given to family and friends.