Famously Dead A-Z:

Cause of Death:
View information about Gordie Howe's death here on famously-dead.com. You can view information about Gordie Howe's death and other famous deaths. You can view by name or by cause of death. We also have included the most popular famous deaths.
Gordie Howe's Death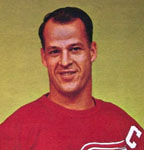 Gordie Howe
Hockey
March 31, 1928
June 10, 2016
Undisclosed
The life and death of Gordie Howe:
Mr. Hockey. His nickname tells you the impact he had on his sport and its fans over six decades. When you consider all of the great players in the early years of the National Hockey League, that says a lot, especially since he held all of the big scoring records at the time of his retirement.
Gordon Howe was born in Floral, Saskatchewan - one of nine children of Albert Howe and his wife, the former Katherine Schultz. His father worked as a laborer during the Depression and during summers Gordie helped out at construction sites.
He started playing organized hockey when he was only eight years old. He quit school in the midst of the Depression and went into construction work but then left Saskatoon, where the family has resettled, when he was 16 to start his career in hockey.
Gordie had a big advantage on the ice. He was ambidextrous - the hockey equivalent of a baseball switch hitter who could shoot the puck with power from either side of his body.
The New York Rangers wanted to sign Gordie as a 15-year-old in 1943 but he declined their offer and returned home. He did sign with the Detroit Red Wings and made his NHL debut in October 1946.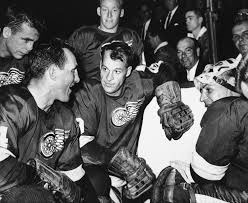 He was also known for the "Gordie Howe Hat Track" – a goal, an assist and a fight in the same game.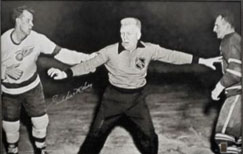 While one of the game's tough guys…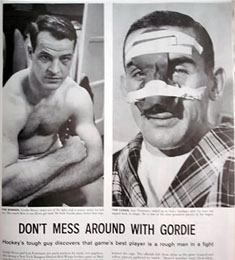 …off the ice he was regarded as a gentleman.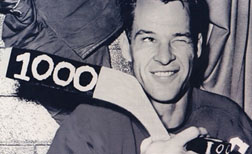 He had his share of injuries too, like the one to his head in the first Stanley Cup playoff game against Toronto in 1950.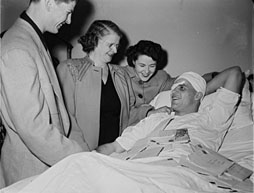 Gordie played for Detroit from 1946-1971.
He was a 23 time All Star, was part of four Stanley Cup teams with the Red Wings and won six Hart Trophies, the league's Most Valuable Player Award. He held many of hockey's scoring records until they were broken by Wayne Gretzky in the 1980's. Gretzky paid tribute to Mr. Hockey, by wearing number 99.
Gordie's number 9 was retied by the Red Wings.

Gordie retired in 1971 and entered the Hockey Hall of Fame in 1972.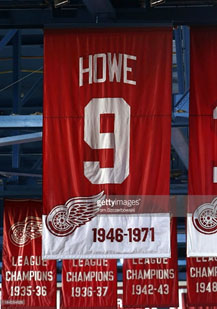 He played for the World Hockey Association's Houston Aeros from 1973-77 and the New England Whalers from 1977-1979. When the renamed Hartford Whalers joined the NHL in 1979, they had one of the game's greats on the ice as part of their team.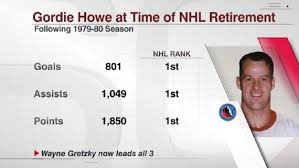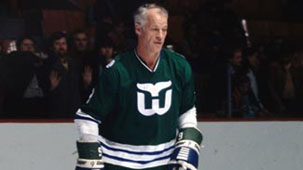 Here's Gordie scoring his final goal.
Gordie Howe is part of Canada's Sports Hall of Fame and Canada's Walk of Fame. He was also honored in May, 2015 when a bridge linking Ontario with Michigan was named the Gordie Howe International Bridge.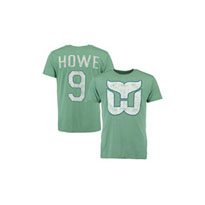 Gordie married Colleen Joffa in April, 1953.

They'd met at a bowling alley when she was 17. Coleen actually trademarked his nickname "Mr. Hockey."
Two of their sons, Marty and Mark, were their Dad's teammates on the Hartford Whalers of the NHL and the Houston Aeros of the WHA. Another son, Murray, is an Ohio radiologist and their only daughter, Cathy, resides in Texas.
He lived with his four children on a rotating basis after his wife died because of dementia. After she died, Howe focused his charitable work on Alzheimer's disease and dementia.
Gordie suffered a major stroke while staying with his daughter in her Texas home in October 2014 and died at the age of 88 while staying at the Sylvania, Ohio home of his son Murray. The cause of his death was not disclosed.