Famously Dead A-Z:

Cause of Death:
View information about George Allen's death here on famously-dead.com. You can view information about George Allen's death and other famous deaths. You can view by name or by cause of death. We also have included the most popular famous deaths.
George Allen's Death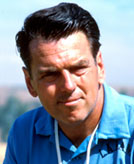 George Allen
Football
April 29, 1918
December 31, 1990
Heart disease
The life and death of George Allen:
There are some well-known urban legends regarding the passing of some famous people. Singer Mama Cass Elliott purportedly choked to death on a ham sandwich. Catherine the Great of Russia was supposedly killed while being mounted by a horse (instead of the more traditional, other way around.) Neither is true.
And legendary football coach George Allen purportedly died after getting sick after a post-game Gatorade bucket full of ice water was poured over his head. That's not true either! His son, George Jr., who was elected to some high powered political posts in Virginia, says his Football Halls of Fame dad died of a long-standing heart arrhythmia.
George Herbert Allen was born in Nelson County, Virginia. His father Raymond worked as a chauffeur after moving his family to Michigan. George's mother was named Loretta.
George starred in football, basketball and track at Lake Shore High School in St. Clair Shores, Michigan. He went on to Alma College and the University of Wisconsin before an officer trainee stint in the U. S. Navy. He topped off his education with a master's degree in Physical Education at the University of Michigan in 1947.
He used that Phys ed degree to get college football coaching jobs at Morningside College in Iowa and Whittier College in California.
By 1957, he was ready for the big leagues, joining the Los Angeles Rams as an assistant coach. He was fired after one season but in 1958 latched on as a defensive coaching assistant with the Chicago Bears.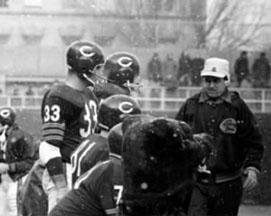 He also headed up the Bears' college drafting efforts and was instrumental in adding Hall of Fame players Gayle Sayer, Mike Ditka and Dick Butkus to the team.
Allen returned to the Rams as head coach in 1966…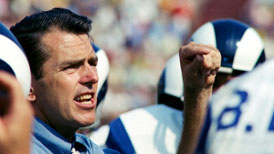 …and was Coach of the Year in 1967. He lasted with the Rams until 1970 and when his contract ran out, he switched to the Washington Redskins, where he coached through 1977. His "over-the hill" gang won the NFC title in 1972.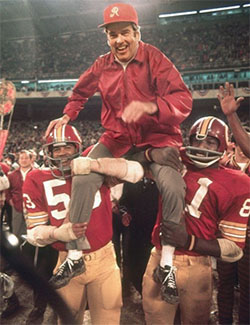 Back to L.A., he was hired for a third tour with the Rams but only last for two exhibition games and George moved to the sidelines as a broadcast analyst for CBS Sports from 1978 to 1983.
He rounded out his career, and life, coaching Long Beach State.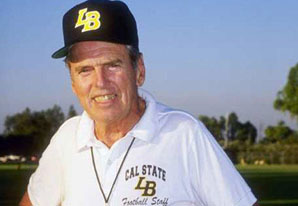 After a season ending victory on November 17th, 1990 his team dumped an ice water-filled Gatorade bucket on him and a few days later complained he didn't feel well since it happened.
He died on New Year's Eve from ventricular fibrillation, although his son George Jr…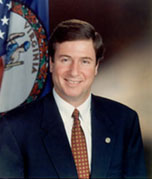 …who served as Governor and U. S. Senator from Virginia, said his death was due to a pre-existing heart condition.
George Jr. was one of three sons and a daughter George fathered with his wife Etty, the former Henrietta Lumbroso.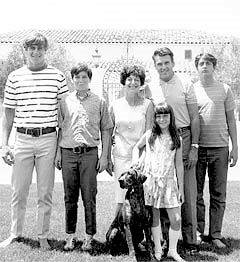 George Allen was inducted in the Virginia Sports Hall of Fame in 1998 and gained entry to the Pro Football Hall of Fame four years later.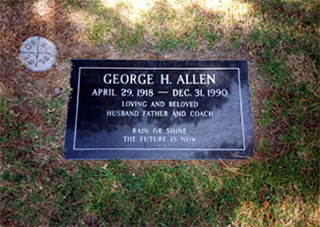 He's interred at Green Hills Memorial Park in Los Angeles.