Famously Dead A-Z:

Cause of Death:
View information about Gene Lipscomb's death here on famously-dead.com. You can view information about Gene Lipscomb's death and other famous deaths. You can view by name or by cause of death. We also have included the most popular famous deaths.
Gene Lipscomb's Death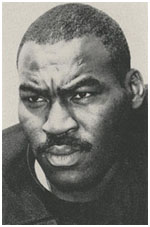 Gene Lipscomb
Football
August 9, 1931
May 10, 1963
Drug Overdose
The life and death of Gene Lipscomb:
"Big Daddy". Just as the NFL was bursting into the national consciousness in the late 1950's, he personified the big, intimidating defensive lineman as a star for the Baltimore Colts. He also was a professional wrestler when not playing football. But he died young, of a drug overdose.
Eugene Allen Lipscomb was born in Uniontown, Alabama. He never met his father and moved with his mother to Detroit at age three. When his mother was murdered when he was 11, Gene moved in with her parents, who raised him.
He never went to college, but played football during a stint with the U.S. Marines. The Los Angeles Rams took note and signed him as an undrafted free agent. He played three years for the Rams before being traded to the Colts, where he was a Pro Bowl choice in 1958 and 1959 in their championship years.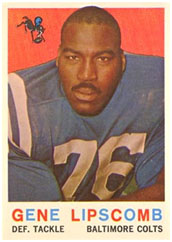 He played in the '58, '59 and 1962 Pro Bowls and was Pro Bowl MVP in the last two.
He then played two years for the Pittsburgh Steelers…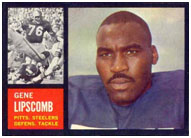 …and wrestled professionally during the off seasons from 1959 – 61.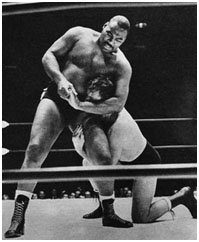 Sadly, "Big Daddy" had an early demise. He died of an accidental heroin overdose at the age of 31 in a Baltimore apartment. Gene's buried at Lincoln Memorial Park in Clinton Township, Michigan.