Famously Dead A-Z:

Cause of Death:
View information about Gary Carter's death here on famously-dead.com. You can view information about Gary Carter's death and other famous deaths. You can view by name or by cause of death. We also have included the most popular famous deaths.
Gary Carter's Death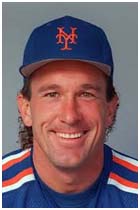 Gary Carter
Baseball
April 8, 1954
February 16, 2012
Cancer
The life and death of Gary Carter:
His nickname was "Kid", earned during his first spring training camp in 1974, because of his youthful enthusiasm. Gary Carter spent 21 years in the big leagues, coming up and starring with the Montreal Expos before moving on to continued success with the New York Mets.
Carter was born in Culver City, California and showed his athletic skills at a young age. Gary won the seven year old category in the first national Punt, Pass and Kick skills competition in 1961. When he was 12, his mother died of leukemia.
Later, Gary played quarterback in football and infield in baseball for his high school in Fullerton, California. He seemed headed to UCLA to play quarterback for the Bruins, but when the Montreal Expos drafted him in 1972, he signed a contract to play baseball.
In the early years of his career, he played outfield and as a rookie made the final putout in the 1975 All Star game. But the Expos had other plans for him, grooming him as a catcher, and moving him behind the plate full-time in June, 1977.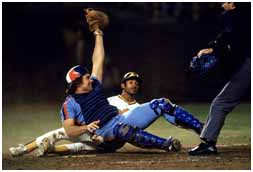 He earned three straight Golden Glove Awards starting that year.
He went on to a string of successful seasons for the Expos, although his rah-rah style rubbed some of his teammates the wrong way. Andre Dawson – with whom Carter was coincidentally inducted into the Hall of Fame - was quoted as saying Gary was more a glory hound that a team player.
And when the faltering Expos franchise couldn't meet his salary demands, Gary was traded to the New York Mets in 1985.
The next year, he helped lead the team to the 1986 World Series Championship…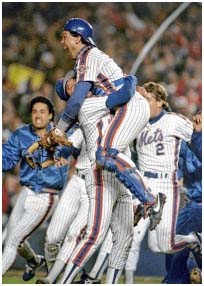 …by driving in a key run in their pennant winning victory over the Houston Astros. He also chipped in with some heavy hitting in the World Series against the Boston Red Sox, including two homeruns in Game 4.
Gary's also remembered for starting the two out rally that enabled the Mets to come back from the brink of extinction in Game 6, clearing the way for the seventh and deciding game – which they won.
Gary's accomplishments as a baseball player include: being named to the National League All Star team eleven times and being named the game's MVP twice, in 1981 and 1984. He was one of only four players to be named captain of the Mets and had his uniform number 8 retired by the Expos.
He was named a member of the Baseball Hall of Fame in 2010, winning induction as an Expo.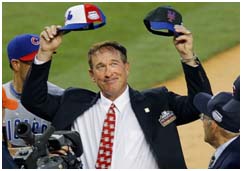 He joked he wanted his plaque to have a half and half cap, to honor both of his teams.
When his playing days were over, Gary managed the Orange County Flyers of a Golden Baseball League…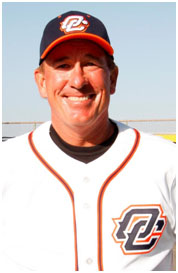 …and then managed the Long Island Ducks in the independent Atlantic League of Professional Baseball.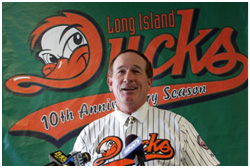 But again he ran afoul with a former teammate when fellow Met Keith Hernandez criticized Carter for openly campaigning for the job of Mets' manager.
Gary and his wife Sandy were married in 1975 and they had three kids. And his Gary Carter Foundation donated over $600,000 to charitable causes.
In May, 2011, after complaining of headaches and forgetfulness, Gary Carter was diagnosed with four malignant tumors in his brain. The doctors told him it was an extremely aggressive form of cancer, glioblastoma multiforme, and that it was inoperable.
He died of brain cancer on February 16, 2012 at 57 years of age.
The Mets played the entire 2012 season with a black patch in honor of Gary.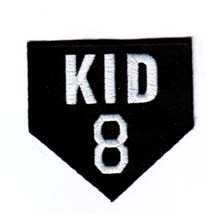 The Montreal Expos don't exist anymore. The franchise moved to Washington and was renamed the Nationals. But they continue to honor their only representative in the Hall of Fame, with a number 8 …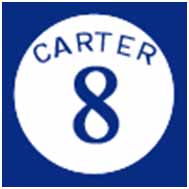 …at Nationals Park in Washington D.C.
And a street near Jarry Park, the team's former home in Montreal, was renamed in Gary Carter's honor.